There stuff are mostly new parts. Some used stuff, I mention that in text. Also many NOS (new old stuff) or hard to find stuff like original 40´s brackets, Autolite Twin 8 distributor etc.
AULIS
NOTE !!! Email only. I email You back or I call You after You have left email.
NOTE 2 !!! I remove those pics and text , what stuff I sold out. Im not deal anymore hot rod parts, so those are only one pieces I have on stock left over from hot rod shop or own projects.
Auliz S-curved radiator hoses. Those S-curved radiator hoses has been sold very much all over the World. 16countries, over 600pc during few Years. You need those hoses, if You have A-ford, 1932, 1933-1934... Ford and You install 1935-1953 (59A, 8BA....) flathead on it. 50euro pr 90euro 2pr.
FORD 1940 REAR BACKING PLATES. Those are 100% condition, even if You want to crome those. Not "finnish forest found" stuff, those are bought from California and very good condition. New wheel cylinders, new shoes, links, small hardware,.... ready to bolt on. 330euro /pr In same pictures You can see BUICK drums with hubs and bearings. Those are front stuff and sold in separatelly next product.
BUICK DRUMS . NEVER USED, NOS STUFF !!! I have made 5 x 5.50" BC ready. 360euro pr
FIRESTONE TIRES & 1940 POWERCOATED WHEELS WITH BEAUTY RIMS. Never run any km/miles those Tires & wheels. Just powercoated black, installed tires on wheel and Balanced. Tires are 6.00-16" and 7.00-16". Wheels 5.5-16". If You do not like those green stripes, You can remove easily. You can calculate what costs new set tires, wheels, paintjob, tires mounting on wheels, balancing.... 1100euro all set.
OTB Gear overflow tank. 1) not polished = 200e 2) polished = 260e
Limeworks 16" "fourty" steering wheel = 280e
Speedway motors Cearmic Coated SBC lakester headers. Complete kit. NOW SALE 400e !!!
539usd in speedway. You can watch pics there. Part nr 930-0550C
Moon Oil Dry Sump tank. These are not made anymore !!! Old vintage stuff. 150euro
Fender Welting for fendered cars. Black. 3euro meter.
Alum. polished overflowtank (left) = 50euro Alum. tranny cooler = 50euro
Simpson camlock 5point racing harness belts. Like brand new. 80euro
Offenhauser 2carb adaptor/spacer. 100euro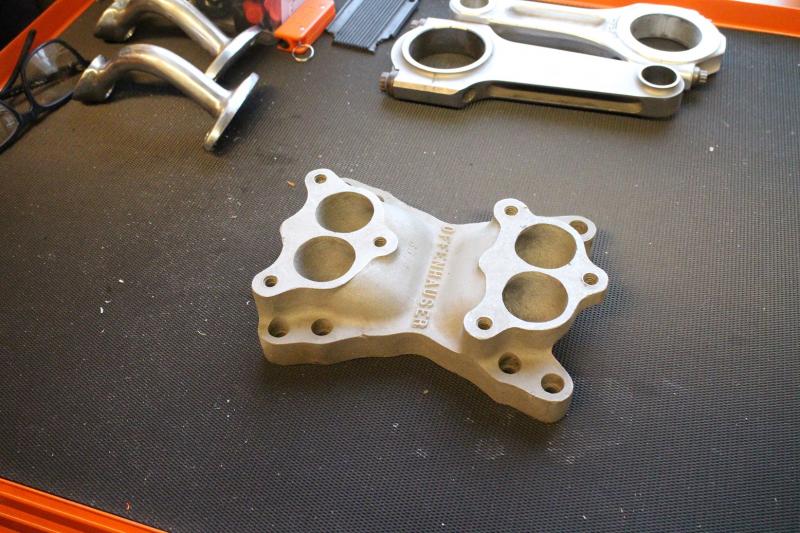 Borgeson steering column solid swivel floor mounts. #909001 = 1.75"id = 50euro. #909013 = 1.50"id = 50euro
Borgeson steering column mount. adjustable. 1.75" id / 2" drop. = 60euro
Front spring SS clamps = 30euro pr.
Moon tank + brackets. 400euro (445usd in Moon).

1948 chevy taillights, real patin, original. 20euro pr.

BLC 904-A vintage RARE headlights with "bulp" for turn signal. Nice patina. 250euro pr.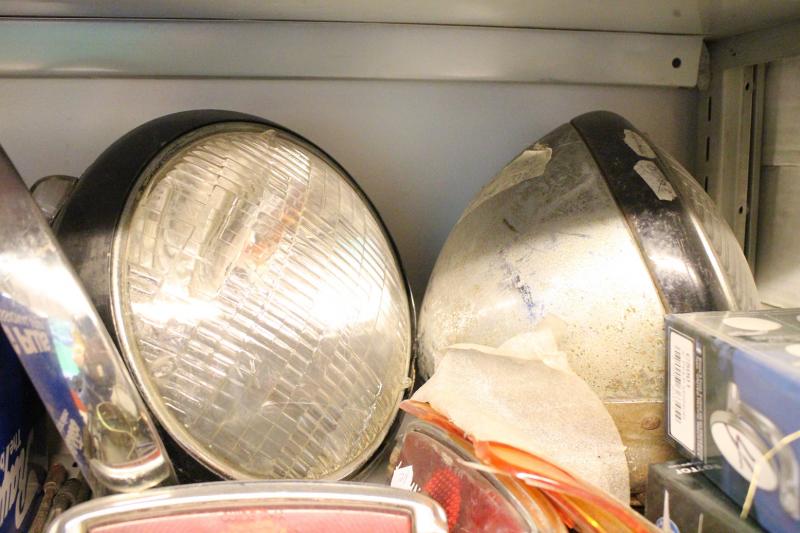 4" peep mirror. 20euro each.
1934 Ford Grille emblem. 40euro (45usd)
Baby Moon hub caps. 10 1/2" OD. 10 1/8" ID. GM, Ford... 50euro set of 4pc.
Ford hood side emblems. 100euro pr (150usd pr Macs)
Ford, Mopar, Chevy 14" x 3" crome air cleaner to 4bbl carb. 40euro
1935-36 ford rumble seat hinge kit. 60euro (63usd)
1932-48 ford 9" clutch disc. 30euro ea
Socal speedshop shocks painted. 60euro pr. 1pr used crome shocks 50euro pr.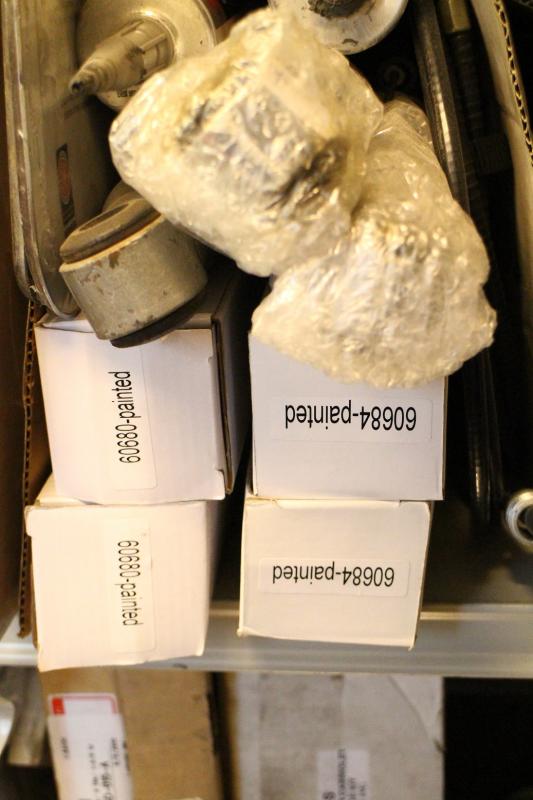 1932 Ford (roadster, cabriolet, coupe) Rumble seat hinge kit. 60euro (63usd)
1950 Mercury SS hub cap set (art deco style). 70euro set of 4pc (34usd ea)
1942 Ford hub cap set, SS. 100euro set of 4pc (33usd ea(
1934 Ford Hub caps SS with V8 logo. Fits A ford, 1932.... 80euro set of 4pc

Socal Speedshop cromed alternator bracket set SBC = 60euro (79usd)
1932 Ford Grill insert, SS, no crank hole. Vintiques Inc. 240euro (275usd)
1932 Ford ROOTLIEB 4pc hood. Original tops + SS center hinge. 25louvers sides + hinges + handles + latch brackets.
600euro complete set.
1932 Ford 5w coupe, Cabriolet, sedan, victoria window regulators. LH+RH 150euro pr
Early ford (1937 ->) Ripped, lincoln style brake drums. 230euro pr.
Ford 8" rear alxe tubes & End bearing housings by Currie Enterprices. 250euro (tubes 103usd, bearing housings 110usd ea). Weld Your Hot Rod rearaxle and order axles from Currie or other company.
SBC alternator brackets. Cromed upper bracket + lower bracket to waterpump. 25euro set
these GM stuff (maybe LT1?) together 80euro. In summit 144usd.
Wix33737, Russel: 623190, 661060, 640860, 640850 x 2, 640940, 660930
UP bullet hub cap set. Chevy 5 x 4.75 BC. 120euro (179usd)
All bullets, all sizes 6euro each. 2", 3", 3.5" (height)
Caddy taillights. 25euro each. 4pc available.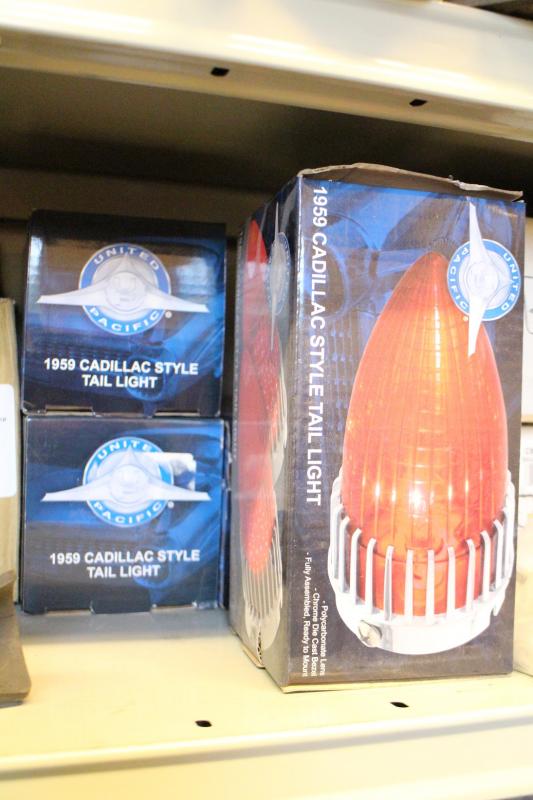 UP Teardrop spotlight. 40euro (75usd)
4bar or ladderbar ends. zink plated. 40euro pr. include bushings.
We have very much replacement bushings with inner steel sleeve !!! Picture increased later.
4Bar or Ladderbar ends. SS. 40euro each. 120euro = 4pc.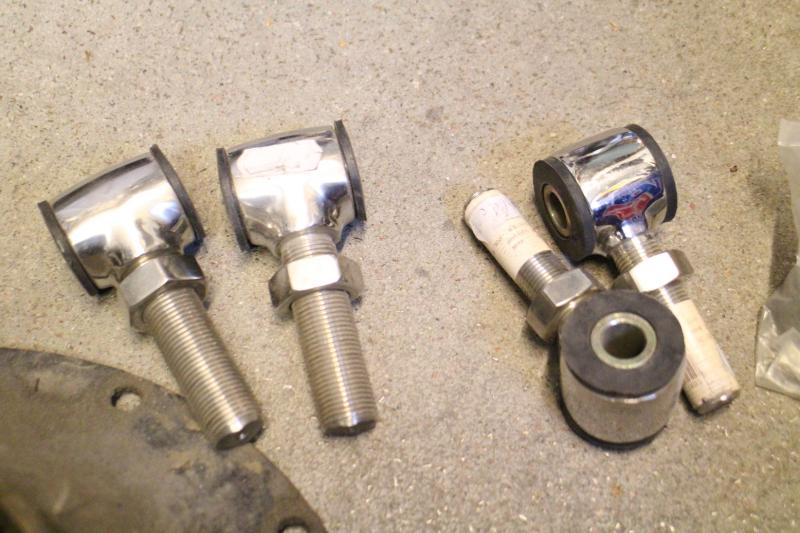 1948 Ford PU rear shock mounts. Bolt on. Fits all Early ford. 160euro
Different bearings, Front/Rear and seals. Just send Email.
Weld on NOW (new old stock) shock mounts. 20euro pr
New or New old stock DOG BONES. Various. 5euro ea.
Drag Link & Tie Rod -ends. SS. 35euro each. 120euro = 4pc.
Wilwood SS brake hose set. Fits to Wilwood or GM calibers. 50euro (79usd)
very much NOS Sun gauges.
Stromberg 2carb linkage, and other linkages too
Ganister style fuel filter. 30euro
Fuel Hoses. 40s Ford, Merury, SS socal, normal socal, rear.....
Small stuff. Fuel pump block off -plates, licplate brackets (socal), SS bolts, .....
Door latches (1932, A-ford) Female and Male dovetails, truck lactches...
Autolite Twin-8 distributor. 1000euro
Hood latch rising spacers. 20euro pr (1932).
1932ford, A-ford: cowl lacing kits, radiator lacing kits, door seals, trunk seals, ...
New Old Stock - NOS front and rear u-bolt kits. 30s , 40s
Polishing wax. Heavy cutting, primary cutting, fine...(Alum, SS)

Rear coilover/shock mounting bolts. Blue 20euro pr, Red with sleeve 25euro pr.
Ladderbar rear axle mountings. 20euro pr (red), rearaxle shock brackets 40euro pr (yellow), front 4bar under frame brackets 30euro pr (orange), 40s ford column drop (steel) 10euro (green). Under that bracket I have Lasercut front upper shock/coilover mounting plates. I can TIG weld those ready. Price is 30euro pr. picture next after this pic.
upper main cylinder 100% rebuilt 40euro. Lower Ford cylinder SOLD
Front lower shock mounts. 10euro set
Suicide front springs. Those sprins are installed same way than frame rails. Perches bolts are turned 90dec. to show rear. Nice outlook and You can cut frame horns out. 100europr (posies).
shifter boots: Red 25euro. Yellow with SS ring 25euro
Emerg.handle boots: green with SS ring 25euro, blue with ss ring 35euro
socal hood latch brackets (when car used w/o fenders) 40e set.
door stoppers. New and NOS stuff.
lasercut flathead headerflanges
door handle escutheons, 1932-34 headlight bar bolts ss. 1940 bumber bolts,
Different lengt and style dogbones to old style shocks. 30s 40s...
rad.mounting kit ss. rad mountin kit plain. fuel tank mounting kit plain and ss. Socal shock mounts 30e.
Bushings to front and rear 4bar ends.
wind wings 40euro. frame to body bolt kit. A ford, B ford plain and SS hinge pins. 1932 Roadster windshield cones, bolts, wing nuts...
Moon tachometer cup 30e
Front and rear bearings, seals
Mustang II style rackpinion ends 10euro ea = 30euro all.
rear axle panhard brackets (8", 9") 20e set. Swivels 15euro ea
1932 coupe/tudor,cab: Male and female dometails plain and SS. A-ford SS male dovetails, plain female dovetails. 1932 roadster SS female dovetails, SS male dovetails. 1932 roadster plain striker plates. 1932 Roadstter escutheons. 1932 coupe/tudor/cab: SS or plain striker plates. Socal licplate brackets, SS panhard bracket, SS bolts, fuel pump block off plates. A-ford SS and plain hood center hinge brackets. 1932 Front and rear center hinge brackets, ss. 1933- center hinge brackets ss.
Bullseye pedal pad 10e, SS 25e
Tie rod end 20e ea
U-bolts. Fr, Rr
Trunk seal, .....
A-ford, 1932,.. cowl and rad.shell lacing kit, door lower seal, firewall-body seal (1932),....
1928-29, 30-31, 32-34. Headlight bar pads, door handle pads
Fog lights: 3pc amber, 1pc clear. 35euro ea = 100euro all 4pc
Door latches (maybe 40s ford NOS. A-ford -1934 Trunk latches. SS hood handles 1932-34. SS hood handles A-ford. Window regulator handles 1pr, door opening handles 1pr. 1932 ford trunk hinges.
1939- front brake hoses two diffent lenght. Socal SS hoses, Socal black hoses. Rear brake hoses 1939-
Stromberg carb linkparts
1932 roadster door handles 50e. Vintiques inc, not Speedway shit.
Speedway Engine brush kit , 40euro
1940 Ford rear crossmember. You can use what else "straight" or nearly straight rear spring with this crossmember. 140euro
I have also many original 1932 rear springs. There is one lowered model (50e) , 2pc original height (40e ea)
1939 Double Detent full syncro tranny. You can choose what rear mounting You want. 1932, 1935, 1937, 1939..... 1932 brackets is not free, any other You can choose with tranny. If You do not have stick, I have many different on stock. This tranny is not normal 30s tranny!!! 900euro
Markt items sold !!!
SNAP ON toolbox. Not new but looks like new., Dimensions approx. : height 500mm, widht 700mm
You can make reasonable offer.
SW Diesel tach. #811531. 50e
aulis