I found from Upland CA, few months ago, this very good condition 1932 Ford Roadster. Car is on the way to Finland. Bought to same container some bias ply tires, 1932 original stuff (steering, lights,...) speed parts, 2 x project "big bore & stroke" engines etc.
Interesting project. which will be ready before next 2021 summer.
AH
Nice 100% condition 1932 original frame with extra V-supports. 1934 rear axle ready built with 3.5 R&P. 1939 DD tranny....
Rebuilt orig. steering box, old crome pedals.... Great!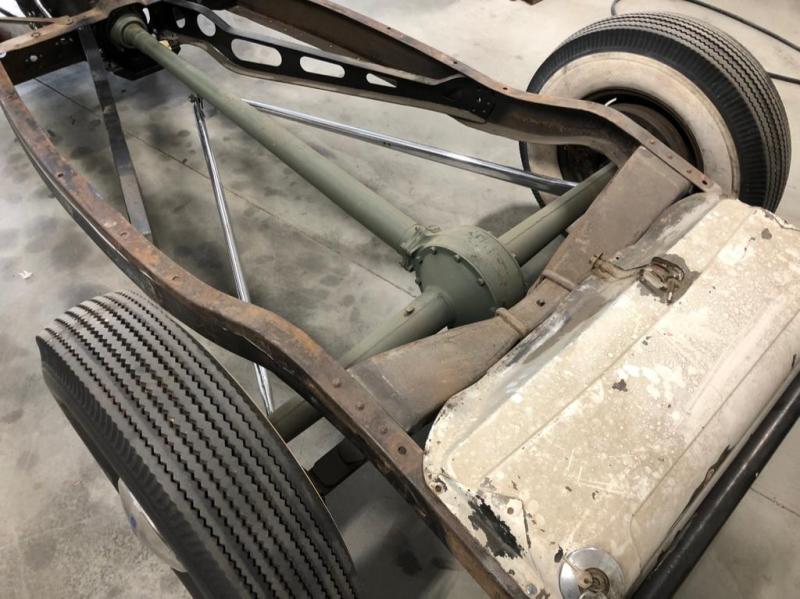 Original Lincoln (37) bendix brakes all corner, original 1932 forged Heavy axle with small extra drop. Middle of 50´s crome on it and front + rear wishbones. Very much good stuff ready bolted on this car....
This rebuild and converted to 12V Flathead will be sold. I built this car 296cid stoke flathead.
I Bought some engine projects from NC. 2 x 59A block + short block stuff. Another (239cid) I will built like for sale including nice extra hot rod parts like alum. heads, hot rod cam, 2 x 2bbl carb etc.
Another I built BIG engine 296cid. Long stroke, big bore, all hiperf stuff inside (Eagle H-beam, Ross, Total seal, Isky, Navarro, Schiefer, Manley, Vertex, Auliz,.....)
23th of Oct 2020 Oskar son and I picked up car + parts from customs in Hämeenlinna.
In Tampere city we stopped to American Dinner. Smokey Halloween Burgers were exelent.
Today 24.10.2020 Sat we wash Rod, Trailer and push car in to my garage. On bed we have two stroke Flathead and some speed + original parts.
24.10.2020 Saturday
Oskar is remove straps and install all ready for remove car from trailer.
Small boxes full of Hiperf flathead stuff. 2 x engine, Lincoln brakes, old SUN gauges, Aircraft small things, headers, ...
Yes, its Christmas time for us !
Aircraft stuff ...NOS and old.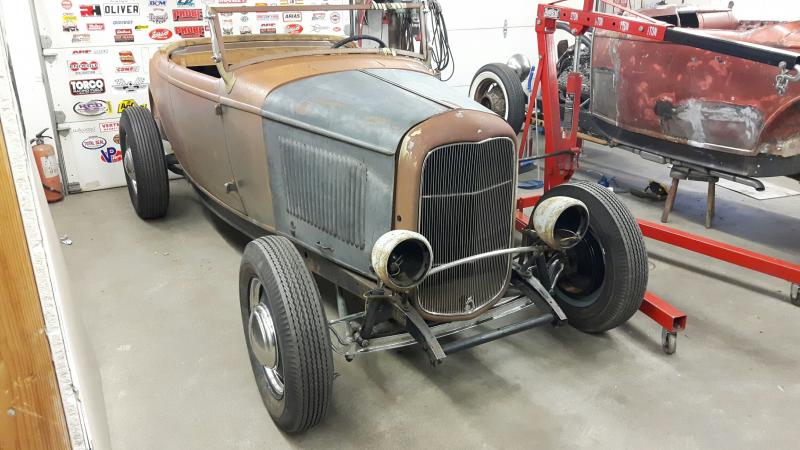 Photos increased 26 of Dec. 2020
221cid flathead. Original and 100% rebuilt engine. Changed to 12V.
Engine, wheels & tires are sold. I want to use bigger engine and differend Artillery wheels....
I built this car 296cid Big Bore & and Long stroke (4.125") engine. 59A blueprinted block, big SS valves, racing cam, Navarro heads and intake, Vertex magneto, Eagle H-beam rods, Ross pistons, Total seal rings, melling hi-vol pump, 2 x 97 stromberg, schiefer alum. flywheel, Auliz - alum. oilpan,......
Original 1932 ford HEAVY axle. Note, there was not so many heavy axles available then 1932! I have had few. This one has been dropped (homemade) late 40´s and cromed too. Same time has cromed front wishbone and rear wishbones + steering parts.
Nice old crome !
This car frame is best I have ever seen. 100%. Steering box has been rebuilt in USA, Rear axle has get 3.54:1 ring and pinion and tranny is double detent full syncro manual. I will use 10" brand new cluch and pressuleplate + alum. flywheel. Brakes are 1940 lincoln bendix.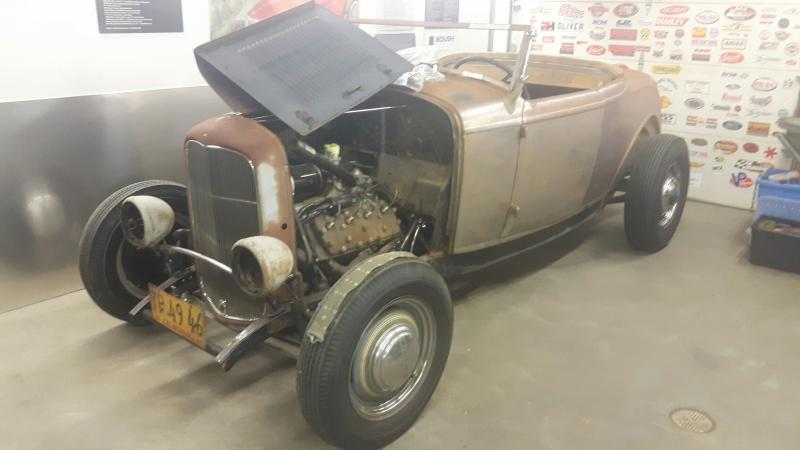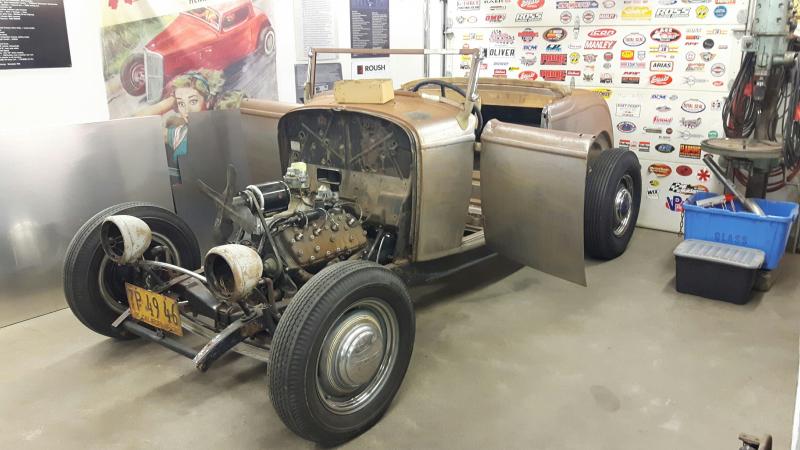 We remove engine, tires and wheels. All those + brass radiator are sold.
Pedals are also old 40s crome. Nice patin !
One Saturday on November, I was wash engines using big hotwater washer.
296cid big flathead block was bored &honed and crank grinded. All other stuff will be brand new. When missing total seal rings arrive, I send parts to balancing.
239cid engine is more like stock condition. I must intall 4pc cylinder sleeves, hone cylinders, polish journals etc. Same time I renew valveseat, install new valve train , better rock n roll cam, alum. heads, 2 carb intake etc. Good engine for somebody who is looking for real hot rod engine.
40s rare taillights. Nor Jay and Grimes early 40´s Aircraft stuff.
I press lathe taillight cups.
I was grind, sand and polished draglink + ends. I want that all steering parts are cromed. Other has old crome those 1st mentioned new.
This windshield frame was 2" chopped model. I like more 3" shopped, so I chopped one inc more and fixed all corners good.
After that I sanded and polished it (up to 1000) before send to crome company. Dirty job and take very much hours, but safe time and money in crome company.
Upper stachions are stainless steel. I chop those, grinded, sanded and polished.
I was made holes both hood tops.
Turned hole edges 3mm down using beadroller machine and some cornes using hammer and hand tools.
RAF parachute (Royal Air Force , UK). Made 3days before I was born. NOS Stuff
Next week need to press off all wheel studs. I bought own 20ton hydraulic press. After that I need to made new 4 1/4"
Bolt Circle for 1935 Chevy Artillery (milk truck) wheels. Wheels are size 17" x 3.5".
Before Christmas I get ready Jukka´s 1932 coupster project. I leave it to paintjob next week. Today 26.12.2020 I finally started this project. FIrst I made some interior models. Also start to Tig weld body. Next 1month bodyworks, after that frame, engine....
I have worked few days with this car before this last week of this year. Ordered very much technical stuff and have very much ready stuff in my warehouse. Many parts has been storaged long time and I have been waiting for "right project". Last December I sold 2 x 1932 Ford (5w coupe 409cid and McCulloch supercharged flathead roadster "B-23") to Sweden. Nice and rare parts are going with cars, so need to try find special stuff 365..... This car will have many special stuff like Seats, interior, gauges, wheels, engine, bodyworks,....

Let´s see what is result after 4-5months.
Start to weld body. Make many changes, strengt body.....
New 20t hydraulic press bought and installed ready for future use.
Plan B
January 10 - 31 / 2021
Nice American weldings all over. My 10y old Oskar son is 10 x better welder !!!
I have rewelded all by TIG. Now all panels are bolted on. Originally those were welded together, but I like more bolted system. Then You can paint all separetelly and then can is not rost,..... easy to adjust all......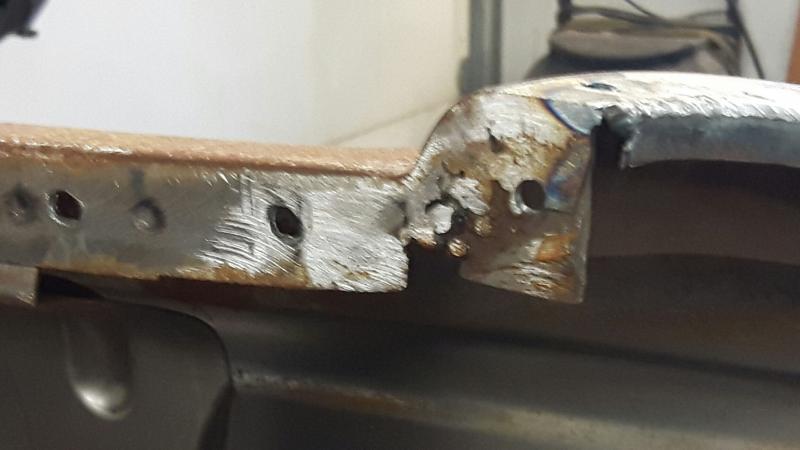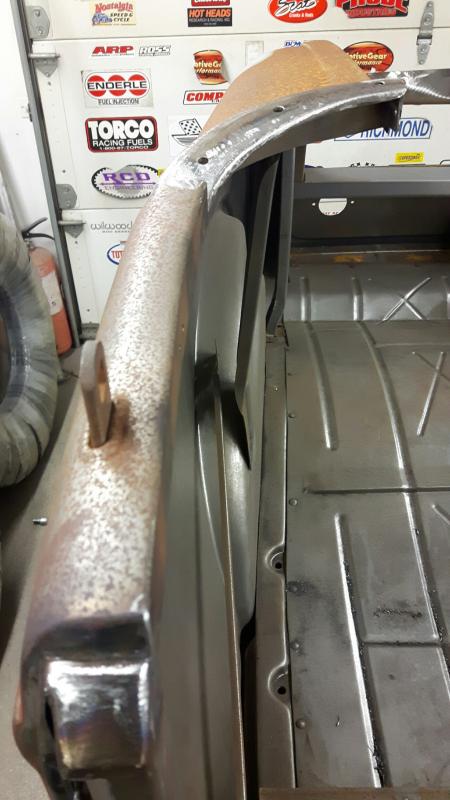 All upper bodyworks were "semi-ready". I have made all fit 100% and weld all finally.
Now woods fit good on body....
Louvers are allways real hot rodding. Nostalgia style "roundback" louver is not too hitech.
Upper part of body is ready.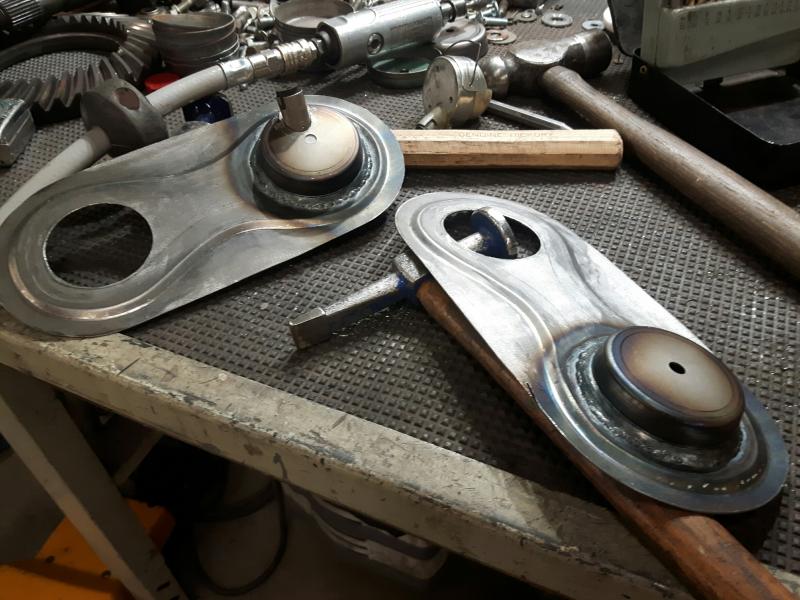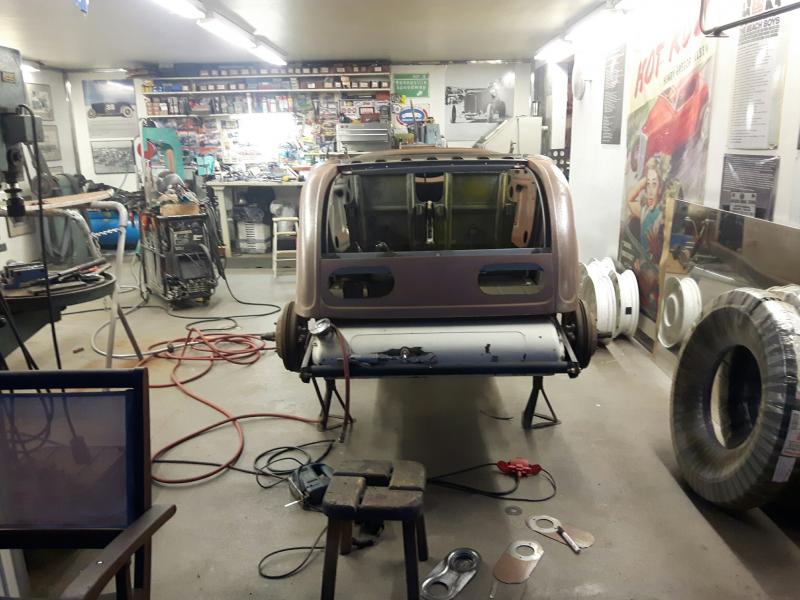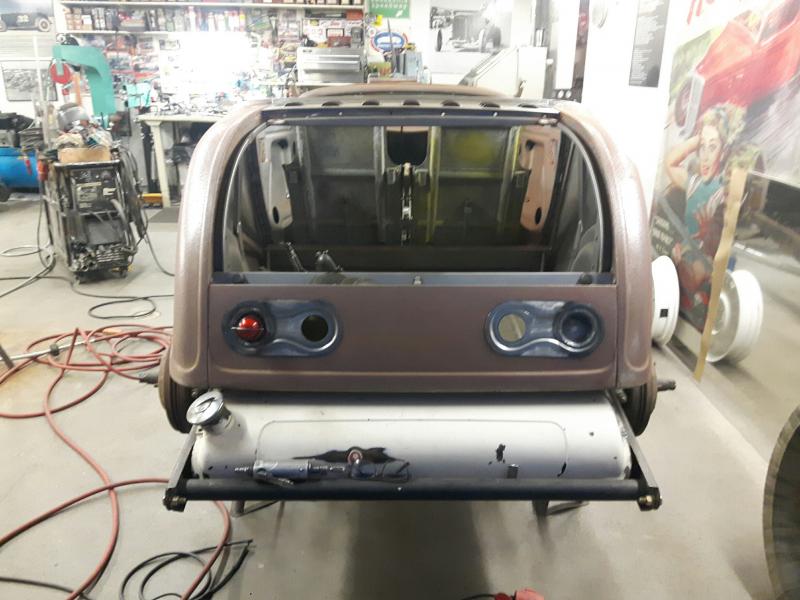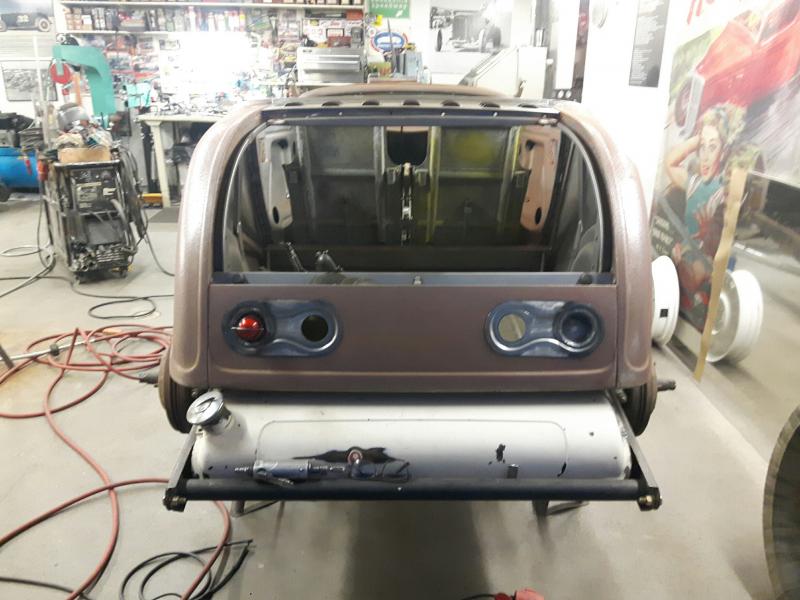 Wheels are Chevy Milk Truck Artillery wheels from middle of 30´s. 17" x 3.75".
Tallights are 1942 Aircraft landing lights. Made by Grimes.
There will be intalled brass or stainless net under alum.rings.
Package tray 2nd week 2021
Aircraft style Aluminum Blisters and base for them.
3rd week 2021
3square meter 4mm plywood.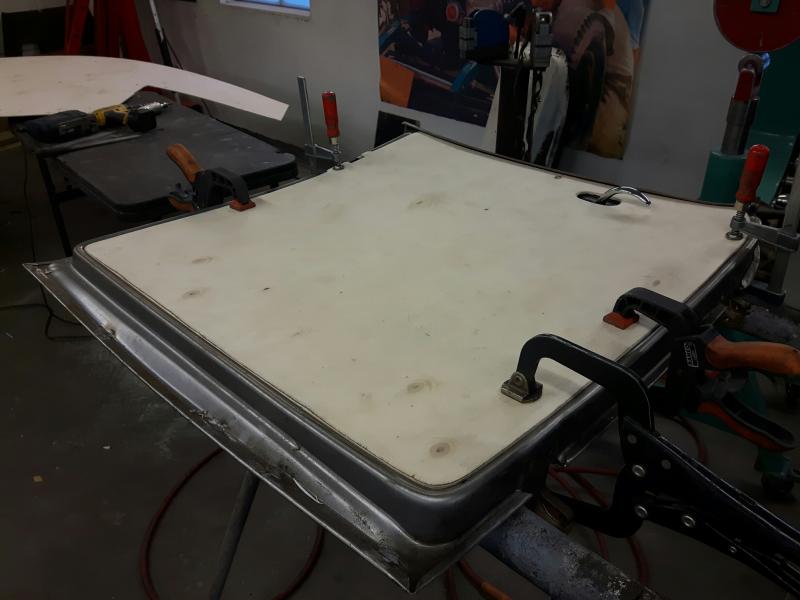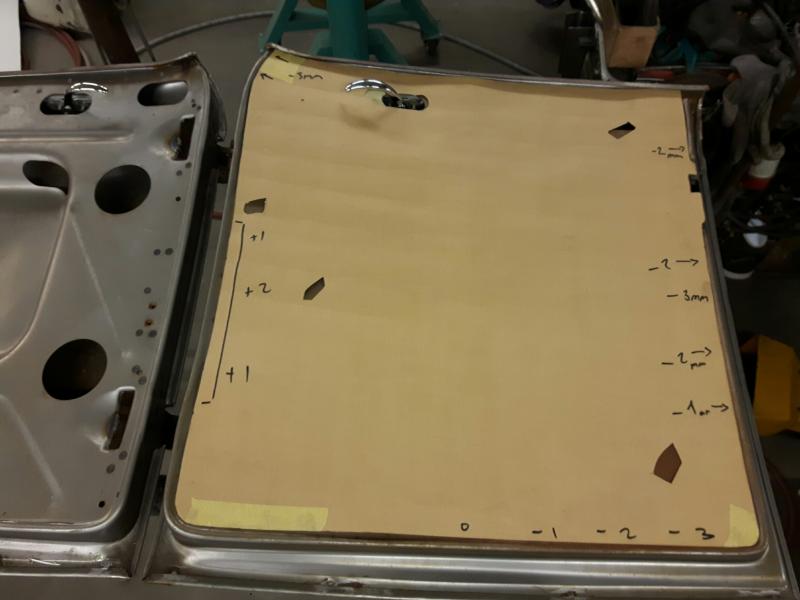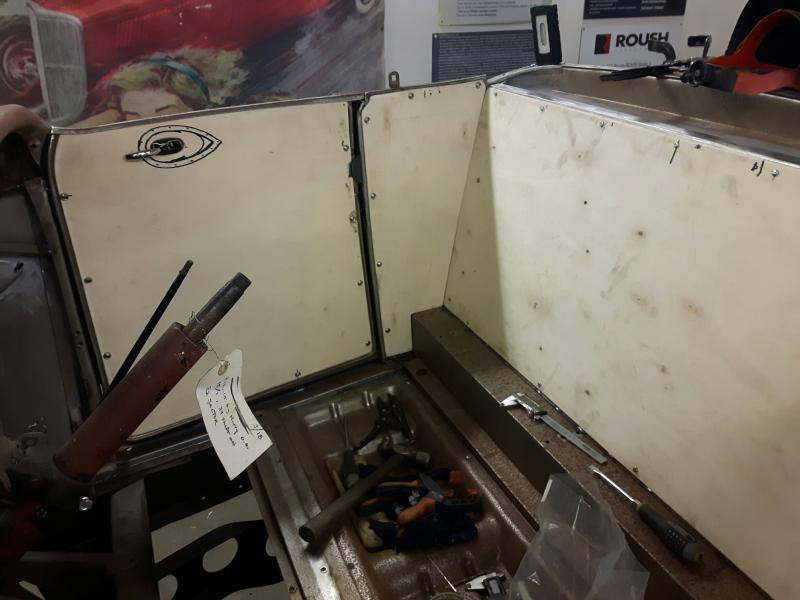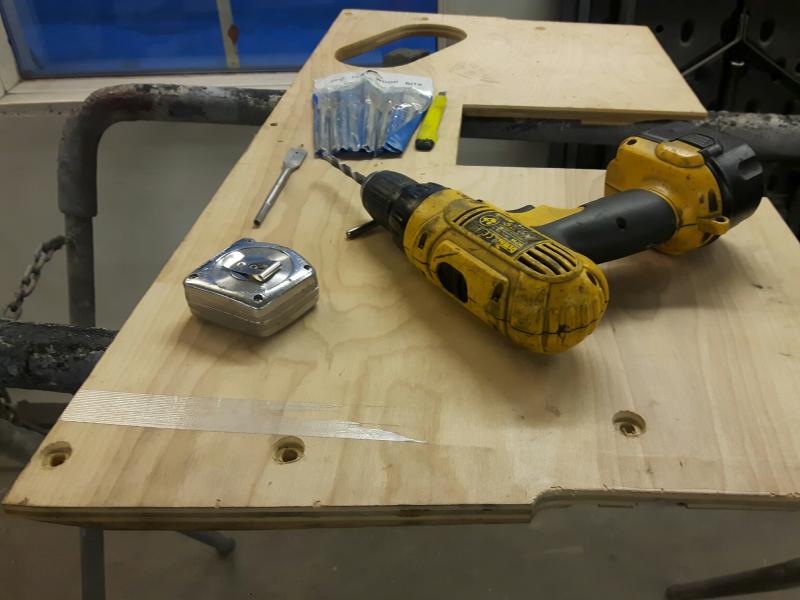 I made panels on seat. Boiling water 3-4hours. Turned and dried 2hours in 80-100dec Celcius sauna
Floorpanels ready, fitted, and finished, new holes to right places drilled after tapped old ones. Last thing was waxing using Osmocolor "kelo" -colour.
Nice "semi-ready" product like too many of all american parts. Two days later those fit good and those are seady for woodwaxing
American shipment arrived last week of January 2021. Mostly stuff to my friends, but something for me too.
This engine will be ready 3/2021. 296cid big bore and big stroke flathead. Block has been bored and Honed. Over 40hours runners porting ! still need to made new racing seat jobs. New 1.60" IN and EX valves , Winfield SU1 cam, Johnson adjust lifters, Iskenderian springs, titanium retainers, fully internal balanced shortblock include Ross forged pistons, Scat H-beam rods, forged 4.125" crank. 2 x 2bbl carbs, Navarro heads, Navarro dual intake, Vertex BBC or Scintilla 426 mopar magneto, Schiefer alum. flywheel.... Runs , I can promise that.
More Aviation parts. Very rare NOS double magneto switch.
Saturday I cut dash and start to build new aircraft style face on it.
Many different plan before found that which looks best for me.
I have lot of original SUN gauges. Now can use four of those.
Ou shit, I made holes and .....magneto switch triangle hole is upside down. 3hours more working Sunday evening.
made and fit piece of sheetmetal and weld it in. Made new hole and fix it ready. Same time Argon bottle were empty.
today I changed both, Argon and Mison bottles. Mison not need very much, because I do not use MIG welding machine, but good to have all ready..... ALso bought 3litre car paint, 1litre for wheels etc., ordered cloth for interior,...
Not so bad. Runs 100kmh in garage!
Colour sheets. Body, frame, interior, wheels, grill,.....
P-51 Mustang magnesium seats need frames. Seats will be sodablasted later, but first need to make new seat frames. This Hot rod I will install seats very low. My shoulders need to be lower than upper edge of body..... I want that "P-51 fighter" outlook. windshield frame will be +3" chopped.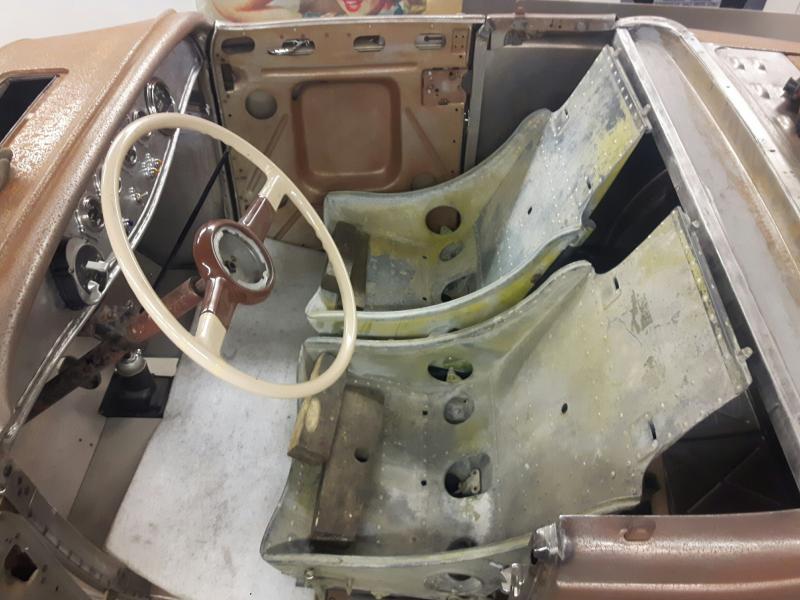 Copy from P-51 Mustang service manual.
Brake spacers
Seat frames are dropped as low as possible.
Seats finally bolted on. "how low can You sit"
I drilled holes and welded original style "moving nuts" to the body. Now can install original rear fenders if needed.
SUN gauges, relays, magnetos
Spoon gas pedal fitting, drilling holes for generator relay (3 port) and starter relay. Old style stuff.
Lincoln late 30´s bendix brakes are fitted after made those adapters. Bolt circle is not same with 1932 ford mechanical brake spindles >< lincoln brakes.
If use brass rivets, need to use brass nets too
This bodytable I made 16y ago. storage it behind garage under three.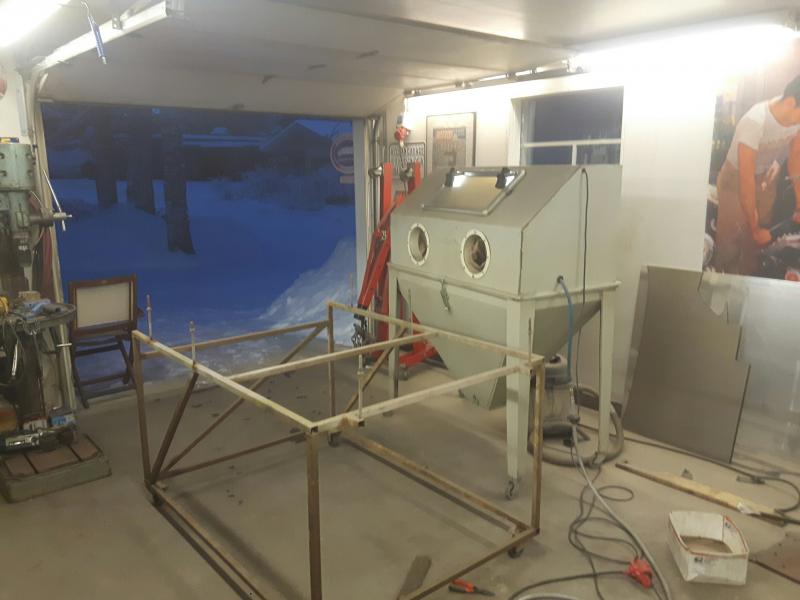 "nimismiehen kiharaa".... downhills.
Homemade sandblast cabin is good. After this "hoodcase" I cleaned cabin and put there glass for glassblasting.
American mig weldings need to reweld with tig.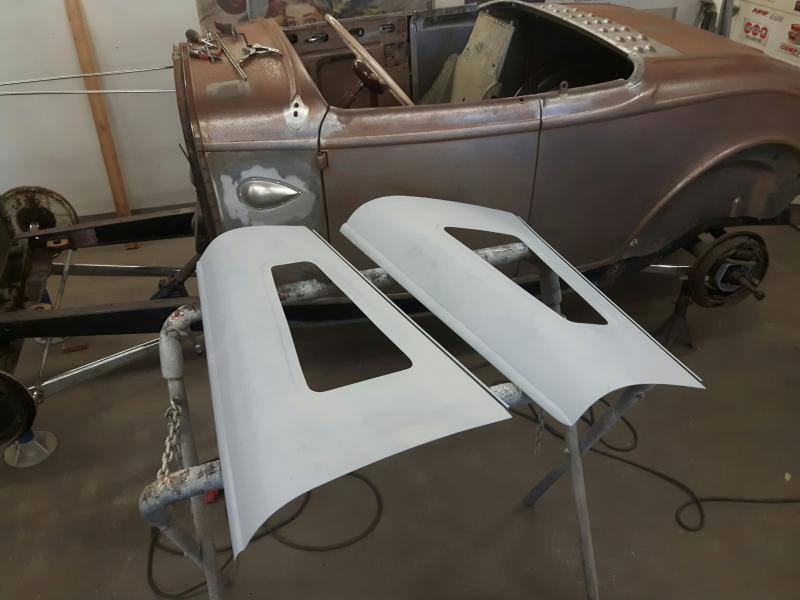 Original Jam !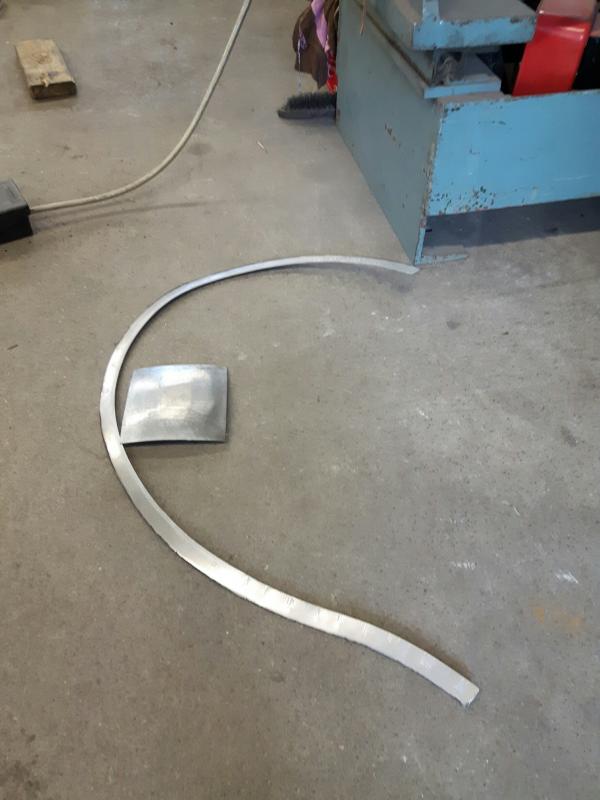 Pullmax is number one. few seconds and You can shrink what You want.
Roll NOS cowl and radiator shell lacing.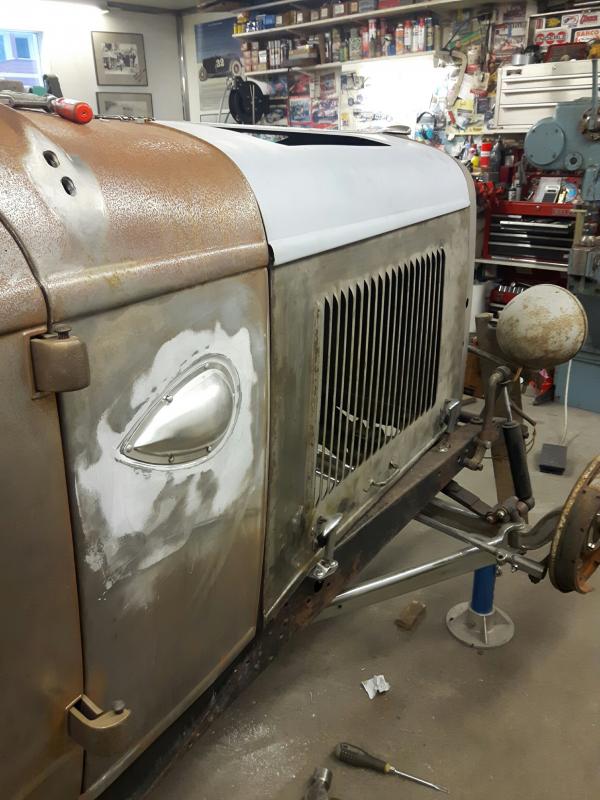 Hoods sandblasted, straighted and fits OK.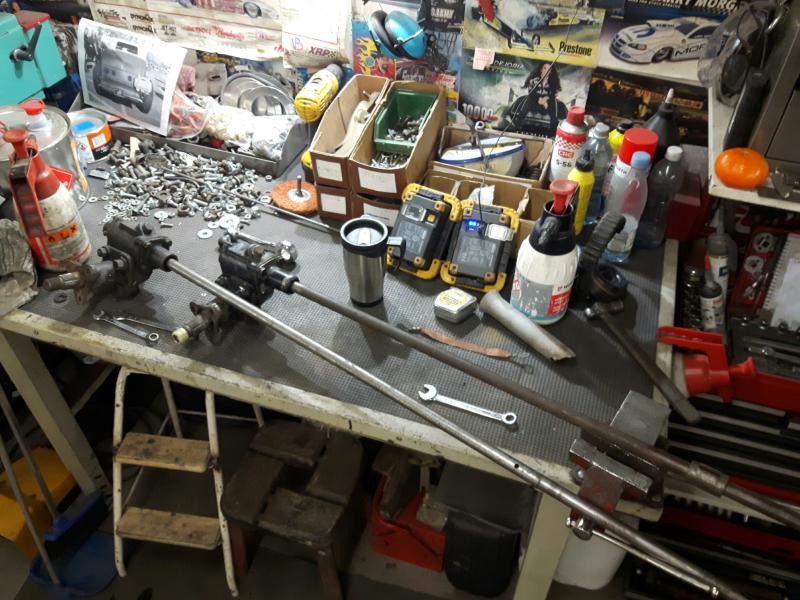 I used 1932 BB ford steering box and column shaft. shorted 80mm. Seats are now so low that need to short column shaft as much as possible. same time steering wheel is going lower.... I want to use 1932 original column drops, nothing china shit.
Looks speedster !!!
Original 1932 SS hood latches are installed. Drilled and made thread all holes in frame. Rear brackets are homemade too.
Column tube I made using 1932 tube + 1936 tube.
Dirtyjobs. I bought 2,5-3,0 sqm 4mm aluminum
Mercury rear drums and hubs, ford front drums and hubs are machined ready for Chevy MilkTruck 5 x 4.25 Bolt Circle wheels.
Big job, but somebody need to do that or everybody are use "fourty ford or 1936 ford wheels".
While grinded flathead crank 010 undersize. This engine I made for sale. Very good 59A block, Installed 3 cylinder sleeve because there was little corrosion. Std size block, surfaces are grinded, honed all cylincers with 600stones. All cylinders very good and pistons are too.
Ner rings, 8BA rods, new bearings, edelbrock old heads, hot rod cam, new valves, springs, adjust lifters, quides, retainers, timing set,... 2 x 97 carb, 12V converted disstributor, new oilpump, racing intake..... Real nice engine for somebody who want quality, rock n roll sound, and trustly engine with good power.
After few days cut, file, fit, cut, file, fit, drill.... frames are nearly ready. Now need to decide, alum. or brass rivets. Alum. or brass net....
I made deal with Mirka and bought Deros650 + all need with it. Best You can buy
"Ylli" made those 2mm adapters between Ford brakes and Chevy Milktruck wheels.
He is professional CNC-Man.
I bought from Ebay 40´s racing magneto. Those Harman&Collins magnetos are best You have have. Big Magnetwheel, very powerful. Easily over 4" long spark, I have tested many times. I send coil to Tmi Magnettomies Vesa Vuorela. He has recoil me many magneto coils. Magneto can work fine, but mostly those old magnetos "leak" warm.... so better recoil it and after that I put it together and Adjust magneto before bolt on engine.
Old "found" from Ebay. Cats-eye marker lights will be in used like front turn signals. I drop those inside of those headlights.
Brass bolts are nice. Not easy to find. I have those kilos !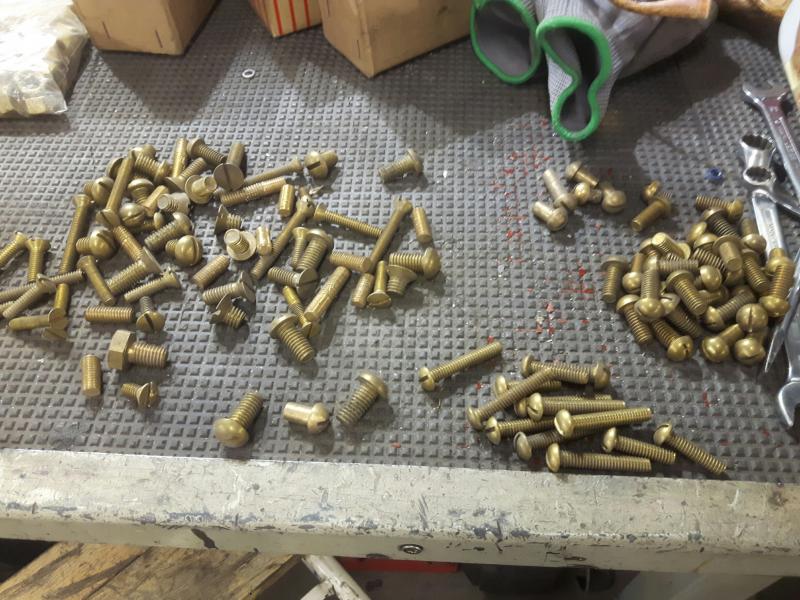 Old emergencybrakehandle was broken. Spring was rost off...so I piece it and made own differend "returnspring system".
Also made this emerg.handle bracket. Little cutting, lathejobs, welding and its ready.
I have not decided yet what material rivets and net Im gonna use. Alum. or Brass.

Body were shimmed on the frame before bolted on. That´s what You need to do everytime carefully. Then doors are work fine and clearances between sheet metals, doors are nice.
Here I start to remove body. Enginelifter is good help.
I have had nice 1932 frames earlier, but this is best ever. 101% condition !
Bahco sold me this seat/working roller.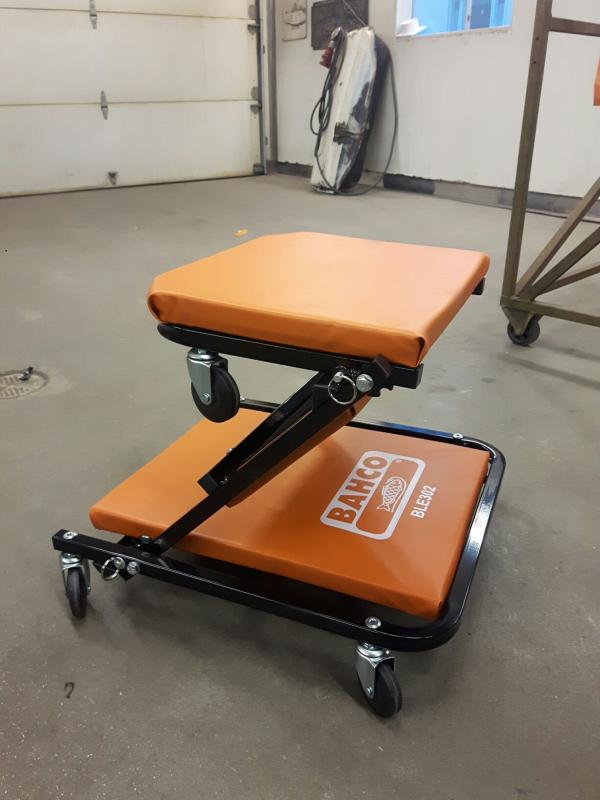 More NOS vintage brass stuff.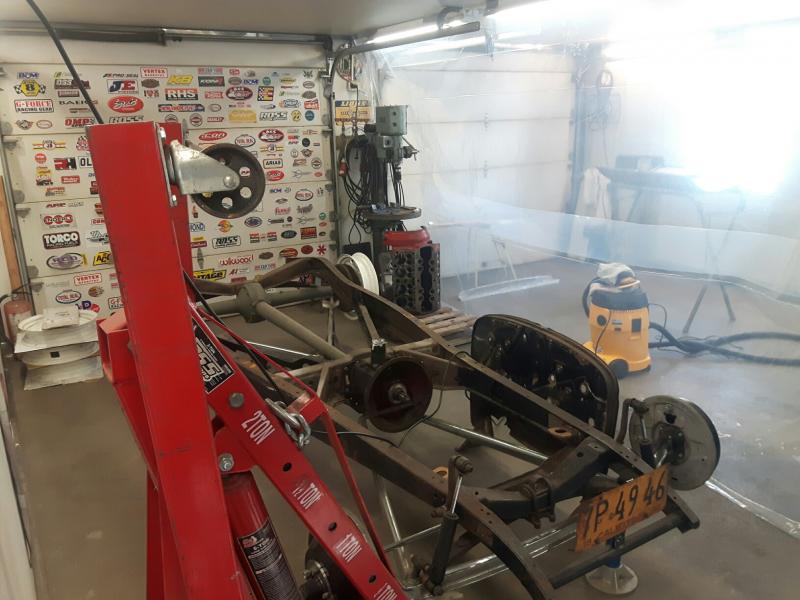 American welding (up) and Finnish rewelded. This headlight bar has made from original 1932 fender to fender headlight bar.
"black steel" and stainless steel cover on centerbar. This is how they made headlight bars early 40´s when didn´t have those aftermarket stuff available.
New "nice" painting and sanding room separated inside of my garage. 3m x 6m area.
Teknos Inerta 5 Primer. 10litre + harder + thinner = one body + frame. I do not like to use normal filler.
Those are too soft and shrink long time after car painted. These industrial primers are strong and good. More hard to sand, but I like those more than "soft easy stuff". 4-5days after spayed, can start to sand. Abranet 500, Mirka/3M 500 sander, 500soft hand...that´s all You need.
My Oskar son (10y) made this pic. He is very interested in drawing.
Normally all those panels are not removable. I made those every time removable because I like that all panels can be painted all over. Then I know there is enough paint were normally was two sheet metals side by side and spotwelded together. Also easier to adjust all fit together if have bolt mounted stuff (panel between cabin and trunk lid. panel between trunklid and gas tank, cowl top..)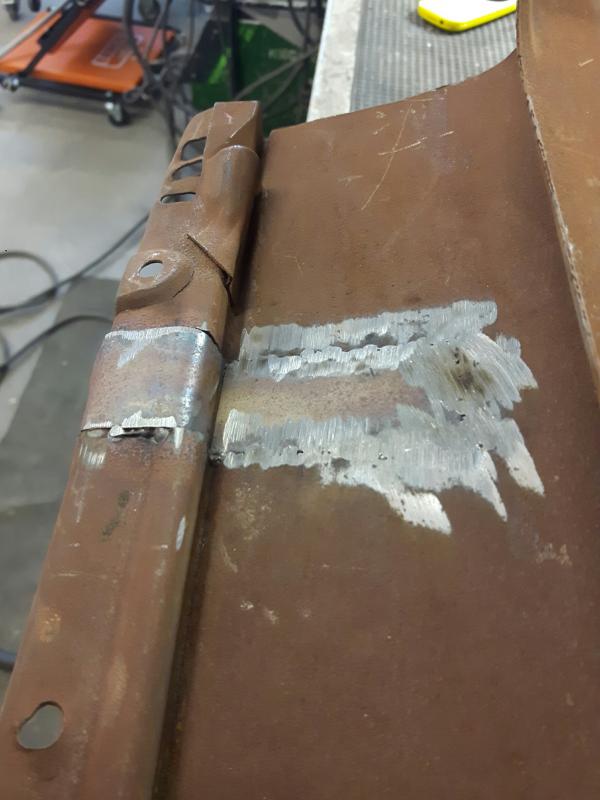 American welding. I was try to hammer it to the right shape, but You know mig weldings..... everytime steel crack. If use TIG or gas welding = You can hammer, strecth/shrink as much as You want.
Tig welded
Ready stuff waiting for painting. My friend Pasi Lammi (automaalaamo pasi lammi oy) will spray all parts in his company. We start painting next week. I made some frame modifications and paint frame , wet to wet, here in own garage. Rear axle, tranny, engine and plenty of small stuff (brakes, firewall, muntings,.....) wil be painted during this month. I think all is painted during this month.
13.3.2020
I tape grill and blow with glass small pins. After that open all tape and retape same way like did earlier. Ready for painting.
first paint backside.
17 x 3.75 Chevy Milk Truck Artillery wheels are ready. I bought 5pc from Center USA. 1pc was 100% junk, full of holes. Two of those I have strongly welded, two of those I have straight in my friends big lathe machine (presslathe). Still found 2pc from NY area and those are coming to Finland during this spring season. I have removed all hub caps mounting clips etc. Only smooth wheel, new zink plated open nuts --> Old outlook. I do not like those old hub caps, because those are come too much out from wheel surface.
Im gonna use New inner tubes and new Firestone bias-ply tires. Front 17-5.00 rear 17-7.00. Rear tires are same height than 32" racing slicks !
15.3.2021 - 5.4.2021
Next two days frame jobs. Frame is 100% exelent condition. I just "straight" rear frame support which is made car 3" lower.
Still it will be high. I like more early 40s style traditional hot rods than those very low models.
Parachute bracket. Parachute is from UK. made 4ht of May 1966, three days before I was born.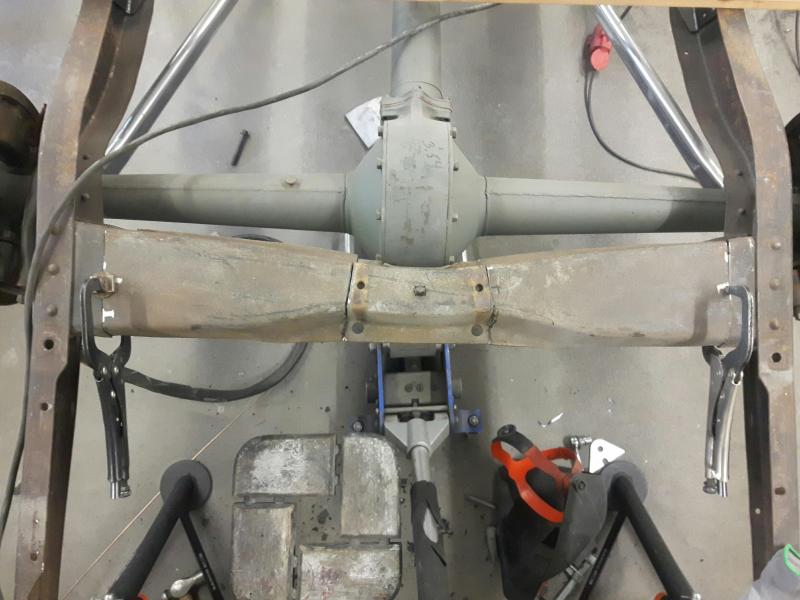 5th spring compination was right "hardness" and height. 1932 ford spring is curved two different way. I can tell You that must have good systems when open set of leafs or put together !
This looks best. when come body, fueltank etc weight more, springwill be near frame but still has good possible to move.
I used milling machine to make place for SS spring clamps.
American weldings. Some parts are welded very very good, some like those aftermarket engine brackets are broken after I cut little from upside and used 2,5kg hammer. Anyway, I remove those, because I like to use original 1932 brackets (front side of engine.)
Never use MIG welder if You are not professional. This is result !!!
Tig is better. +120 ampher and I quarantee material is smelt.
Only and one place need to weld. Rost under LH engine mounting pad.
1932 Ford.
- own frame
- own bodystyle
- own tranny mounting
- own clutch arm
- own very long front wishbone
- own rear wishbones
I knew that i have one extra 1932 clutch release arm. Those are very much angled and expensive. If You find one, 150-200euro each. I have two extra (one to my 5w coupe , one for this car) but not find that one....so I decided to made it using 1936-7 arm and 1940 arm.... those I have plenty of and can destroy pair.
When welded together, arm must be so hot that it´s red one inc both side of welding area. Then You can hammer welding before its cool down.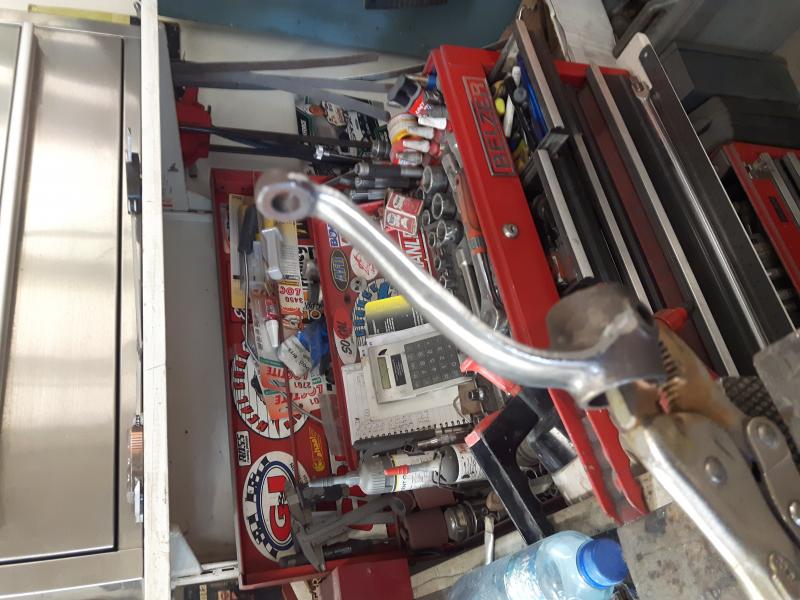 Yes, pedals are too 40´s - 50´s old hot rodding crome (like front axle, rear and front wishbones....) Nice old patina !!! , that You cant make.
P-51 magnesium seats are sodablasted in kristiinankaupunki. Alum.parts are shiny after sodablasting, real magnesium was going more darker than before sodablasting. I like this, fits good to interior and I leave those like they are.
Expensive seats, outlook tells about long long history of aircraft industry and fighters like P-51 (mustang).
I have one pair new Barney Navarro heads and one pair old 50´s Ecelbrock very very high compression heads. I have seen a lot of those flathead heads, but never so small chamber heads like those edelbrocks are. I need to measure and calculate if which ones I can use in my stroker engine. Engine parts I picked up from Lahden Kansityö. They balanced all shortblock stuff. Timo Suojanen left my parts to Lahti (+300km south from Seinajoki) and I picked up. Now I have all ready. Engine building takes one week. I must make new valveseat jobs etc etc..... Good thing is that this block is 1st ready portet. Normally runner porting job is so dirty and it takes 30-40hours.

I wash frame and springs in my another garage.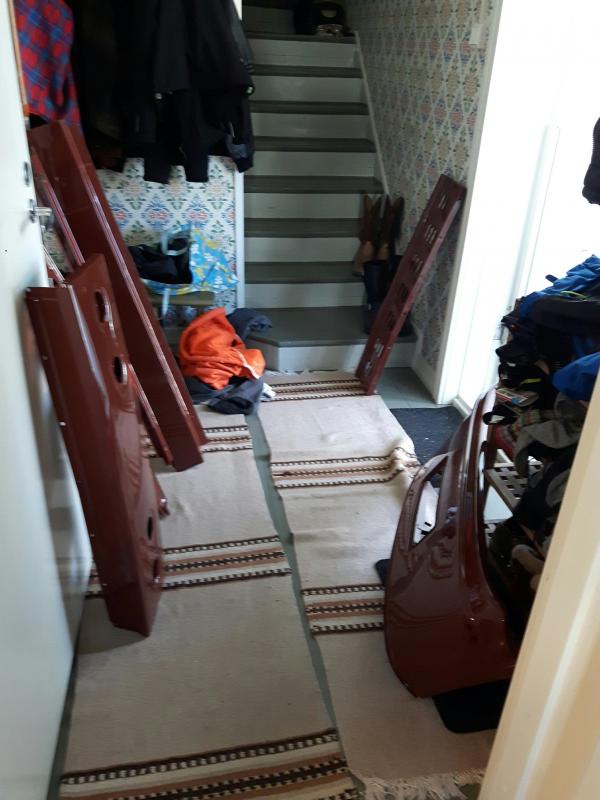 Aulis