I found from Upland CA, few months ago, this very good condition 1932 Ford Roadster. Car is on the way to Finland. Bought to same container some bias ply tires, 1932 original stuff (steering, lights,...) speed parts, 2 x project "big bore & stroke" engines etc.
Interesting project. which will be ready before next 2021 summer.
AH
Nice 100% condition 1932 original frame with extra V-supports. 1934 rear axle ready built with 3.5 R&P. 1939 DD tranny....
Rebuilt orig. steering box, old crome pedals.... Great!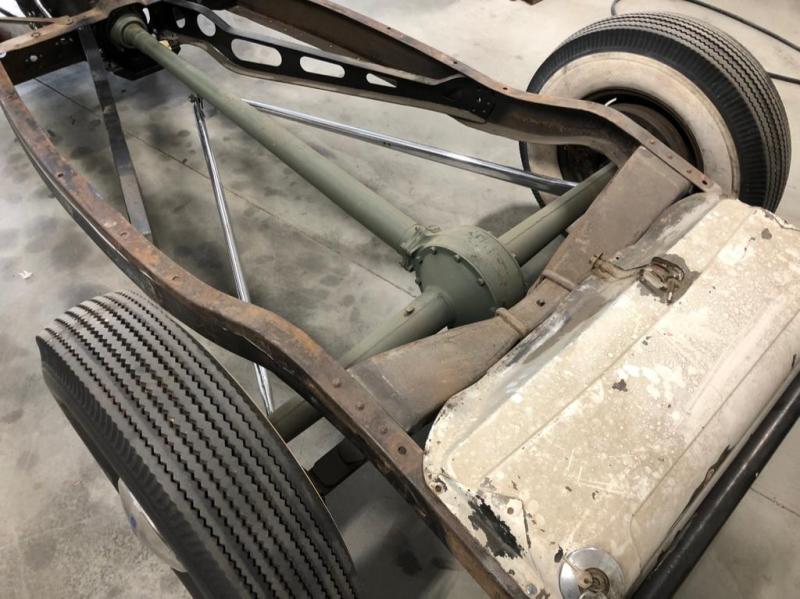 Original Lincoln (37) bendix brakes all corner, original 1932 forged Heavy axle with small extra drop. Middle of 50´s crome on it and front + rear wishbones. Very much good stuff ready bolted on this car....
This rebuild and converted to 12V Flathead will be sold. I built this car 296cid stoke flathead.
I Bought some engine projects from NC. 2 x 59A block + short block stuff. Another (239cid) I will built like for sale including nice extra hot rod parts like alum. heads, hot rod cam, 2 x 2bbl carb etc.
Another I built BIG engine 296cid. Long stroke, big bore, all hiperf stuff inside (Eagle H-beam, Ross, Total seal, Isky, Navarro, Schiefer, Manley, Vertex, Auliz,.....)
23th of Oct 2020 Oskar son and I picked up car + parts from customs in Hämeenlinna.
In Tampere city we stopped to American Dinner. Smokey Halloween Burgers were exelent.
Today 24.10.2020 Sat we wash Rod, Trailer and push car in to my garage. On bed we have two stroke Flathead and some speed + original parts.
24.10.2020 Saturday
Oskar is remove straps and install all ready for remove car from trailer.
Small boxes full of Hiperf flathead stuff. 2 x engine, Lincoln brakes, old SUN gauges, Aircraft small things, headers, ...
Yes, its Christmas time for us !
Aircraft stuff ...NOS and old.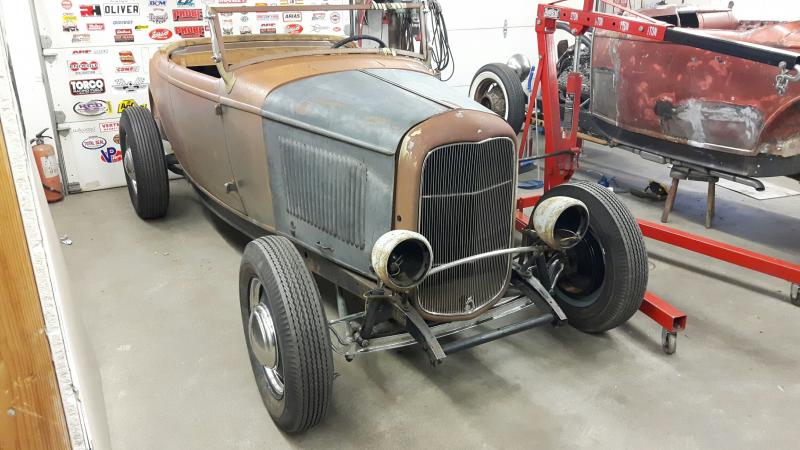 Photos increased 26 of Dec. 2020
221cid flathead. Original and 100% rebuilt engine. Changed to 12V.
Engine, wheels & tires are sold. I want to use bigger engine and differend Artillery wheels....
I built this car 296cid Big Bore & and Long stroke (4.125") engine. 59A blueprinted block, big SS valves, racing cam, Navarro heads and intake, Vertex magneto, Eagle H-beam rods, Ross pistons, Total seal rings, melling hi-vol pump, 2 x 97 stromberg, schiefer alum. flywheel, Auliz - alum. oilpan,......
Original 1932 ford HEAVY axle. Note, there was not so many heavy axles available then 1932! I have had few. This one has been dropped (homemade) late 40´s and cromed too. Same time has cromed front wishbone and rear wishbones + steering parts.
Nice old crome !
This car frame is best I have ever seen. 100%. Steering box has been rebuilt in USA, Rear axle has get 3.54:1 ring and pinion and tranny is double detent full syncro manual. I will use 10" brand new cluch and pressuleplate + alum. flywheel. Brakes are 1940 lincoln bendix.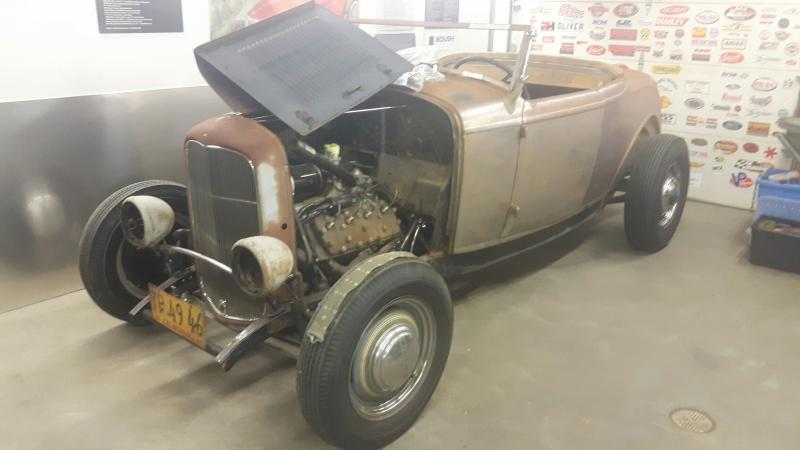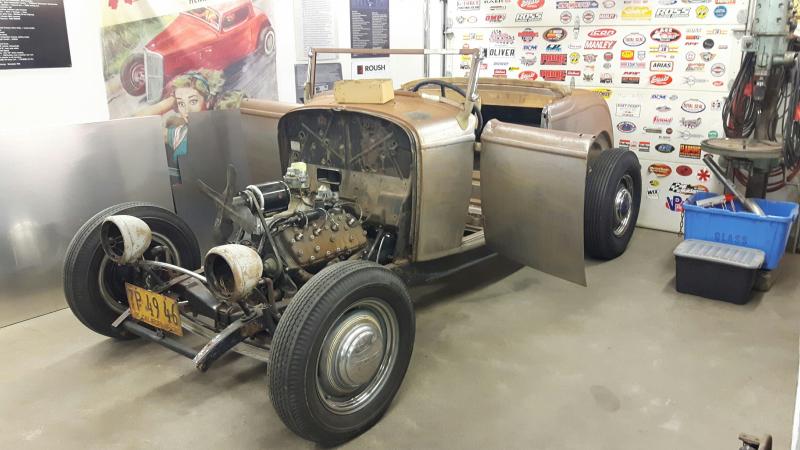 We remove engine, tires and wheels. All those + brass radiator are sold.
Pedals are also old 40s crome. Nice patin !
One Saturday on November, I was wash engines using big hotwater washer.
296cid big flathead block was bored &honed and crank grinded. All other stuff will be brand new. When missing total seal rings arrive, I send parts to balancing.
239cid engine is more like stock condition. I must intall 4pc cylinder sleeves, hone cylinders, polish journals etc. Same time I renew valveseat, install new valve train , better rock n roll cam, alum. heads, 2 carb intake etc. Good engine for somebody who is looking for real hot rod engine.
40s rare taillights. Nor Jay and Grimes early 40´s Aircraft stuff.
I press lathe taillight cups.
I was grind, sand and polished draglink + ends. I want that all steering parts are cromed. Other has old crome those 1st mentioned new.
This windshield frame was 2" chopped model. I like more 3" shopped, so I chopped one inc more and fixed all corners good.
After that I sanded and polished it (up to 1000) before send to crome company. Dirty job and take very much hours, but safe time and money in crome company.
Upper stachions are stainless steel. I chop those, grinded, sanded and polished.
I was made holes both hood tops.
Turned hole edges 3mm down using beadroller machine and some cornes using hammer and hand tools.
RAF parachute (Royal Air Force , UK). Made 3days before I was born. NOS Stuff
Next week need to press off all wheel studs. I bought own 20ton hydraulic press. After that I need to made new 4 1/4"
Bolt Circle for 1935 Chevy Artillery (milk truck) wheels. Wheels are size 17" x 3.5".
Before Christmas I get ready Jukka´s 1932 coupster project. I leave it to paintjob next week. Today 26.12.2020 I finally started this project. FIrst I made some interior models. Also start to Tig weld body. Next 1month bodyworks, after that frame, engine....
I have worked few days with this car before this last week of this year. Ordered very much technical stuff and have very much ready stuff in my warehouse. Many parts has been storaged long time and I have been waiting for "right project". Last December I sold 2 x 1932 Ford (5w coupe 409cid and McCulloch supercharged flathead roadster "B-23") to Sweden. Nice and rare parts are going with cars, so need to try find special stuff 365..... This car will have many special stuff like Seats, interior, gauges, wheels, engine, bodyworks,....

Let´s see what is result after 4-5months.
Start to weld body. Make many changes, strengt body.....
New 20t hydraulic press bought and installed ready for future use.
Plan B
Aulis