I bought this 1932 5w Couper from Whittier CA 2-3years ago. Big mistage. Not good resolution pictures, no detail pictures....but how can I say " Own stupid head -> all body is suffer". Maybe this car was more worse than I expected. I was looking for project Deuce, not good or very good body car. Why buy Lazze´s englishwheel and beadroller machine, US power hammer, Pullmax and shrinking dies, stretcher-shrinkers.... if all projects are so good that not need to use all those machines + handtools?
This Junk-Deuce: Doors were not mounted, trunk lid not mounted. I ask seller to fit, but he told me "Im too busy". OK, doors were 80% junk, not fit on their places.. Dimension differenced even nearly 1inc between doors and doorholes. I have moved A-pillars, B-pillars to right places. Somebody was cut and weld A-pillars, nearly destroyd those. Hingeplaces and heights have moved and it has take very much time to change all as original places before fit doors, cowl sides....
Mainthing is to make rear quarter first from B-pillar to backwards. Then I have fixed points (set points) to stretch and shrink all to right dimensions from B-pillar to a-pillars.
For example trunk lid hole was over 1" out of crossdimensions (sorry, not find right word for that). I need to release all weldings, push, bend, wrench,...backside of body. Now its very near what it would be. I have sandblast original frame and body. Frame is good, Wishbones, early dropped heavy axle etc are good too. I fixed those one long week and send to Sweden cromecompany (Dalakrom Ab). Those are ready waiting for installation.

Body was junk, but I have now welded and made new sheet metals over 50% of all what need to replace or fix. Last autumn I worked with it only 1.5month, so not have used so much time and resources.... I continue this project after few weeks.
Here few pics from US, and 2weeks building pics. I increase more pics today or next week....
Aulis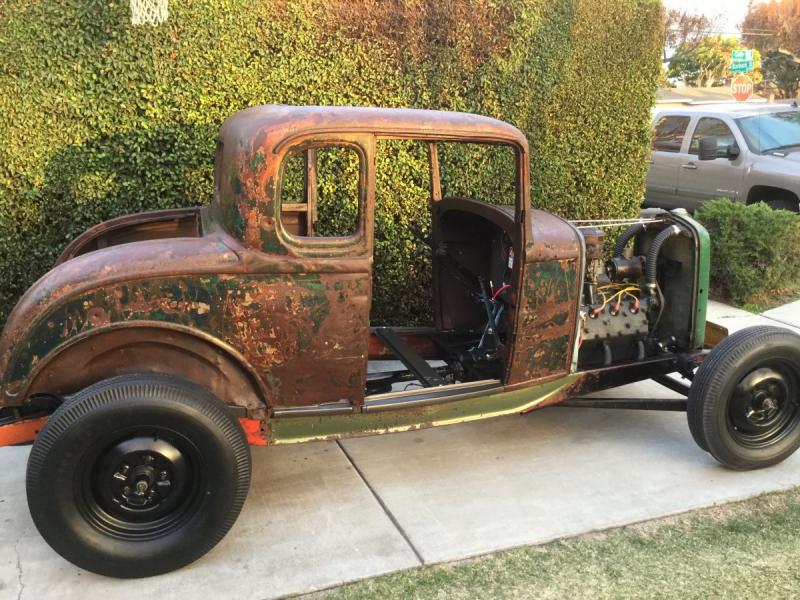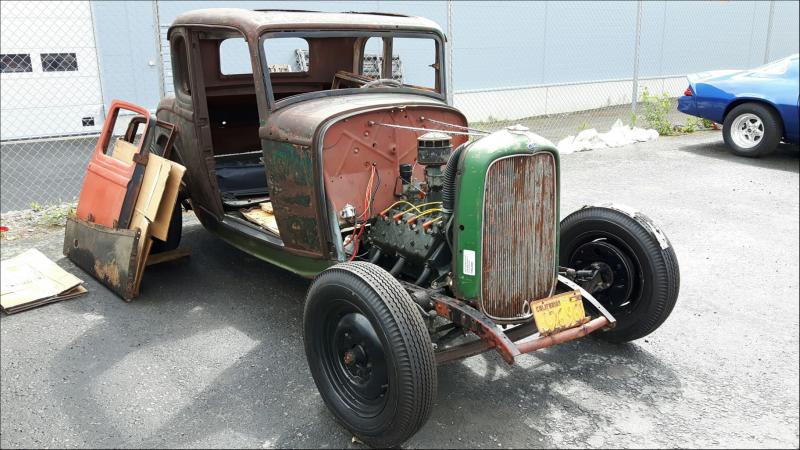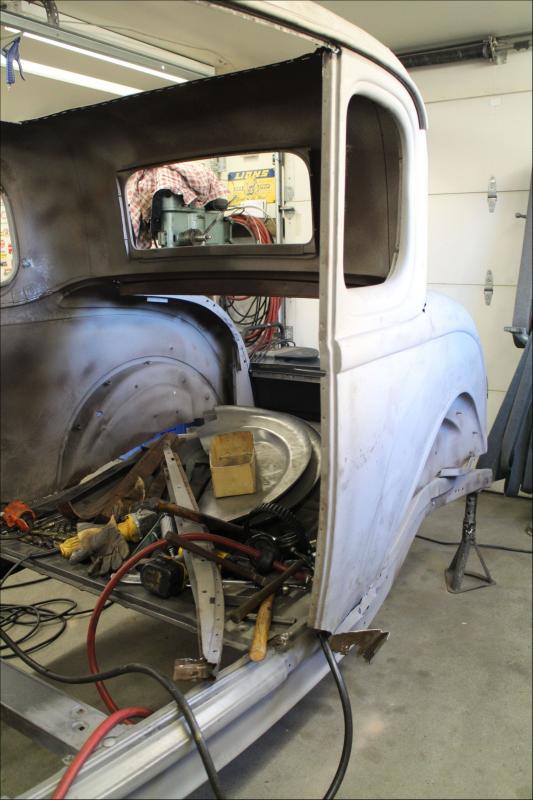 Like potato sack.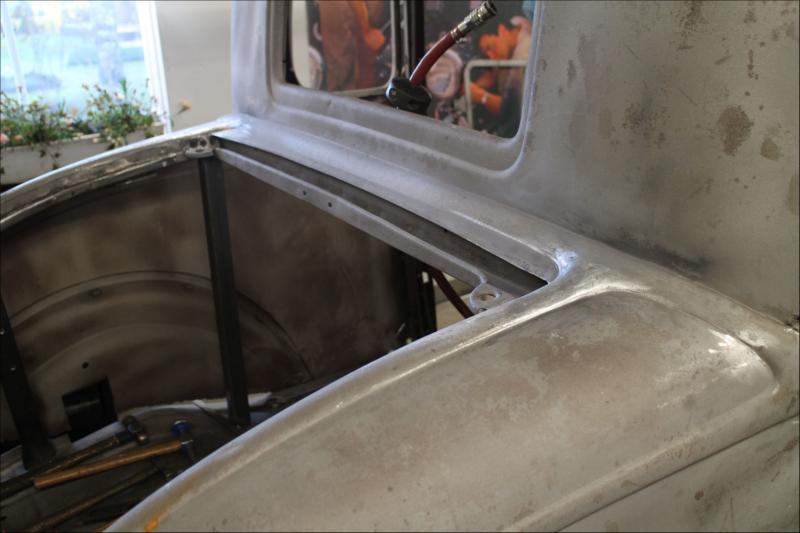 Both waterrails cut off, fixed and welded back.
Slowly homemade deck lid skin is slowly get right shape.
Cabin was also from this side approx. 1" in. Welded sheetmetal piece and same time hammered cabin corner out.
Ford Skeleton.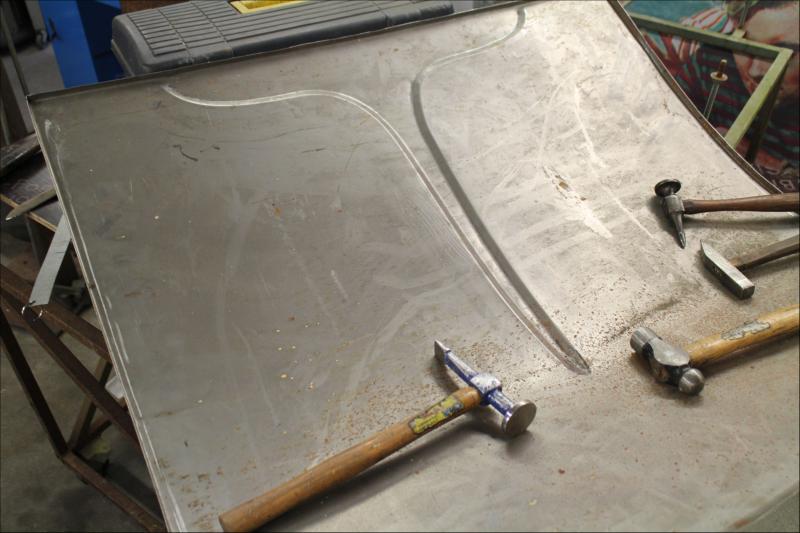 "Bullhorn" .
Kitchen works.
Both sides are cut.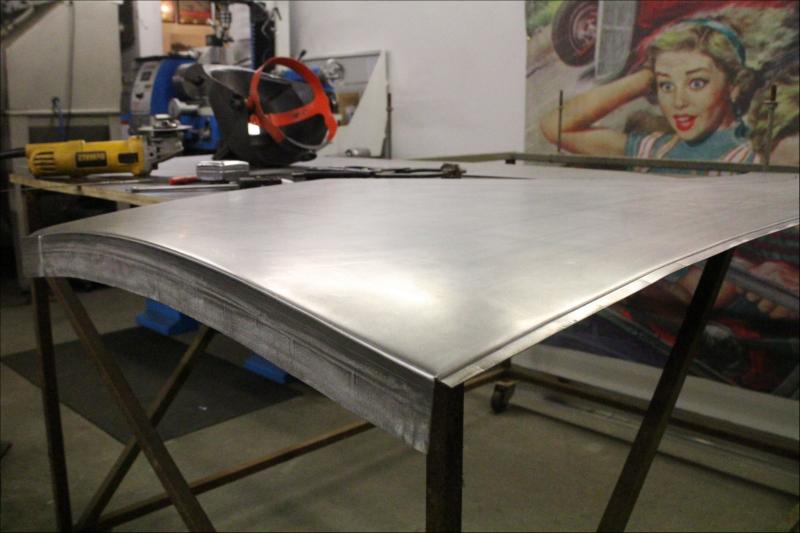 First englishwheel rolling, 2nd turned sides, 3rd turned beads.
Pullmax 5 with shrinking dies, footpedal and frequency transformer.
I welded mountings for powerhammer this side of pullmax. Same settings I can bolt on louvers dies.
Pass side ready for cutting extra material off.
Good english wheel and beadrollermachine are needed. Be carefully with those chinese shit.
I have made ruler after every 8" Vertigal and every 20" horizontal.
I made rulers 1y ago, those fits perfect to my another 5w coupe which was good model.
This ruler in picture is Nr 1 - V.
Corner sheetmetal part ready for installation. I weld from holes. Originally its nailed from holes, now welded.
Ready for welding.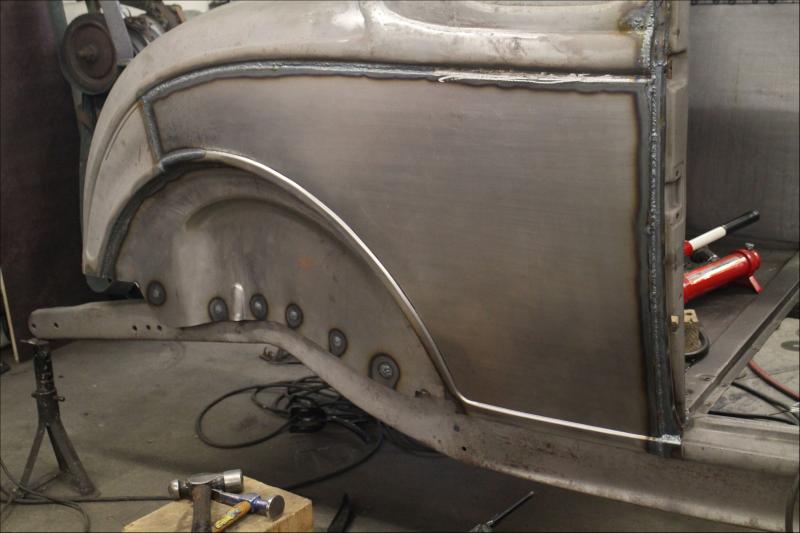 All Tig welded.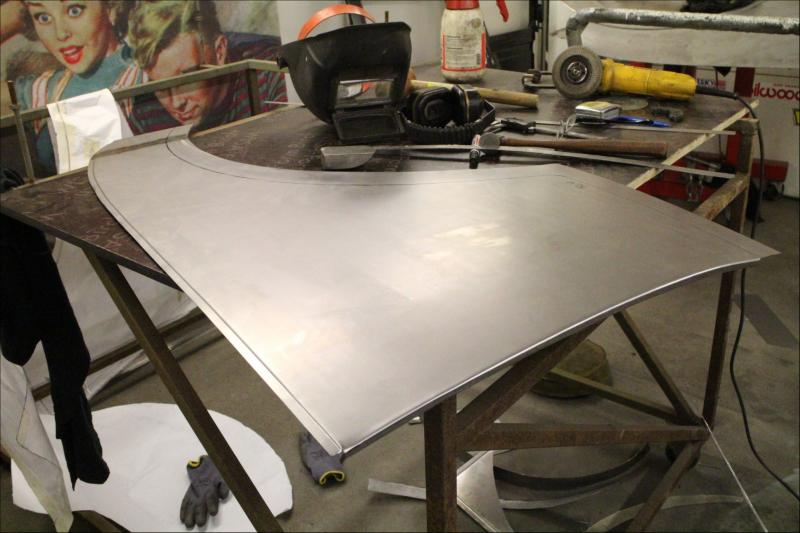 Driver side rear quarter.
You can see how bad body is. Top was 2" inside I push it out same time than shrink rest of
rear quarter in.
Another quarter is easier made.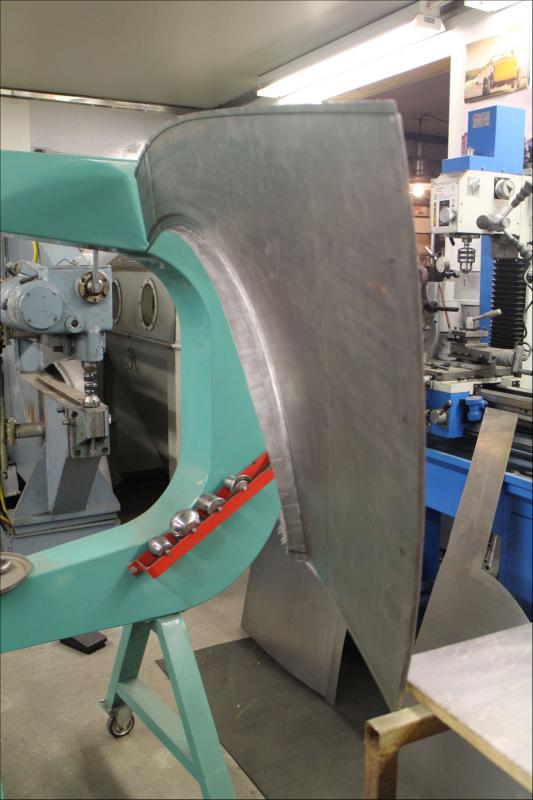 Slowly rear shape is found.
Ready for tig welding.
Door with aircondition.
Small holes very much. Still steel is strong, so I Tig welded all holes. Very easy and result is good. material
thickness round holes is increase.
Cowl was also bad as door skin too. Cowl I shrink and roll with english wheel. Need to make only one part new
rear side of cowl side.
Looks better. Parts going together. Same time I tig weld small holes upside of cowl.
Both sides fixed.
Cowl side welded on its place all around.
Rear quarter welded all over and cowl side too.
Deuce has been like this now 8months. Need to continue very soon.
Continue posting pics here.... next week, next month....
Updated 8th of Nov 2019
5weeks ago there was fire in my garage. I was lucky, fire was "died" during night. Day before that my house in coming water tube were broken. In two weeks we were fixed that problem. New plastic watertube were installed all the way from city waternet inside to my house. After that I started to fix my garage. New working table and tools (fire destroy all those stuff). It took 40-50hours to wash all places from top to floor.
Last weekend I finished cleaning. Now garage looks so shiny and clear. I will work with my 5w coupe projects next weeks. Begining of December there is come in my customer´s 1932 roadster. That hot rod project will continue 2-3months. Same time I need to built one Big Flathead engine to another customer.
Coupe and Cabriolet.
My customer´s 59A projectengine.
Two years ago I worked one week with front wishbone, 1932 ford heavy drop axle and rear wishbones. After that I send those to Sweden. Dalakrom Ab cromed parts.
I cut original 1932 rearaxle ends and turned from side to side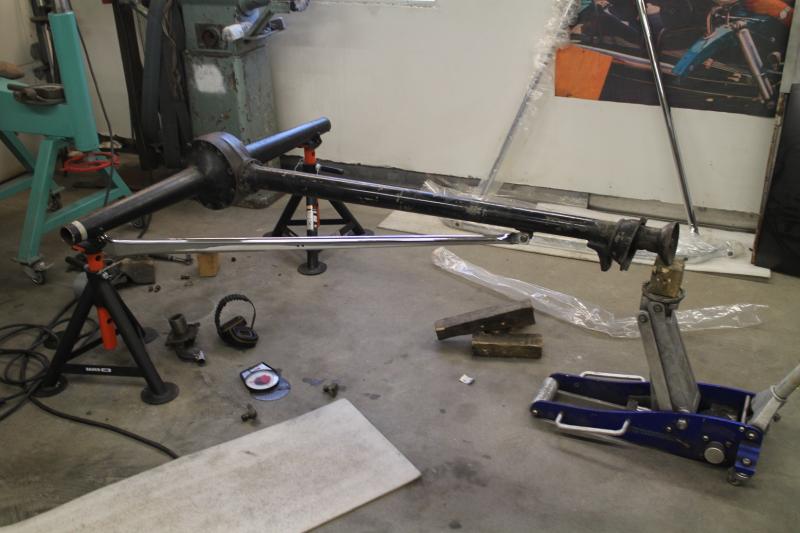 Ultrasonic cleaner washing rearaxle parts.
Parts washed in my another garage.
Yes, we have snow here in Finland. Next night we get more snow, but during next few days snow is gone.
axletube-ends rewelded. after that rear spring mounting brackets are drop down approx 3.5" - 4.0". I will use "turned ends" rear spring which drops 1" more.
Bearings, differential and ring & pinion are installed. Next job is to install gaskets, put axle together. Need to use different tickness gaskets when are installed right preload to differential bearings. When move gaskets from left to right or another way, we can have perfect backlash
9th of Nov , Saturday, I started early morning (06.00pm) "hobby crafts". Coffee & sandwich first and then I cut and glue few different thickness gaskets to rearaxle project. 0.14mm, 0.20mm, 0.25mm...
Rear axle ready. Need to put together 5-6times, then preload in differential bearings is right and backlash is good. all bearings were so good condition, so I didnt change diff.bearings and pinion races. I replace pinion double cone for new one. Also changed new wheel seals. I remove old ones before I TIG welded tube ends.
Brass bolts, nuts, washers and bushings. Front bushings I was made ready 2yeas ago. Now I worked 1-2hours with lathe and rear axle bushes are ready too. Material what I use is Tinbronze. 9.5% tin, 90.5 bronze.
I used aftermarked "turned ends" 1932 banana rear spring. I must change that spring to original one. This spring + my rear axle modifications drop too much. I do not like "east coast" style rods, so I rear must be little more higher.
Front end will not be very low, because I have original front support.
Im gonna use original 1937-41 lincoln brakes (bendix) and drums front and rear.
Original 1932 ford HEAVY forged axle. Dropped to 4". Looks 100% more nice that those aftermarket axles. 1932 ford original spindles, original perches bolts, posies turned ends -spring, original wishbone. Brass bushes and nuts.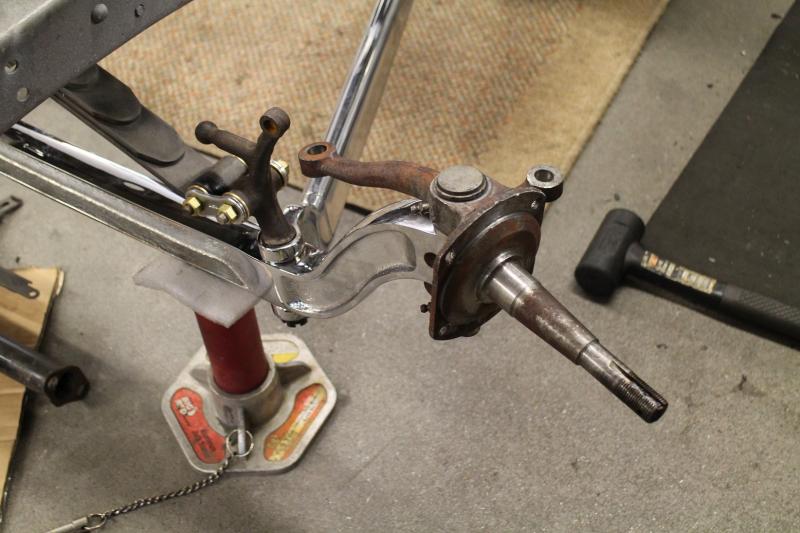 12th of Nov 2019
Today I started to TIG weld A pillars and pass.side door.
Crome axle + wishbone installed. I also installed rear radius rods.
21 Nov 2019
Ford has been damaged many times. Not easy to fit door its place. Also some rost in A-pillar.
Yesterday 21.10. I fixed Apillar. Tomorrow, Saturday, Im ready to weld it on its place. Door I have fixed earlier this week, so finally I can try to install all right place and weld A-pillar etc. ready.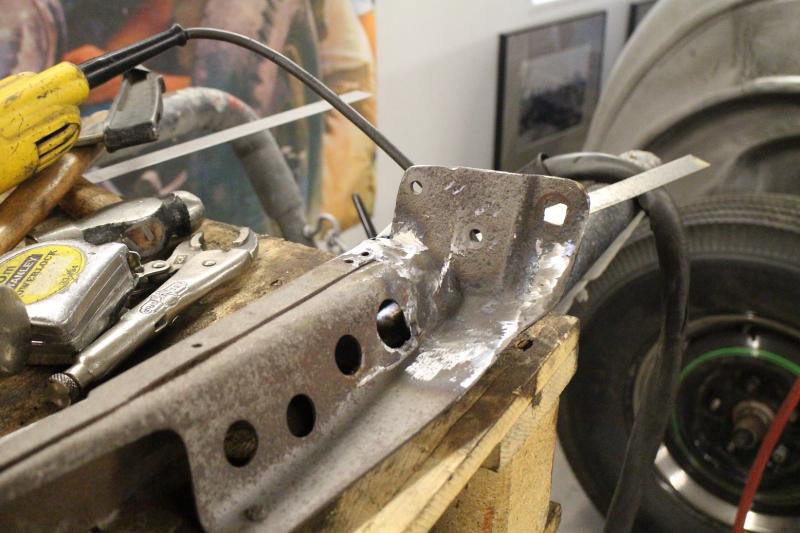 26th of Nov. Just got door ready. 7days working with A-pillar, B-pillar, door frame and skin... too much sweat.... Now looks better. Still need to shrink little doorskin, but I can hammer later. Also window frame upside of upper hinge is not good, but I can fix it too.
This Ford has been in one or several trafic accident. Nothing fits, but after remove all corners, sheetmetal parts, pillars and straight those all is possible to fix. Tomorrow still working with door and after that I can make new cowl side. I m gonna use 50/50 new and old cowl side sheet metal.
I still need to remover driverside door and made some shrinking, hammering,......
27th of Nov 2019. Today I worked 7hours with pass.side cowl side. Now its ready for final installation. Tomorrow morning I weld it on its place. here few pics what I have done during that intensive 7hours.
I do not have any sheet metal bending machine (table style). I bend all sheet metal using my beadroller machine. It takes little more time, but when use beadroller machine for bending, can make many other style parts, not only symmetric bending...
middle bending is 8mm widht. I stretch another 4mm half of that area. Slowly sheetmetal is more "round"
Finally I new part looks like right round.
New part need to cut right dimension and make cap for door hinge.
Fit and weld.
Note my SFI proved welding table!
TIG welded over. Look how nice welding is also from back side! This kind of 50-60cm long wlding can be welded without any stops or maybe only one stop. 32-36Amp + 1mm welding adding filler.
Finally 3.00 AM I have fitted that cowl side is OK. After welding I have grinded all weldings down using Norton Octobus 60 hard grinding wheel. After that I have fixed welding area with shrinking hammer and englishwheel.
Friday 29th November.
Today I finished pass.side cowl side. In the morning I decided to cut one 25cm long piece and still change more cowl side. Now Im happy about that area shape. Afternoon welded it all around and grinded too. After that I hammered it one hour. It takes so much energy, so I decided to stop and hammer rest tomorrow morning. From upper part I strech , from lower part shrinked very much. Still need to shrink vertical from that area where I have welded (from lower hinge up).
All those next five pics are not good quality (samsung phonecamera). Normally I use Canon EOS-M mirrorless interchangeable lens digi camera.
1st of Dec 2019
Pass side door is ready. Few days time to work with this car before next project (customers car) is come in to my garage. Tomorrow Im gonna piece one 59L engine. Mike Hermans from HH Flatheads has sent all rotating stuff etc etc.



6th of December 2019 = Our independence day !!!
1939 (winterwar 105days) Russian assholes try to overtake Finland, but finnish men were fight bravely. They killed big big number of Russian, even russian had very much more everything (aeroplanes, soldiers.....). 4years they try, but finnish "SISU" is something more than nothing else. "Ryssät" (that´s how we call them, russians) know now that finnish full of "SISU".
Today my customer leave this 1932 original Roadster in to my garage. Next 2-3months Im gonna work with that old racing sprintcar/hot rod. I have to rebuilt or made new floor, subfram, 1934 rear axle and driveshaft, firewall, fuel tank, front end, springs, interior, ....... First need to cut all junk. Easier to start from begining "clean table"
2.2.2020
Last 5-6weeks I have been working with my customers 1932 project. Mostly I have work with frame, driveshaft, axles, radiusrods etc. 20pc cutting discs, 20kg argon..... now car is rolling and next 5-6weeks I work with body. Old 40s original racecar/hotrod will have that time outlook when its ready. This is real hot rodding! While I have worked with another customers 59A Big Bore & Long Stroke engine project. I have bore block and filled 3cm , from bottom, Moroso block filler. I have also grinded surfaces. Still must hone with 600 stones and I can continue that project too.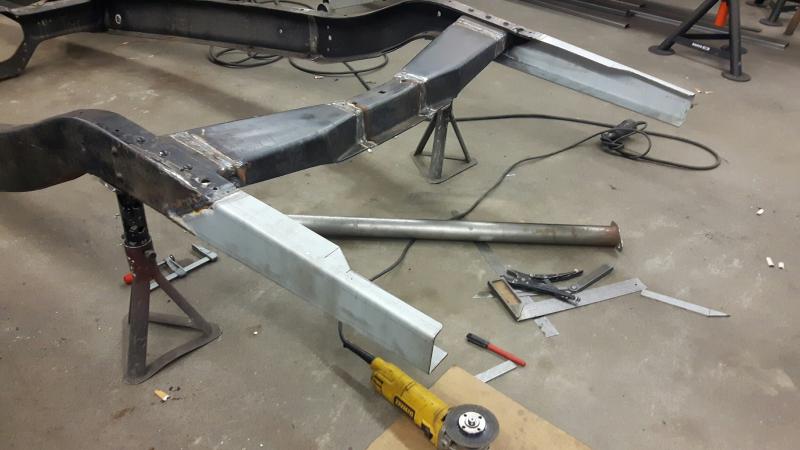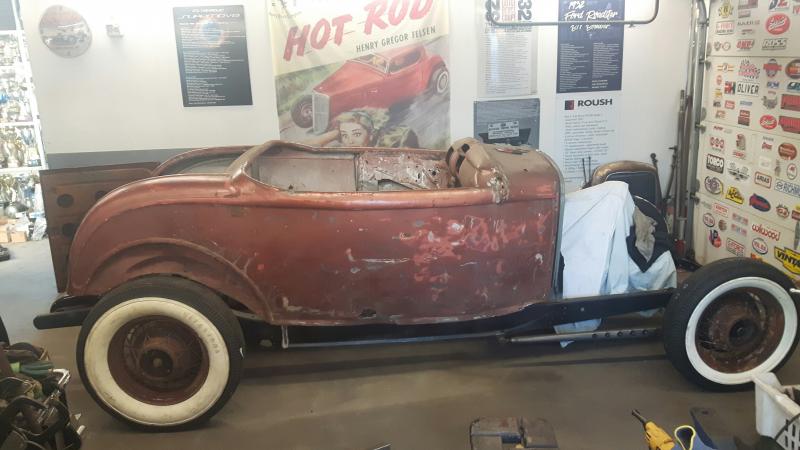 9th Feb 2020
11.2.2020
11.2.2020
13th of Feb 2020
Floor is shrinked, stretched and welded on.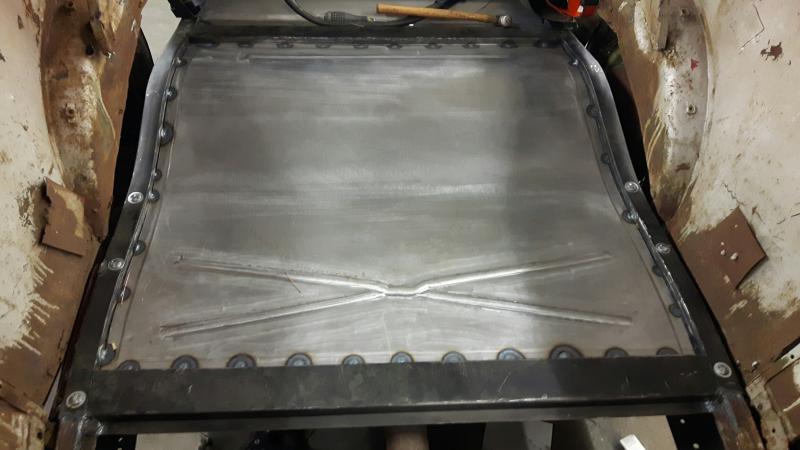 18 of Feb
Finally Speedway stuff arrived. New waterpumps + engine pads etc. small stuff. I was visit in Åby Drag Race swapmeet last weekend. There I found Hi-boy headlight stands + 3 x hilborn velocity stacks for 2bbl. Looks good ! Engine mounting farme brackets I made myself and those are now welded on their final place.
Next, Thursdaymorning , I need to cut these new headers.... Vega box is reason for modifications...
21.2.2020
22.2.2020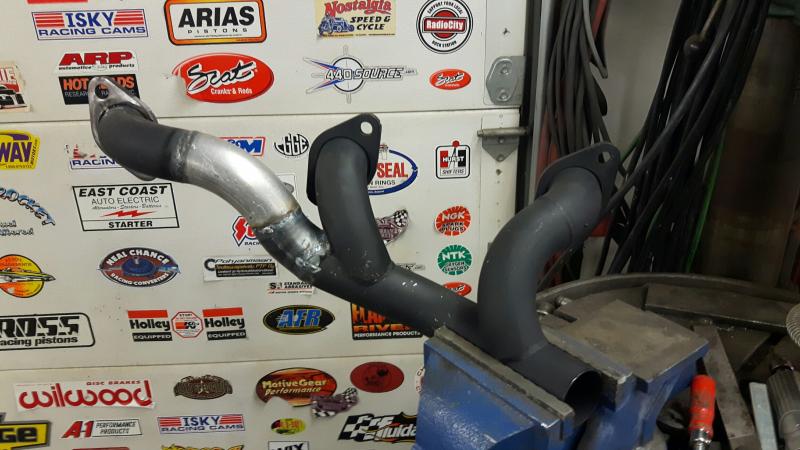 23.2.2020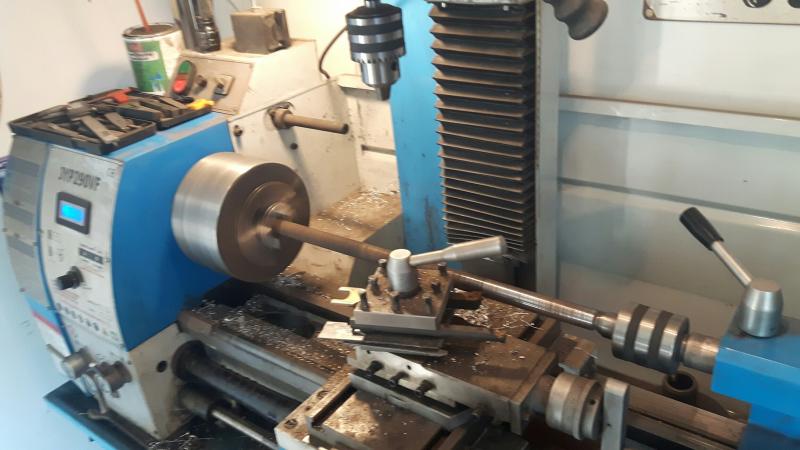 284CID Flathead
Few days I have worked with this "59" -flathead. Customers engine. Just removed all head studs, valve stuff.... junk junk and junk.
I bore this engine big and use 4.125" stroke crank, H-beam rods and of course lightweight big bore pistons. I have to enlarge runners and valve seats. Im gonna use 1.60 / 1.50 size pro flo lightweight SS valves, racing cam,..... 286cid +200hp. Tomorrow I remove oilpan, rods, pistons, crank. After that I can wash cylinderblock and start to work with intake runners. I work with this engine same time than I built roadster.
7.2.2020
Finally I have bored & honed cylinders for ROSS big bore pistons. Same time I grinded deck surfaces and oilpan surface. Next need to port IN and EX runners for big pro flow Manley valves.
Deep waterpockets filled (1litre per side) Moroso racing block sement. I have done that all my hiperf flathead engines.
I know that many are say "not need to do that" and my answer is " If You know that sure, You can do what You want but not come to advice me because I do my way". I do not understand those Steel main caps, but if somebody wants to use those, that is OK. If somebody is 3Ddraw maingirdles, Im ready to buy few piece. I can grind those after lasercutting.
Moroso Block Sement 3cm in both side water pockets.
20hours and all intake runners have been ported. 4mm from seatring. Still 10hours EX seatjobs + runners, after that I can wash block and start to put it togeter.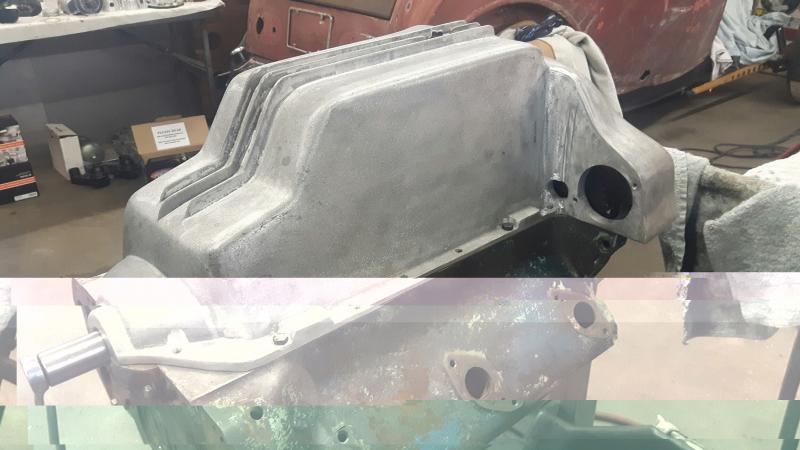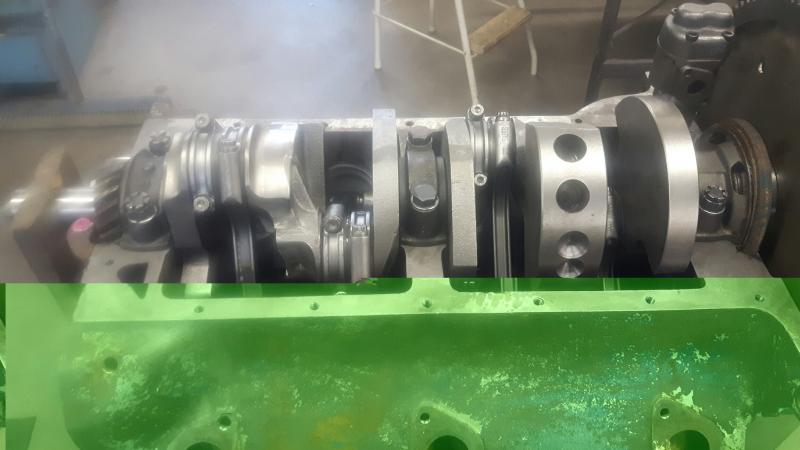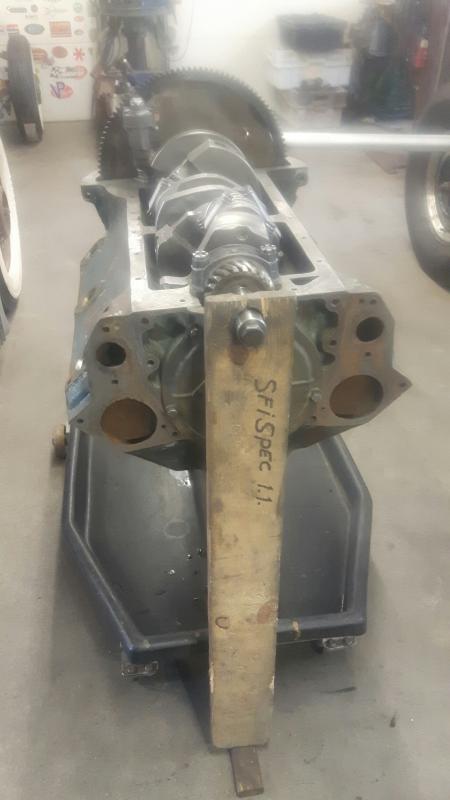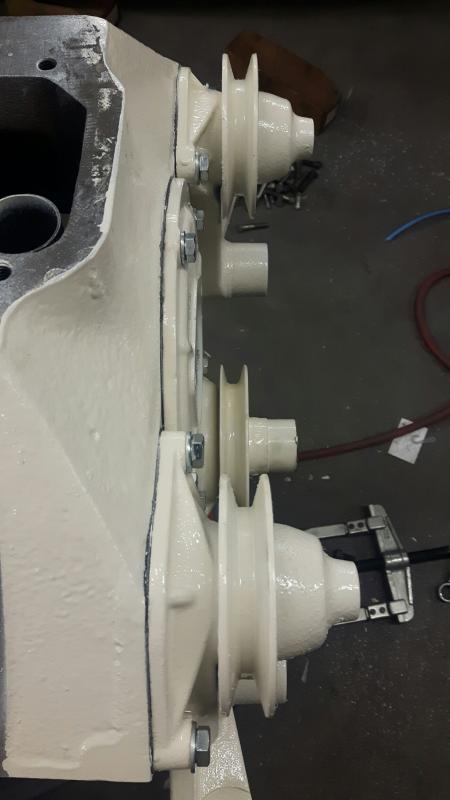 ´+100hours working with this bigbore & long stroke engine and its ready.
April / 2020. Back to Roadster project.
April 2020 continue:
photoshop pics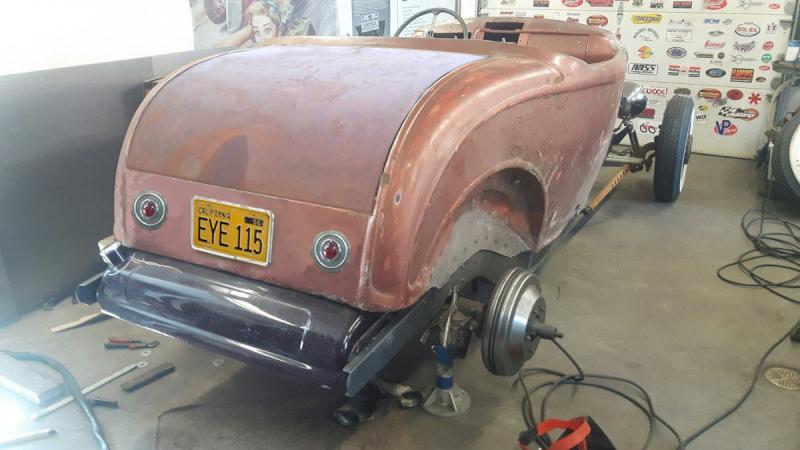 I decided to make round taillight backfaces and material changed from steel to aluminum.
Holes and rost. TIG is best weldingmachine to do sheetmetal jobs. Never broken weldings, Youcan stretch or shrink and hammer as much as You want after weldingjob.... Easy to fill, weld ..... from 20amp up to 40amp is OK when weld for example 1mm sheet metal as I do. Of course You need to have all posiblity to adjust electric same time You weld. Im not use foodpedal because I like those all what I can adjust with my hand (half Amp or scroll more or less...)
20.4. - 15.5.2020
These pics are shot before 15th of May 2020. I continue this roadster after summer break.
Now I have welded cowl, make some changes for cowl shape, make changes for lower stachions...
I also built engine ready etc.

Trunk lid I have also made ready. Mounting using old Aircraft dzuz !
B-52 mustang seats are real stuff from 40´s. Those are super lightweight (2kg) , magnesium.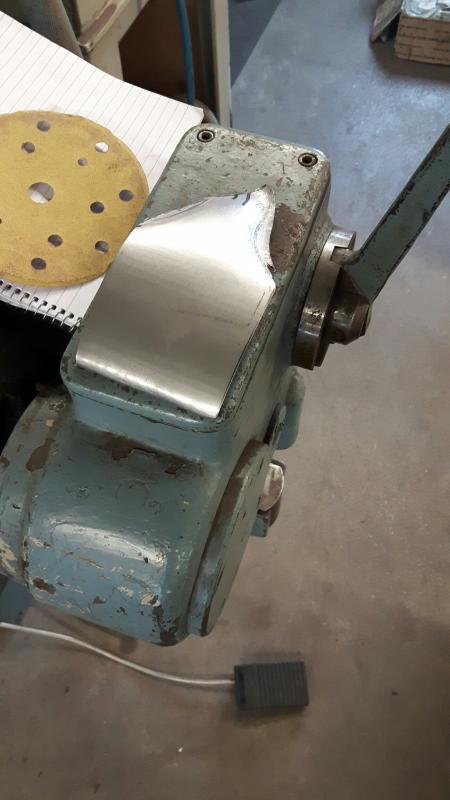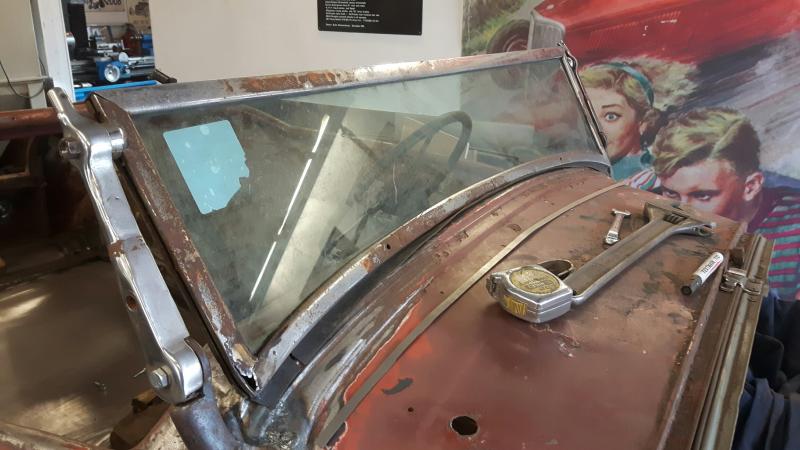 Handbrake parts. Not found any original from own stock, so need to make those...
P-51 m
agnesium seats + homemade frames.
I continue update posting "roadster" pics here. I still have plenty of those photo 4/2020 - 5/2020.
I leave this car "summer holiday 5/2020 --> 9/2020. I was work with this project 15.9.2020 -> 23.12.2020.
More pictures end of this project topic.
My own 5w coupe project continue.......
(I was work with my own 1932 5w coupe project 5/2020 -> 9/2020. Not daily, just how I feel. No Drag racing and no american car meetings, so I had time to weld, shrink and stretch sheet metals...)
Now before midsummer , I have slowly start to continue own 5w coupe building after 6-7months break. Oskar was helping me before he was travel with his mother to Estonia. I have goal to weld this car ready before autumn + paint 3litre epoxy primer (body).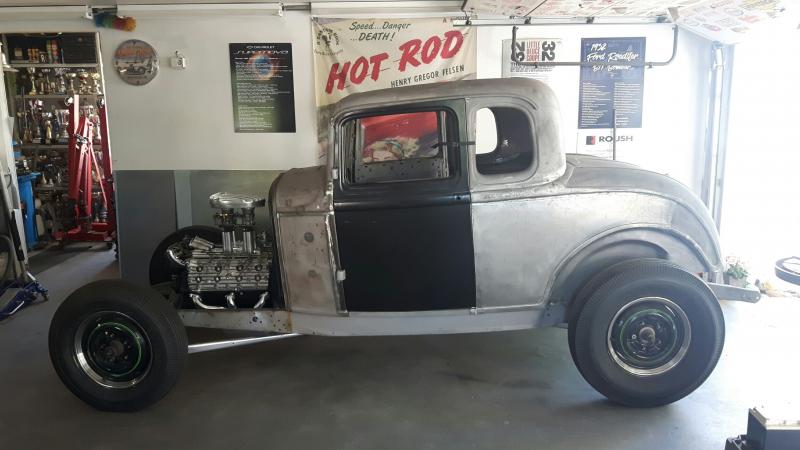 Front end is now dropped as low as it can be when using
- original 1932 ford Frame front support
- original 1932 heavy axle which has dropped to 3 1/2"
I like ONLY old style hot rods. 4-links, disc brakes, steering racks, IFS front ends are for chickens and moms. Front end will still drop approx 3/4", but 17" tires and wheels are little higher than those 16" tires what I You can see in the pics.
Rear will drop approx. 2-3" . Then tire will fit perfectly to the body shape. Also rear 17" tires are higher than those 7.50-16 tires Im using now..
7.7.2020
Yesterday we fixed frame. Today we shrink sheet metal with heat. Tomorrow need to continue that job.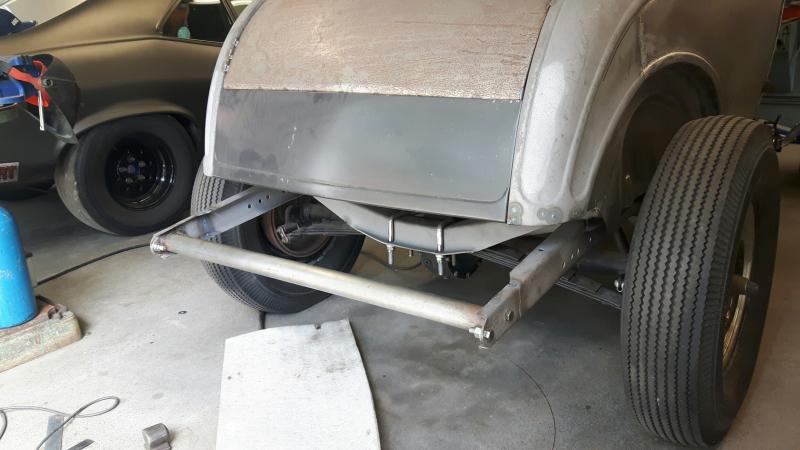 8.7.2020
My friend Jaska Salakari (world record holder V-Twin MC 1/4mile 5.83sec) on the way to artic sea and Norway.
this foto he send me yesterday from very north of Finland (Saana -mounting). I fixed pic to look like "Salakari family on the way to Lapland 70´s". Cool pic !!!
10.7.2020
9th of July 8hours working with Dodge milktruck wheels.
10th of July 8hours working with driverside door. very myc welding, shrink with warm..... You know everything what need to do when You fit dodge door to ford....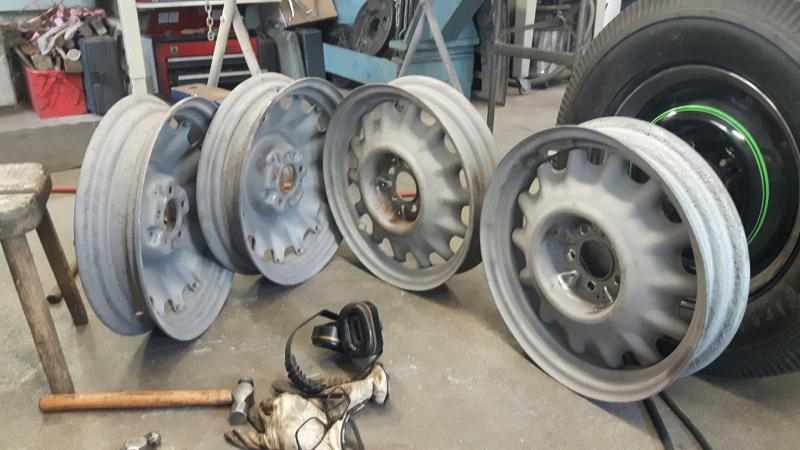 Finnair Wings and product card
Is somebody knows what are those, let me know. 4meters long alum.profiles from early 80´s. Maybe spareparts?
Paineilmavasara - Planishing hammer welded side of pullmax 5.
6/2020 - 7/2020
Worked little with this 5w coupe project. Car arrived from California to Finland 4 years ago (2016). Now I have work with it only 4-5week last 3 year so total building time is not bad. Maybe 4 months. Now Im very near that welding jobs are ready. 2weeks and car is ready for next step. Need to install body "on body rack" and make some small frame changes. Maybe continue this car next summer....
Now need space to my home garage, so today 14ht of Oct 2020 I and my Oskar son towed car to my small (24sqm) garage 1/8mile from my house. Same small garage can put 2 x 1932 ford + extra stuff, MC.....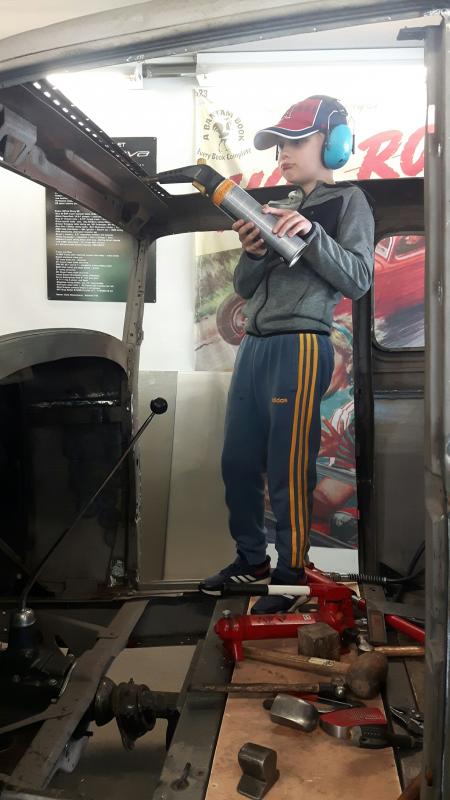 Oskar is warm bolts "red" and wait few minutes before he remove those nearly 100y old bolts and nuts
50 heat on top. too much dents and streched steel. Slowly it is shrink right dimension and get right "preload".
Chevy 17" x 3.5" milk truck artillery wheels from year 1935.
Doors ready for epoxy primer.
Homemade skin and brand new US inner panel in trunk lid. I turned edge sheet metals (4meters) and made original style "turns" .
After summer we tow this car to my another small 25squaremeter garage 200meter from my house.
small garage, but good for two 1932 ford. I bough this garage maybe 7-8years ago. Low monthly cost and near.
15.9.2020 --> 22.12.2020
Jukka´s 1932 project continue. 28.12.2020 I leave car to painting company and continue my own 1932 roadster project.
Progressive linkake set.
spareparts boxes in warehouse are best. Just bring to Your garage, open, check what You need, install new diapgram etc and put fuel pump together....
These all pics are last winter/spring 12/2019 --> 5/2020.
This picture is shot 9/2020 when I continue building.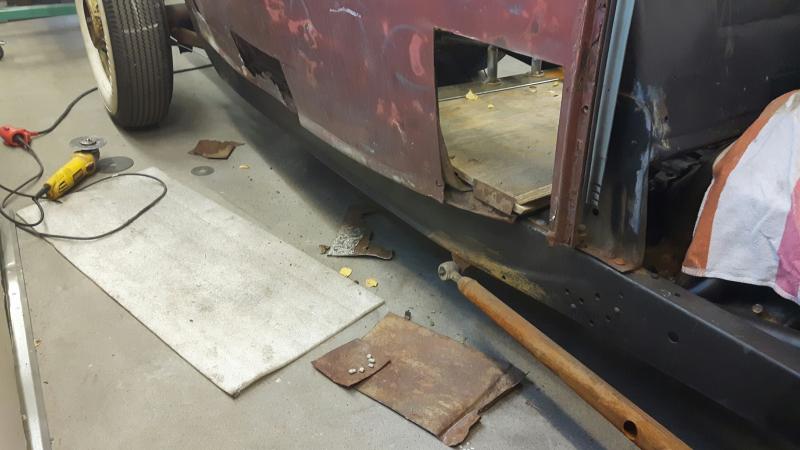 American jam jam.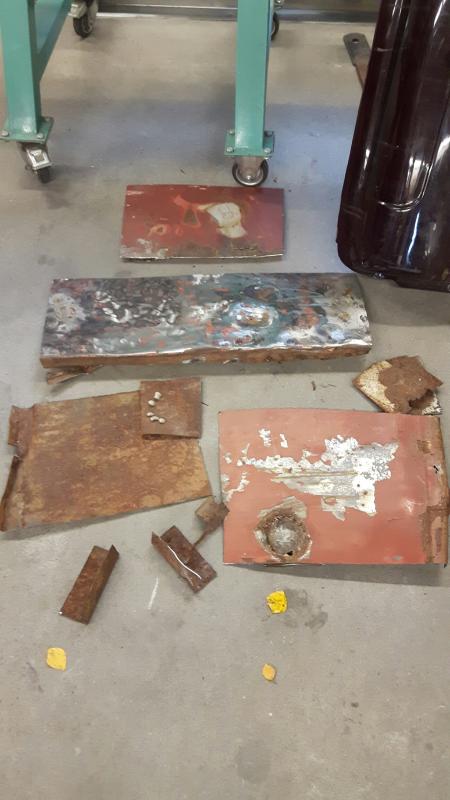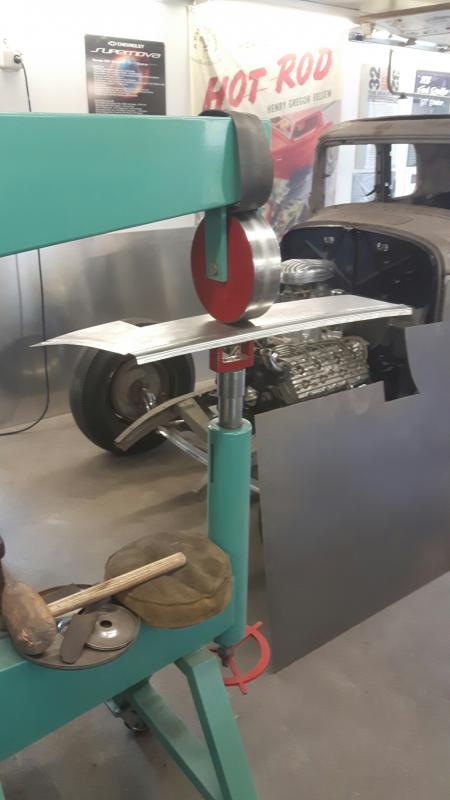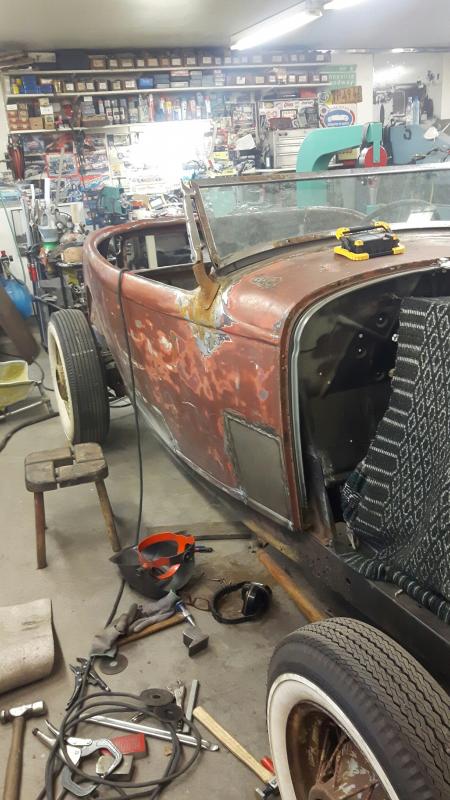 All mechanical parts are ready. rebuilt merc engine, double dedent tranny is rebuilt too, rear axle has get 3.25:1 highway R & P, pedals , handbrake, steering.... all done. Just get ready exhaust, brake lines and thousand other thing from working list.
Brass fuel delivery
Rear brakelines ready and installed.
Front brakelines I made ready on the desk. Just need to bolt on .....or is it so easy....
Made rebuilding and changed v-belt pulley from mercury 7/16 size to classic B serie V-belt.
Bosch 12V coil is good.
Need to change hubs from original 1932 to 1940-48. Drums are new. Hubs I found from USA and increased new studs and bearings + seals.
I have rebuilt generator. Originally all Ford 1932-53 generators are 6Volt. I changed new bearings, changed coils, polarized it and now works. It gives 30-40Amp and that is enouhg for hot rods. Same time we can leave old outlook. I use new 12V voltage regulators. Easy to adjust (3 points) and easy to paint outside.
One morning I decided to make gaugepanel. Drilled also hole for old ignition swich I opened and fixed. Old stuff stack if not use 50-80years....
I had one old pair of those floor plywoods. good outlook for this racerod.
Speedboat pedal modification.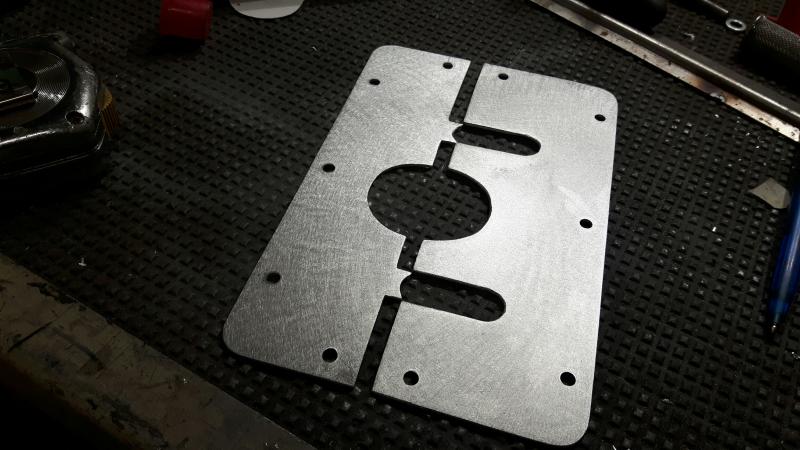 very very low pressure with english wheel. or Your steel or aluminum is full of "grooves".
It takes 2-4hours to make those pockets.
Old King Bee markerlights were too small size for this use. That´s why I made those alum. bezels around lights. Note, cromo rear frame support bar. Yes, You can bush this car on fire, if Your dailycar plastics are enough good for that.
Taillights are old original King Bee marker lights from 40´s. I changed sockets and ordered small globe 21W/6W bulbs.
Made new seals too. Hot Rod building is daily "hobby crafts" (askartelu). Bolt on men and matching numbers men has different "angle, way" to built their cars. Hot Rod building like I do is more own vision, had made parts (cut, bend, turn, lathe, weld, shrink, strech, blend, mix,.....). Never pooring !!!!
2 roll CCM ice-hockey stick tape to cover all new wirings.
I used those old , original reflectors. Just changed new bulb sockets for headlights and turnsignals. and of course 12 bulbs.
I polished reflectors but want to leave those like "very old outlook"...
Headlights are 30W/35W old style bulbs. I hate those Halogen bulbs. Not for Hot rod use.
Turnsignal is normal 21" front and rear "small globe 21W/6W.
I sand upper part of body and "made it rust" before I installed interior aluminum back.
Hardered dimble dies arrived from UK. Step plates are 50´s Cris Craft boat stuff. Found those from Ebay.
Old speedboat gas pedal was not easy to fit there. I cut and made it fit..... Handbrake is old 30´s ford from my own stock. Bracket and rods and clever are homemade. Gauges I found from own stock. Old S&W mechanical oilpress and water temp. What else You need?
Aircraft seats needs aircraft style interior. Just bougth those dimble dies from UK. Rather expensive, but I buy all the time good interesting tools or machnines. Note those aircraft "map pockets" both side. Good to use "cellphone" holder too.....
Interior is ready. 4 square meters aluminum. Magnesium (1,5kg each) seats are cool. My homemade seat frames are heavier than seats itself. Steering column is my homemade version. I used sintred bronze material when made upper and lower bushings. Found from own stock old steering shaft and Jukka had this nice "junk" steering wheel. Steering box is vega.
READY FOR HIGHWAY USE!
This car will never shine. It has been old speedway stock racecar, so it must be like those historical racecars. This is real hot rodding. Hot Rods were built before most of now a days "historical vehicles" were even plan or made !!!
aulis