This FED project I bought from Salt Lake City , UTAH. Original old slinghot from middle of sixteens.
I found this FED from www.racingjunk.com . I arranged U-ship from Utah to CA and dragster arrived to Finland November 2008.
I was just sold my deadwood log-house in Kalajoki Beach and moved back to Seinajoki. I had that garage under (cellar) apartment house. Next autumn (2009) I bought this old house and built own garage to the same field with house.
Fed frame were updated in US. There was NHRA sticker in frame, thats good. I just opened engine, changed alum. rods to H-beam steel ones, because I think this is more hobby and not want to change rods every year..... same time I learned how bypass and other valves are work. Need to find that "leeway" where methanol engine is not too lean or too thick... = how much we return fuel back to moon tank diffent RPM. Very interesting.....
My problem was that I was only hobby with car and not invest any money in it. Ring and pinion was 5.57:1 and thats something what can´t use , if drve fast. I drive 8.7sek in 1/4 mile with that Ring and Pinion. Need to peldal 4-5times, because FED was nearly impossible to handle. When I sold car, I was bought new Cylinder block because one conn.rod make "window" due to too high RPM. Too high RPM = wrong Ring and pinion.
I sold car to Sweden. New virgin cylinderblock which I bored and honed ready, new Probe 15:1 pistons + total seal rings, new ring and pinion (4.30:1)... That combination will "sling" this FED to high 7sec times, easily.
2009 in Sweden - Blacksmith nostalgia race.
I welded in two week nostalgia style trailer. My sample was those 50´s - 60´s pick up cars. Dragmaster or Slingshot were loaded on ped. Front wheels were come on pick up cabin..... This was good combination to drive and use. 7,9meter (under 8 meters is low price ticket to the ferry between Finland and Sweden. Also height is under 2meters which makes price reasonable.
Rock n Roll - Methanol or Nitro makes Your life even more enjoyable !!!

Project pics:
FED just arrived home. I didn´t like those wheels (centerline autodrag I), fueltank is terrible, MSD´s I put inside of car.
I changed ignition during summer Supermag III mallory. We were try to find problem. Everytime I pedal , engine was bang strongly.... everybody, who were help me with fuel system told me "engine is get enough fuel" but....... when I increased 25% more fuel Hi RPM , engine start to sing very beautiful.....
Sorry, I do not know how to turn this engine pic,..... While I made one 383cid engine and sold it.
Circle track Roller cam, Edelberock heads, 650 demon.... 450hp / 550N. Good Street engine.
I changed aldo this "overflow" tank and made Cromo one wheel wheeliebars. I had old vintage stickers waiting for this car.
Who´s gonna win the race?
I piece car and weld some new brackets, cut off old ones. I changed hand brake and shifter places, made new gauge dash etc.
same time I made new brackets for Moon fuel tank and ordered new Aurora tie rod ends.... Old tie rod ends were junk.
Saved NHRA frame sticker (left).
Alasalmi Jr. made pinstripes. "Ballbreaker" -name and my number 13.
I made New SS exhaust. Looks better than those old ones.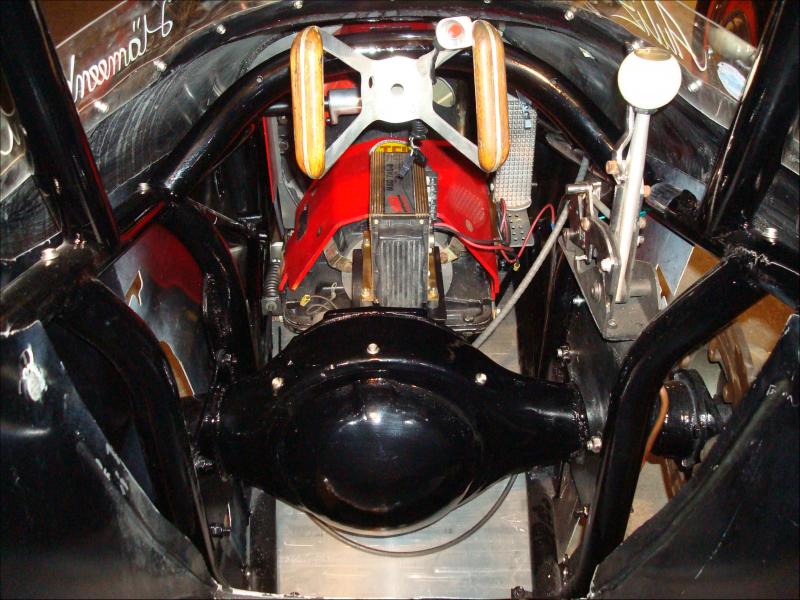 New Floor, MSD on tranny, Shifter I lift upper....
Homemade "spaceshuttle launch pad".
I "customize" wheels. Those were 14" width and now 11". Next machinery jobs, and polishing, polishing....
New homemade SS dash, small tachometer, nothing else. I made this steering wheel and wood handles.
Now wheels look good and tires are brand new.
By passes, hi-speed.....new things for me, but learned and liked.
Heads are BROWNFIELD. Brownfield is basic for AFR heads. Nice job porting and Flows very good.
I found very much shit all over fuel system.
All o-rings,....were leak...I replace those better material O-rings (viton , FPM)
On the road. Tools, generator on trailer.
Peter tow my 60s RV. two man team.
We arrived to Sweden before race track was open. Good time to have BBQ and sleep one night outside of gates.
If You race Nostalgia drag racing, You do not use new hi-tech cars towing....... Real things are real things.
Nostalgia drag racing BBQ, Beer, Rock´n´roll are very important. In race track area they had arranged all like in "american style".
There was car lifter and swedish friends asked if I can drive my rod during party there..... Band was Go Getters, of course.
These pictures are photo in Mantorp Park. European championship Drag racing. We had there "extra show" with nostalgia
dragsters, altereds....
Slihgshots makes You free !!!
AULIS