July 2018 I bought from Southern California this Ford F-150 Stage III RC500 - pick up. Car is yearmodel 2007. Price was very low and now I understand why seller want to sell car out ASAP. There was coming very strong bad noise from engine. We found problem. Flexplate was broken. I know that seller was try to find problem because she told me that "they have just done full tranny maintenance". They were try to find problem and changed new converter..... but good for me that they sold car good price and now I have registered and instpection has done here in Finland. New flexplate changed and car works good, exelent.
Nice truck and very good options (supercharger, bilstein shocks all corners, full leather interior, dvd, 20" Roush pimp wheels, front spoiler, Roush billet grill, ..... 357kw/700N.
I was bought this HAULIN 24' (2008) US made closed trailer from Pärnu (southern Estonia) weeks before bought F-150 pick up. Trailer has been 9years in Estonia. No, registered, no any use. I have talked many times about trailer and try to get good deal with seller , who is man I know very well. Finally begining of July 2018 Esko send me email, "now I sell You that trailer, but You need to buy one 1984 SL Mercedes Benz in same deal". I answered OK and now I have mercedes and trailer here. Somebody was bought this trailer from Indiana USA 2008 when trailer was only few months old. He shipped his brand new dodge viper to Estonia. Viper was loaded inside of trailer.
Trailer is painted today 28.10.2018. White, same colour than Roush pick up. I polish all aluminum corners, fenders.... Polishing job I do after winter is gone.
Good shoptruck and trailer. Next summer I can go longer trips with my hot rods. I can take Oskar son with me, we can sleep in trailer, we can take bicycles with us, I can install there inside of trailer propaine freezer, coffee cooker,... and of course I want to race some day. I have been without racecar 10years. Now very interested real street race car (street race 1/4 mile), but Hot Rods is still nr 1.
Aulis
In Tallinn harbour.
I washed old paint off. Kräzzle hotwater washer was good help. Maybe they have done mistake in Haulin trailer company, when they have painted trailer 2008. There was no any epoxy primer between Aluminum and acryl black. Door was good painted. I sanded trailer over and new 3M glue to the corners.... 3liter epoxy primer and 3 litre Acryl has been bought.
I ordered new Top went domes from USA and new LED lights from China. Many companies in USA has those Led taillights, but no-one of them want to ship to Finland ! Very strange. They told me, its too expensive to ship Finland. I told them, I pay shipping, not You and if You think that 50-60usd is very much, that is Your opinion. My opinion is that its not expensive. Good that in China they still want to make money.
Trailer is ready in my friends painting compnays paintingroom.
Painted over 28th of Oct 2018, today.
Tomorrow, Monday, I pick up trailer home. Later this week Ahaa-marketing company boys are install stickers both sides + rear.
Today 7th of December we installed Hot Rod shop stickers both side and rear. Friends in AHAA -advertising agency made those stickers very reasonable price and small window stickers (2" long) to distribute.
Yesterday 6th of December I installed inside of the trailer 12V battery. Now can use 4pc top lights even when truck is not connected front of trailer. Before summer I install 100litre refrigerator (LPG) etc.
20.2.2019 arrived this trailer light converter. I tested it, and it really works. Another end is US round 7 way plug >< Euro 7way plug.
this "mysterybox" separate brake and turn signal. Today I tested and it really works! (US pick up + eurotrailer)
Today 23.2.2019 I changed new led taillights. Old original ones were same style and led lights too, but there is some problems with connections, so I decided to order same 15.5" long lights, but later model lights. All other lights are OK.
Same time glue some BAHCO stickers both sides and rear.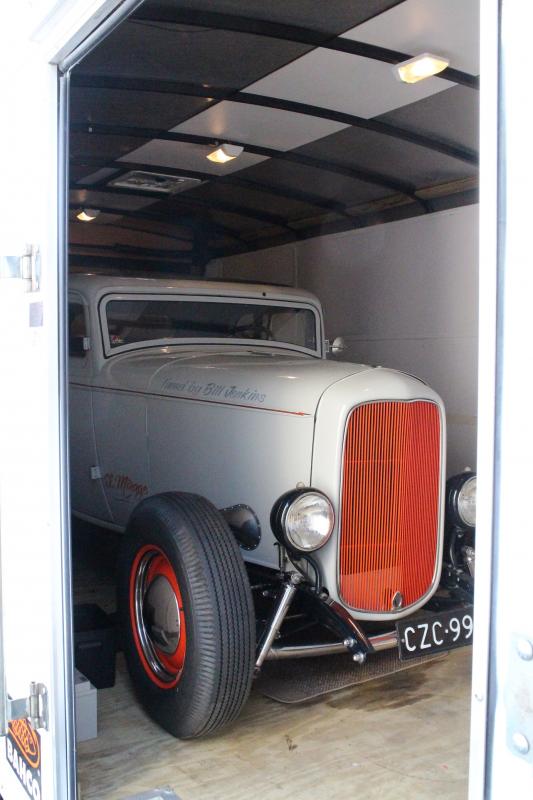 1st Methanol dragster in Finland. I was 14y (39y ago) old when I was first time in drag race competition in "Härmälä" (Tampere). There I get that sticker. Now my friends advertising agency has made me more those real nostalgia stickers. Jenkki (yankee) is old finnish bubblegum brand. Pure -word means Chew.
"Chew Yankee, You´ll love it".
20.4.2019
During Eastern fixed Trailer (inside and outside), drove hot rod out and installed new carpet on plywood floor.
Made also some maintenance to my Pick up and Nova.
Ready to drive down to Tampere International Hot Rod Show 2019. This time I leave my Hot Rods in to my garage and we only show there Roush pick up + Trailer + Nova.
Wednesday I "drop" one of my hot rod to Oulu. ACC Oulu (american car club) has 40y anniversary Americn Car show in Oulu fair and sports hall 11 - 12.6.2019.

Tomorrow , Friday, morning I drive up to Oulu. Today I loaded all stuff in to the trailer and on the p-u bed.
I have had long time in my office old 30´s "highboy" lubester. This week I paint it over, increased easy pinstraip (beugler) and texaco texts bot side.
Increase some pics from Tierp EM (European Championship) drag race , 5.6. - 9.6.
Now just increase some extra stuff inside trailer and on pick up bed. We are going there very small group.
Only 2 person. I drive and Mia is crew chief. Trailer has new cooler inside, grill, micro, coffeemaker... all You need.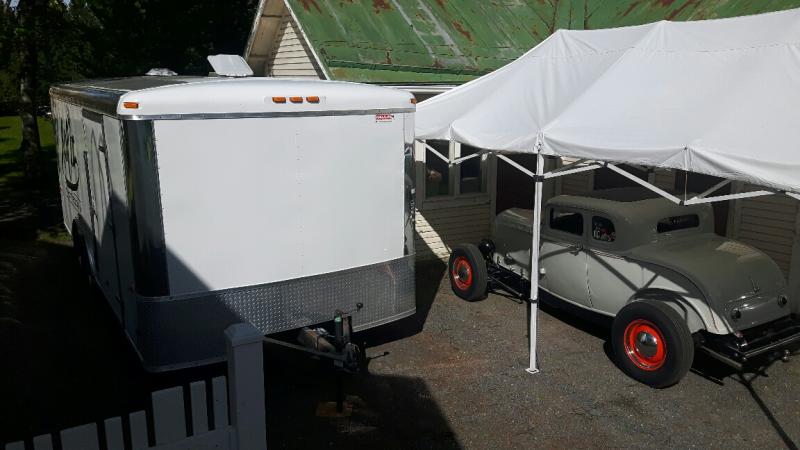 14.9.2019
Trailer is empty, washed and quick maintenance done. Maybe I install there one side to side long "worktop" front end of the trailer + some cabins under it. Bahco trolley can located under worktop.
During summer I bolted electric winch on trailer floor. It is located under Bacho trolley. Normally not use that winch, I drive car inside, but if have problems with race car etc. , winch is good help.
Roush pick up I still keep my dailycar until 1st of Dec. After that I have my winter car 2011 Stw Mercedes and of course "warhorse" 2003 VW passat
30.9.2019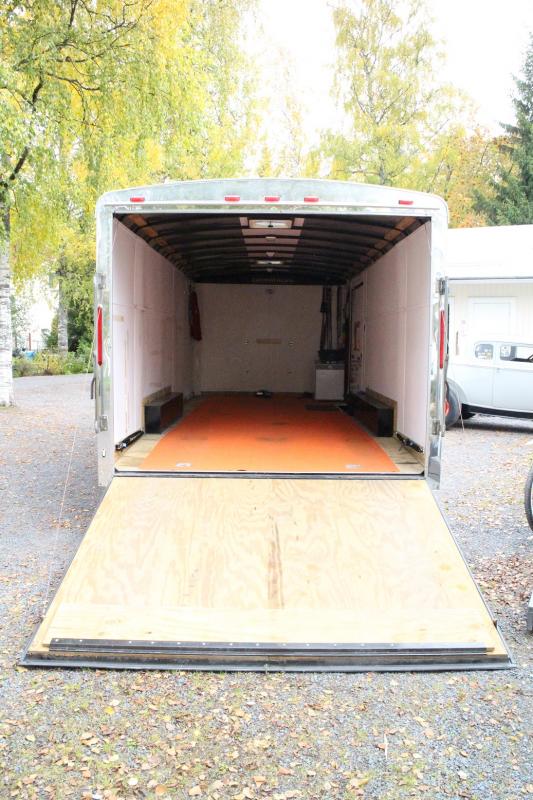 21. Nov 2019
Fired up pick up and warmed it up.
3rd of June 2020
Yesterday I and my Oskar son removed orange carpet. Today I washed floor, installed Fuel Jug holders (SS) and Nitrous bottler holder (SS). Afternoon I push Bahco toolbox from garage in to the trailer. I was bought one pine panel (1m x 0,6m), cut it and fixed corners. Now I have table over LPG refridgerator. I have bought 15y ago stainless steel LPG stove from Costco. I used it only few times. Now It will be bolted on table.
Tomorrow I paint timberoil floor and table. After that trailer is ready for this strange "covid-19" season.
I also installed new decal on wall.... "Let´s go to work".
Aulis
6.6.2020
Oskar has made this holder in pre school 4years ago. Now I found good place to use my fathersday present.
17.3.2022
Sundaymorning I sand down hood. Alum.hood which loose paint piece by piece. They have repainted it, but not good.
American style, fast and looks good....
Sunday I painted epoxy + filler. after 3days I sand it down and yesterday evening I spray 3dl new white acryl. I had 4-5dl extra paint left after I was paint my trailer 4y ago same colour. OK this glasurite 68 serie (truck and heavy equipment acryl is low price stuff, but not 100% result). Never get same quality surface than using more expensive 29 serie acryl, but this is OK for me.
I can wetsand it little down and polish on summer if I want, but maybe not.
This F-150 Roush RC500 Stage III is best dailycar I have ever owned. Runs smoothly (bilstein adjustable shocks, better springs, bigger sway bars), nice road 275-20 Michelins + Roush wheels under car, good seats, very much option (Lariat + Roush),... 2007 yearmodel, 5" touch screen, very strong audio system with boosters and subs !... , very powerful with Roush supercharger and other specialties; nearly 500hp, little under 700Newton torque,...10litre 100km when drive 100kmh. With open trailer + car 14litre 100km, with big american closed trailer + car 22litre 100km.
Tv screen back. Oskar can watch movies on the road... In Kauhave raceway when it rains last summer, we were waiting for they are working with track and we watch old hot rod and drag racing movies from dvd.
little over 6sec from 0-60mph ! Daily pick up.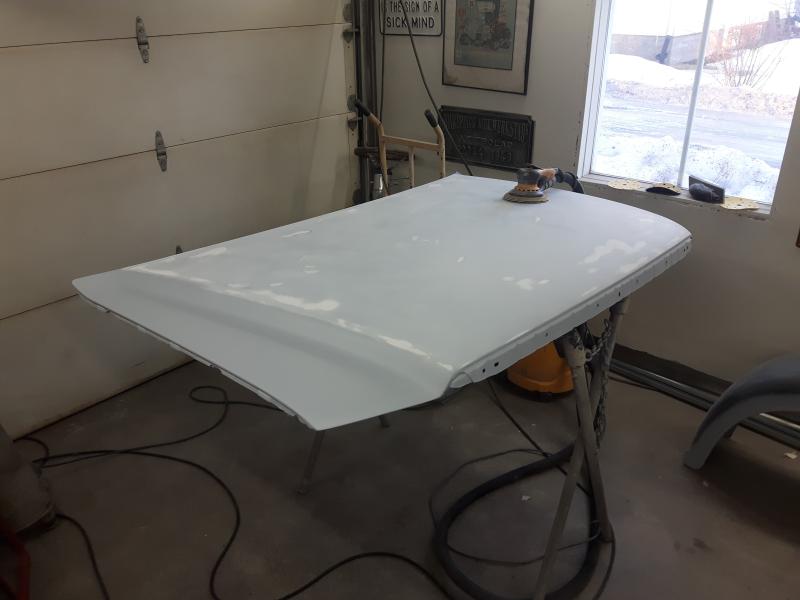 AULIS