Thic Classic Chevy was my first street race car. Originally car was located in Washington US. It´s NHRA division six area. Car has been built like gasser in 60´s. I bought car 1988 and then we didn´t realize how big thing nostalgia race cars will be in future.
First thing I did was to change car´s frame like original style with original suspension, steering box.... I want to register car and they looked very much that all in frame, steering, suspension is "original" or original style.
Chevy had 396cid big block engine and th 400 tranny, mopar 8 3/4" rearaxle. I sold engine to my friend Mika "malibu bitch" Valle. I bought new engine from Malmö,Sweden. 355cid small block with roller cam, 11,5:1 compression, Proram II, 2 x 660cfm, Mallory ignition,... Engine was bolted in 1956 chevy and their best ET was 10.11sec in 1/4mile. They used NOS but in Finland I cant use NOS because our rules are not accept that.
I race one time before changed car original style. 1/8" mile 6,7sec.
Engine was installed very much back. 7. and 8. cylinders were located inside of cabin.
Old crome front axle with 12" drum brakes. Old crome ladderbars front.
I have cut frame. next I remove putty and that aluminum "box" in firewall.
I found this frame from St.Michel city, South-East Finland. Car was old 4d taxi 55 chevy with blue flame 6cylinder.
Car was falling down to swamp, but still frame, firewall and front part of top were above of swamp.
Firewall welded. I transferred big part of firewall from old taxi 55 to this car. Many suspension and steering parts I found from Finland, but most of them from Sweden. THen we didnt have so much speed shop cataloques. I ordered something from Super Shops. No credit cards, I send them cash money by letter.... Telex and telefax was good help when had conversation to US.
First street car in Finland with full size pro stock scoop.
Jazz seat and new belts installed. Floor has welded. No english wheel or other equipments.
Engine picked up from Sweden. It was hard trip. I and Juha Mehtala had "good time" and Tuomo was driver.
When we arrived home, we asked driver if we have bought engine or not....
Toyota Hi-ace springs front. Enough hard stuff and front end is lower than original.
I painted car "hemi" orange. 50% matting base.
Registered. Scoop was bolted on to carbs, not to flip front.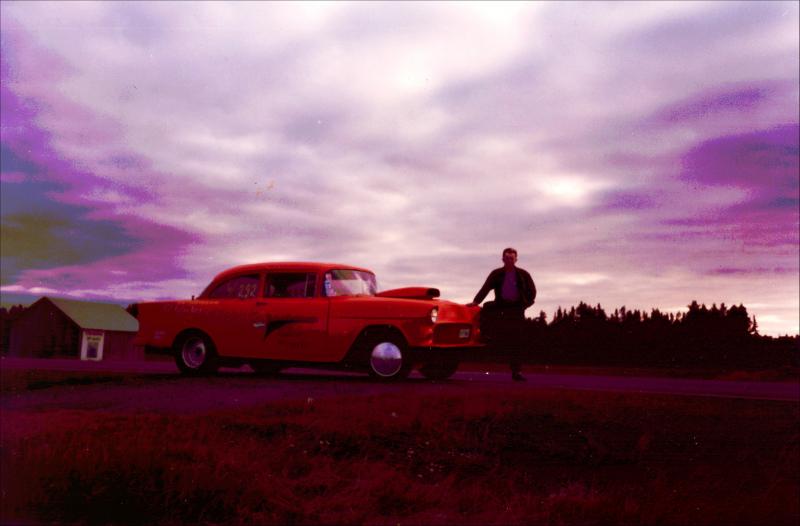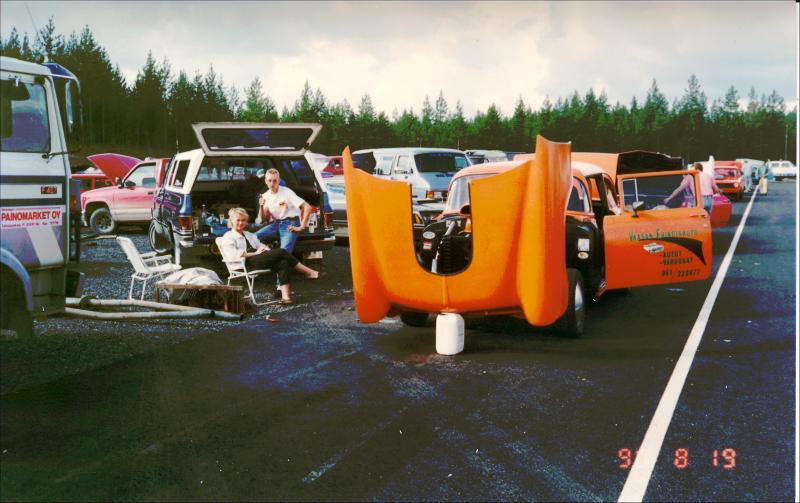 Valvejobs between qualification rounds. 200lbs installation pressure, SS valves, Crane golden rockers and Manley roller lifters.
Noisy Pete Jacson gear drive,...
I hadn´t money to buy new wheels front, so I used steel wheels + fullmoons. Rear wheels I cut, made from 10" wide to 8" wide and turned (outside to inside ><).
Tune Up. I drive during summer over 3000km. There was maybe 550hp in that engine. I used 8" TCI 5000RPM stallspeed converter. No, transbrake. 3speed TH400 with manual valvebody. 4.56:1 ring and pinion. Car jumps good from starting line. both front tires were lifted up. 60feet 1,50sec, 1/4" = 11,50sec / 188km h. Weight of the car was 1600kg.
Who says we look Young 80´s....
Mika "malibu bitch" Valle send me next 3-4pics. Thanks !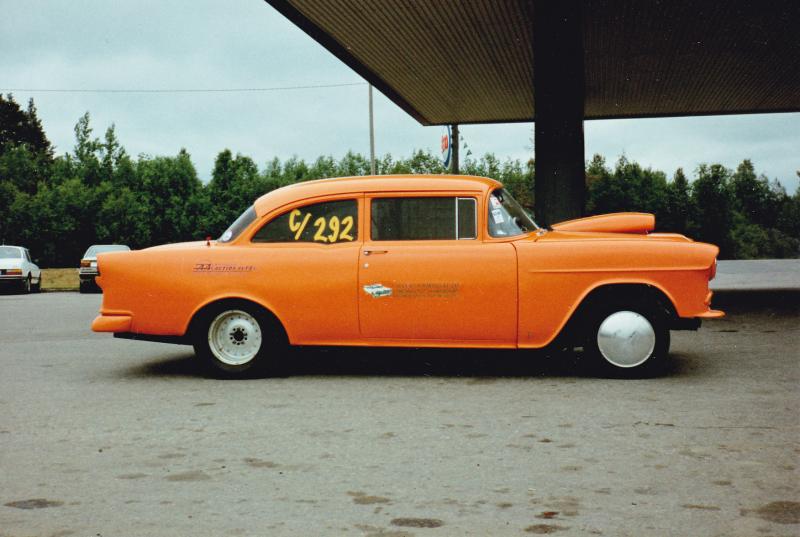 After one summer I sold car to South-Finland. I sold it rolling. Engine bought another man and tranny I sold to North. People were interested in that car, so I got good money rolling car. Now I had enough money to buy new more lightweight street race car.
Next project is that 1967 Chevy Nova Stw.
Aulis