This T-23 Altered is built in SW Race cars , USA, 1972. Car arrived to Sweden 1976. Christer Säfström was destroyed his Ford Escort Pro Stock doorslammer in Spring nationals and bought this car from USA like rolling w/o engine and tranny. He install there Escort engine and lenco tranny. Car runs easily middle 8sec ET (see black and white pics).
Early 80´s Ulf Lidman , Petalax Finland, bought that car like rolling frame and body to Finland. He install Chevy BB engine (427cid) and he was racing many many years in Finland and Sweden Competition Altered class. High 8 sec and low 9sec ET´s. He got several throphys where ever he raced.
I bought car from Ulf 2001. 1999 I sold my dragster, engines, semitrailer+truck. You know that feeling after racing career.... I was try to stay home, but fire all the time under feet.... My good friend Eero Karttunen borrow me money + I had some small savings after rebuilt my 200years old big big house, so... I drive to Petalax , West-Coast Finland, and bought rolling T-23. Thanks Eero !!! he also made me racing tranny without any costs.
I fixed Cromo chassis to meet 2000 NHRA rule book , paint, built engine, new wirings, moon tank, weld headers....and "BUDGET" race car was ready in total costs 20 000mk (+3000usd). It runs only same what Dynodesk program shows , low 9sec in 1/4mile, so I installed "blue" bottle. +300hp was good help. Now it runs 8,5sec easily when used NOS only 2nd gear. I was winner 2002 Mantorp Sko Uno Dragfestival (biggest drag race competition outside of US) in 64 cars field , super comp class. All other had nice trottle stops etc, I had NOS. I was in spot 36 or 38 after qualification, problems with NOS solenoids. I found problem and Elimination reaction times between 0.004 - 0.009. OK, I had old mechanical retard box. Rest of race I keep my front tires 30-40cm front (12-16") neighbours and I trust my good reaction times....
Christer Säfström was winner 1976 Sko Uno dragfestival and I was winner same car over 25years later!
2nd winter I just changed old nostalgia rear wheels, I cromed headers,.... No big changes.
3rd summer I used 572cid engine which I built in my garage , Pomona CA. Ring and pinion I changed from 4.56:1 to 4.11:1. Converter from +5000stall (8" A1) to 2500stall (10" munsinger). +940hp 572 shut car 60feet 1,13sec, 5,20 1/8"mile and 8,1sec quarter mile. Very much torque, low RPM in start line, I push 2nd gear very early and still goes very fast. Nice car, Nice history.

My goal was try go make car as near as possible old style outlook. My homemade rear wing was not so high as old one in pics etc. but maybe little more good outlook...
I sold car to Sweden 2004 after racing season.
1976 Mantorp Park
Christer bolted on his 351 Pro Stock engine + lenco. Note Old fuelcell which has been removed from Ford Escort trunk !
These small pics are took Heikki Malinen 1978 in Stockholm. American car owners had there Protest against government.
I do not know protest reason, but something about dragracing....? You can tell me If You know more about that !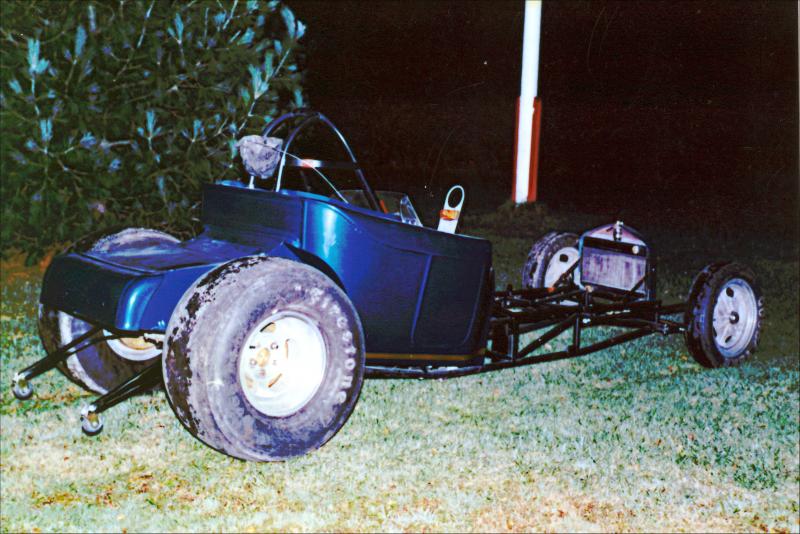 Ulf Lidman bought car from Sweden early 80´s. Then car looks this.
Ulf was very famous Competition altered class driver here in Finland. 427cid engine gives enough power for lightweight altered. His best ET is something mid 8sec. 1/4mile.
Räyskälä race.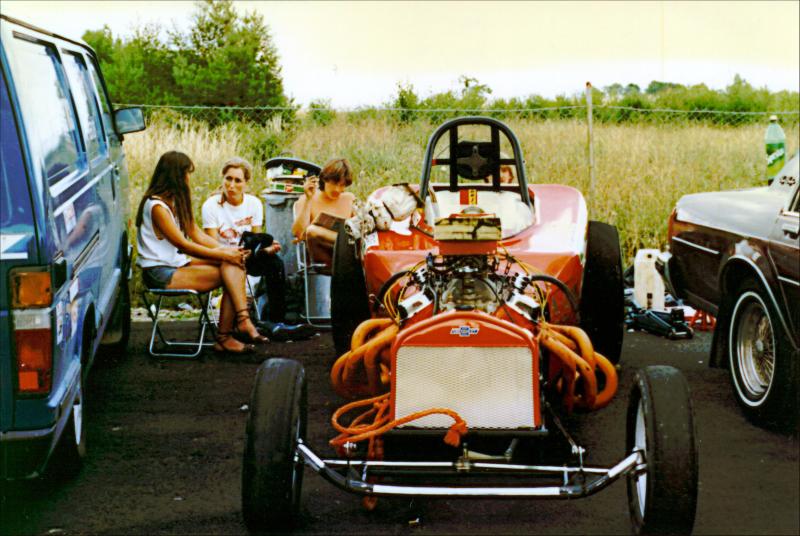 Coffer and cookies with beautyful women.
Foto: Pasi kekarainen, Oulu. Maybe in Räyskälä? I can see in pic many old drag racing person: Matti Hämäläinen, Leif Nylund, Eki Tuominen....
waternationals. Seinäjoki airfield or Kauhajoki airfield.
Red altered is still in garage Petalax. Owner Boris Skinnars. Hemi with fuel injection + methanol.
Ulf in Piteå , Sweden.
8/2001 I bought car. Thanks Eero Karttunen, who borrow me money and built Powerglide race tranny free. I was decided 2 years before this that "never again", but ....never say never.
Home in Ilmajoki where I had 200y old huose + other buildings.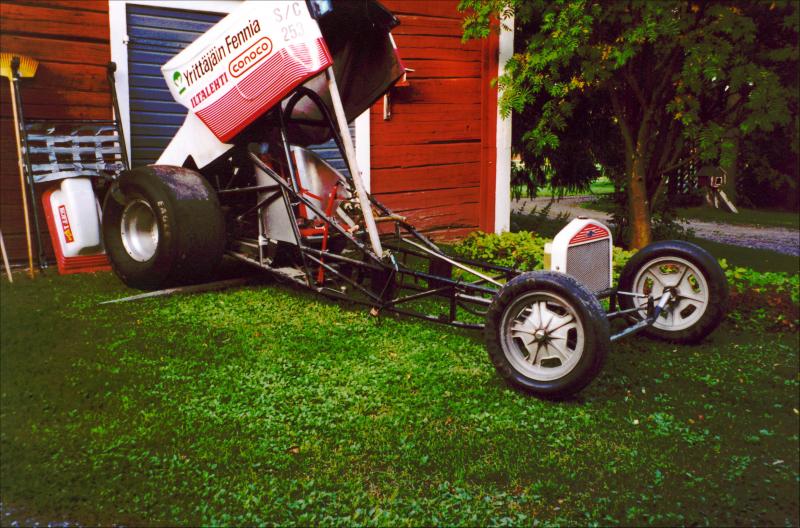 Funny altered!
somebody was weld rear axle and extra weights on frame..... interesting way to built car.
These Rearwing brackets I had in my Rear engine dragster 10y before this. Recycling parts...
I removed very much junk steel, many builders "innovations".
Nice Ford 9" axle. I just check all and leave it like it was. 4.56:1 ring and pinion....
Kari Leponiemi in Tampere made me new cromo tubes. I just made those to fit on frame and tig weld on their placed.
Tranny support I made totally new. Old one was dangerous.
I found this text after sandblasting. Yes, I am.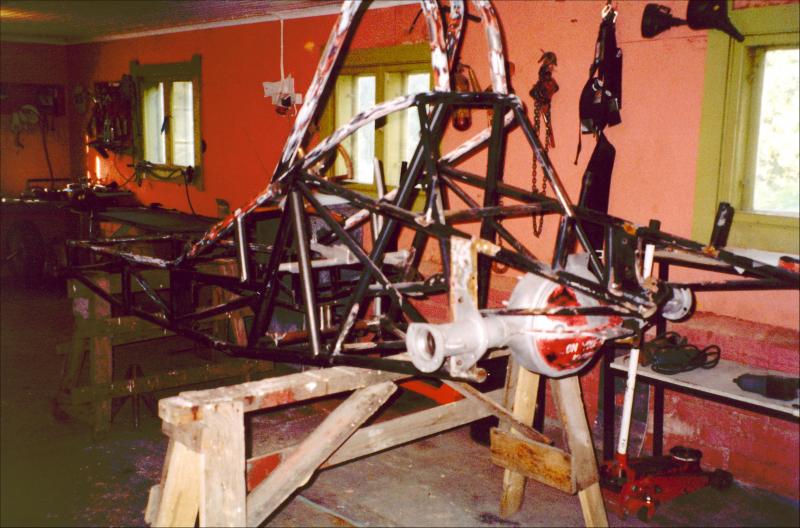 Made new rear axle mountings.
Drunk? maybe or maybe not.
New brackets for moon tank.
All new tubes welded on. Now meets new NHRA 2001 Rulebook.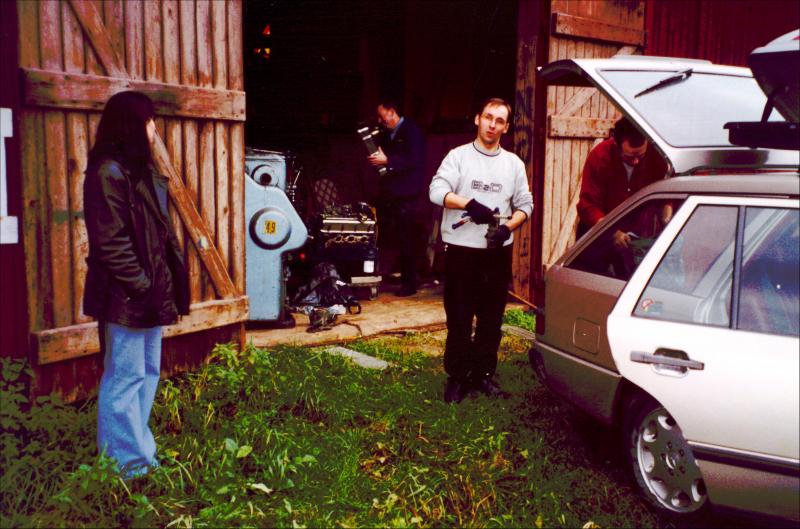 After long research process found best possible group to buy 396cid engine from FinSpång Sweden. Sami Toppari (S/SS), Pasi Korhonen (SG), Ari Berghäll (mechanic) and I. Same way we visit in Västerås Am.car club swapmeet and buy some small stuff...
Engine going to Sami´s garage where I but altered together and built it ready.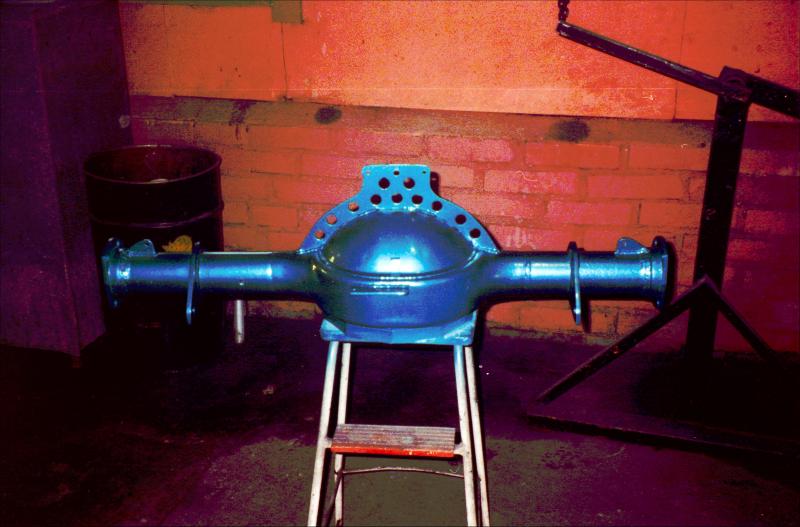 Bling Bling. Green Big metalflake.
Fuel pressure gauge installed.
Frame I paint black, small parts Green Metalflake. Just make new brakelines.
Electrics need to make very small size. Small cabin not extra free space there. Fuses and switches I installed in small box, another side I have very important centech mechanical drivers delaybox. Driveshaft and tranny need to cover with alum. All made so that can remove if need. Mounting with Dzuzes.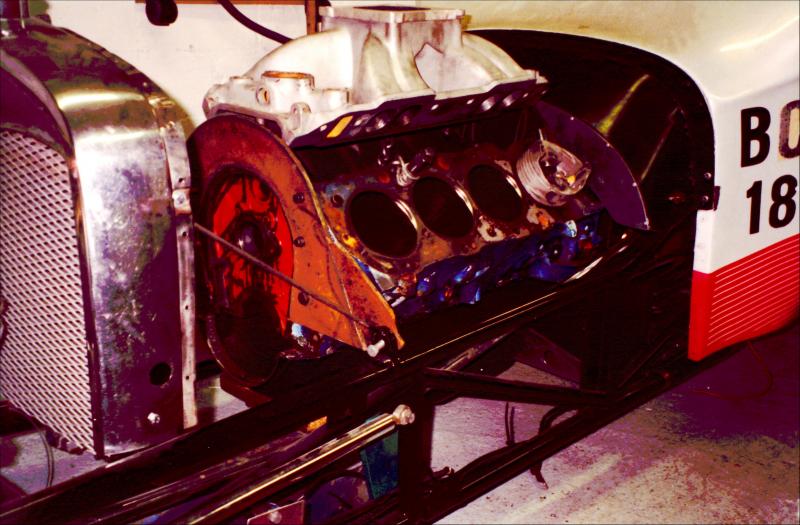 Engine mounting plates I made using real steel.
Sami Toppari, Original AMX Factory Super Stock owner!!!, helped me very much. I didnt have warm garage, so he helped and I was put together Altered after weldings, painting jobs,...in his garage. Thanks Sami!!! I made first moulds of rear wing and he fits it.
Gold Big Big metalflake + 4 x clear coat.
I welded lakester style exhaust
In FHRA American Car show 4/2002. Helsinki
Ready for 1st Finnish championship competition in Motopark raceway , South-East Finland.
And ....it runs only 9.08sec as dynodesk program told me on winter. need to get more power....
Engine is 396cid 060 oversize. Steel rods with ARP bolts, Steel crank, internal balanced, 12:1 forged pistons, L-88 solid cam, crane golden rockers, Pete jakes geardrive, 5500rpm converter, 290cc big ovalport heads which I ported. Team G intake + 750dp. 445hp.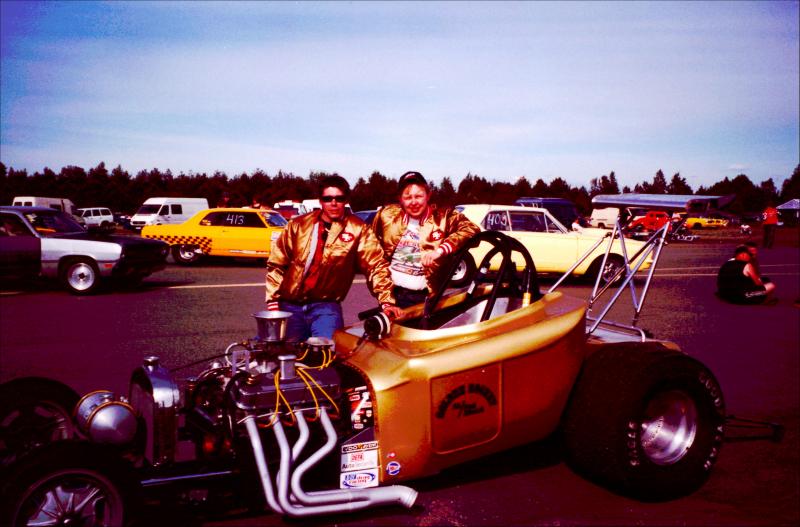 Next weekend we test car in Pori (west coast) where they have nice Street Race competitions. Competition Boss Kari Nätkin gave me NOS bottles + 300hp plate. Back home to bolt on and get some extra "boost".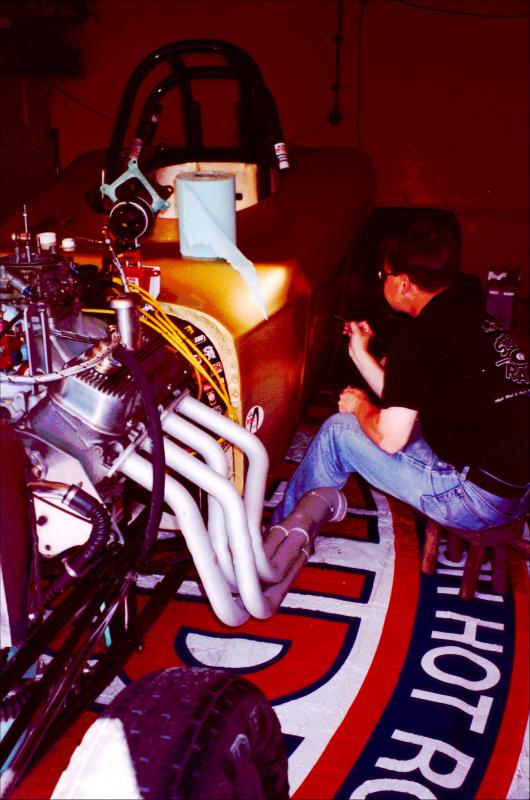 Timo "Frank" lindholm from Tampere has made all pinstripes. Text, numbers...
This must be vintage?
Kalajoki Beach Finnish Championship race, 2002 June. In 1st race , Motopark Finland, car was run only 9,08sec, so I had to do something changes.
Kari Nätkin from Pori Finland help me and send 3 bottle and +300hp nos plate with solenoids. I win this Finnish Championship 2nd competition.
No NOS, No Fun. Same summer I was also Mantorp (Swe) Sko Uno dragfestival winner. 2003 Semifinal place and 2004 too.
Mantorp they were left me 20meters space. They were think "Aulis has big truck + trailer", but.....
Before final start other finnish drivers, mechanics were come to help me. I heat NOS Bottles ...
PIck too in 200meters (1/8mile). He is try and try but my 0.004 reaction time is too much for swedish driver.
My ex Truck in Finals.
2002 I had only one sponsor. He is Kari Nätkin, from Pori. He bring me brand new flakepainted "SFI" helmet, Jack Nicolson´s ex. sunglasses and 3 size too small Seinajoki - Kesport T-shirt.
2003.
I was 3rd in Finnish Championship serie, in semifinal Mantorp Sko Uno Dragfestival. Kari Leponiemi found me old wolfrace wheels from sweden. I polished those, cromed headers... and Frank made little more pinstripes.
2004.
I bought some engines and sold to Finland same time than I built own 572cid.
These two engines I bought from Upland, Andy Manna. He is 3 times NHRA Competition Eliminator Champion. I bought in one deal 572cid+454cid+427cid. Later he send me Mopar SB Pro Stock engine.
+900hp 357cid SB Mopar.
$8000.00 together 427cid+574cid. Not bad deal at all....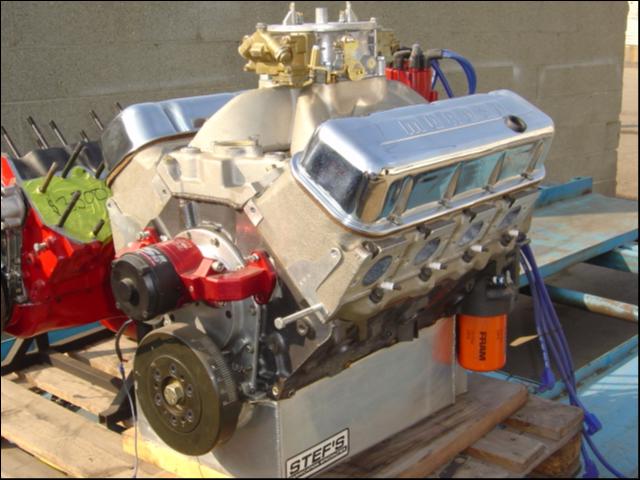 New 572cid engine which I built in my garage Pomona CA.
Velasco crank, tall deck, Lunati cam, Jesel, JE, Total seal, ....
Mikio (He has establish performance motor 1969. 1st customer was Mickey Thompson, 2nd Raymond Beedle.) flow
heads. He straight exhaust runners and make smaller 360cc intake runners down to 319cc size. You can see how he has rise bottom up 1/2". After Mikio´s 30-40hours job intakes flow 407cfm. Need to remember that its good result if we talk about 23dec. heads.
Mikio was not happy about intake manifold angles. He straight all .....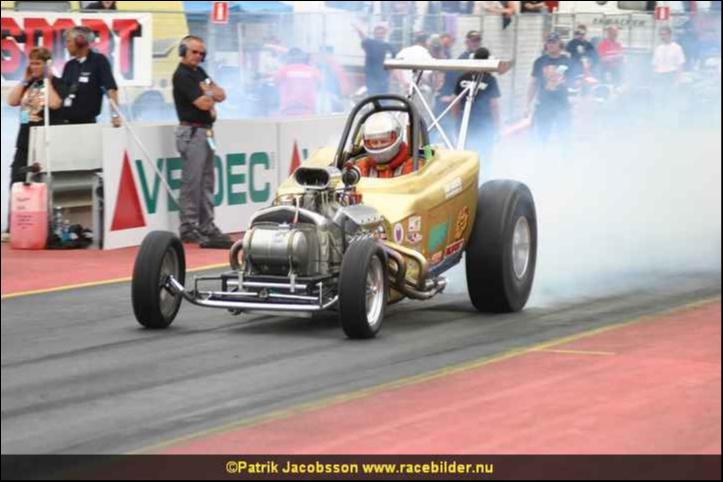 There pics are took 2004 in Mantorp. 572cid engine, new converter, new headers, smaller nostalgia wheels rear,..
I was not winner this time, but semifinal place is OK in 64cars field. No trottle stops, just pure power and have fun.
1,13sec 60feet with burnout or 1,15sec if only "clean" tires.