My latest Hot Rod is this Ford Roadster 1932. I bought project from Iowa US 2017 September. Car arrived to Finland during same year and I started to built car next day after picked it up from customs. Engine I was built during September 2017 and Double Detent 1939 tranny with Zephyr gears I was made one year earlier.
Engine is 303cid "big" flathead. I was bought one year before this project engine parts from Michigan US. 100% good condition nitred 59L block, 4.25" stroke crank, H-beam rods, Big bore Ross pistons, Totalseal Rings was that deal. I made here machinery jobs, intake and exhaus runners, valve jobs.... All short block parts were internal balanced in USA. I had home ready old Offenhauser heads, Auliz -own production oilpan, Chevy big block magneto, ceramic coated headers, Potvin 400 cam + other small stuff like timing set, Manley Pro Flo valves, Weber alum. flywheel, 2 x 48 big bore Stromberg carbs, Truck 2-row water pumps..... Just need to fix all ready and make rebuildings, fittings, machinery jobs.... October engine was ready.
I built this car in 8 months. approx. 1000hours. I have made all machineryjobs, paintjob, old style clothwirings, sheet metaljobs myself. Back to the basic! Old style building. Doing all inm homegarage is very near that style how hot rods were done early 40s in California. I enjoy very much building hot rod and of course I enjoy to drive ready car. This summer I drow this car over 8000km. Engine is very strong, tranny works like dream and 3.25:1 "super long" ring and pinion gives good speed on highway. B-17 Bomber wooden seats give good "touch" for hot rodding....
Power Big Meet 2018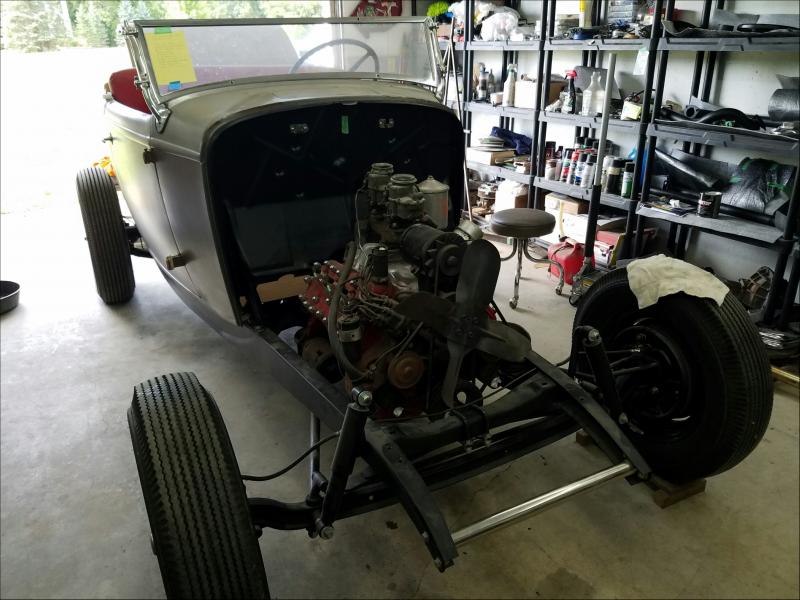 Car in Iowa August 2018
U-ship Iowa - Texas.
Engine Project. 303cid Flathead 59L magnafuxed block + brand new stroke crank, h-beam rods,
lightweight forged piston, 1mm total seal rings, 2" journals etc
Valves are Manley Pro flo. Intake 1.60", exhaust 1.55"
I have made runners bigger and valve seats racing style 46dec and very "thin".
Potvin 400 cam. Real vintage stuff
Rings are fixed right lengt. All ready for installation.
SFI 1.1. specs engine support
Rods and pistons installed.
Auliz -oilpan first fitting.
Valves installed and adjust. Valvesprings are Isky g-185. Seat pressure 140lbs after shimming.
Valves are touch chambers when full lift. Intake valves touch also to the chamber wall. Need to make machinery jobs.
1,4mm from bottom and 1mm from wall.
BBQ time.
Warm starter ring dropped to it´s place. Next I drilled holes between alum.flywheel and ring and locked ring with
"stop screws" and loctite glue.
Two chamber ready.
Oilpan ready for bolt on.
New test with modelling clay. Now there is small space between heads and valves.
Clutch is only 9" size. Brand new disc and pressureplate I increased pressure increasing 1,3mm shim all springs.
I made little extra space between pistons and heads. Big bore-pistons were come too near of chamber (not middle)
Valvepockets ready.
While I rebuilt 4pc 2-row truck pumps. They do not make those new, so leaking pumps need to rebuilt.
McCulloch centerfugal supercharger have put together. Next I make new gaskets.
3 different thickness to get as smallest possible air cap between rotor and housing.
Total height over 1meter!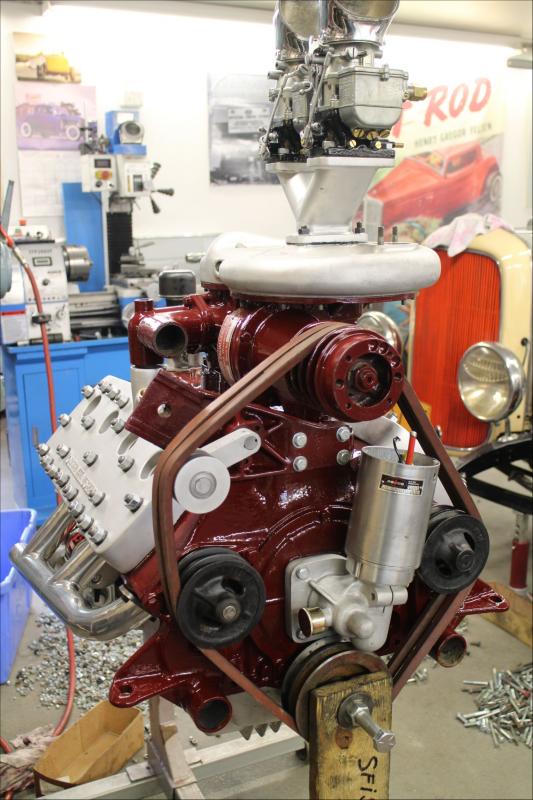 Basic Compression Ratio is now 8.20:1 and McCulloch gives 0.35bar boost. Nearly 300hp and over 300N torque.
No heat problems. Rings are 1mm wide and very low friction.
Engine is mechanical ready for installation. Still need to make Oil pressure pipes to McCulloch, Fuel lines......
Car arrived Finland and I start to weld next day. Here few pictures sheetmetal jobs, how I made aeroplane/race car
-style interion, wooden floors, frame changes, exhausts, fuel lines, paintjobs etc.
Taillights are rare KD 540 lights from 40´s. Beadrollermachine is good when doing this kind of small details.
Cut and fitted.
Pieces TIG welded.
Wood dropped.
Engine going on it´s place 1st time.
Double Detent tranny with original Zephyr gears.
Mercury 255cid engine was lift off and sold to another hot rod builder in Oulu city.
Headers and original steering box fits perfect.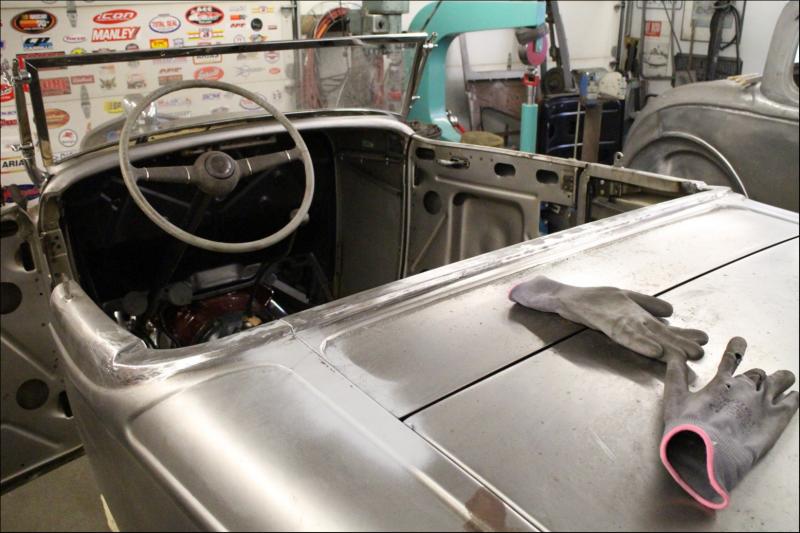 Bodyworks tig welded adn fixed.
I changed dash for Auburn style gaugepanel
Dash follow gaugepanel shape.
15mm Pine plywood for floors.
Floorpanels ready.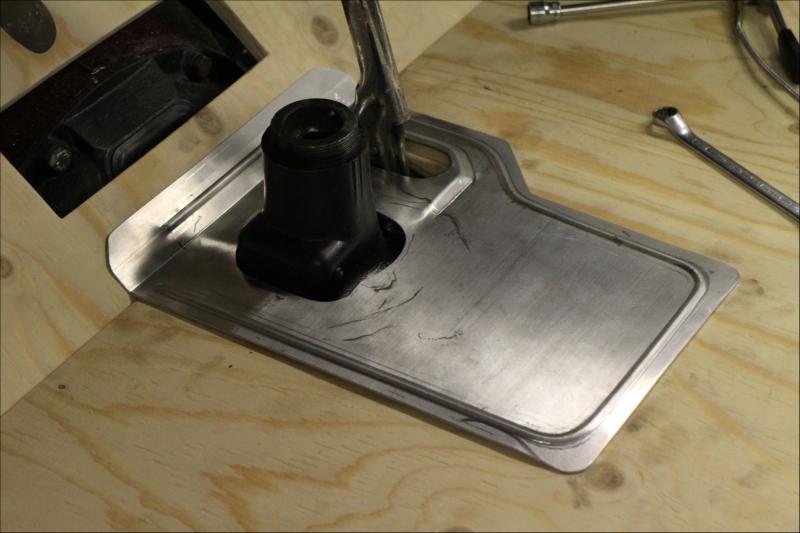 I made all floorpanels Aluminum. Looks like more Race and Aircraft style than painted steel.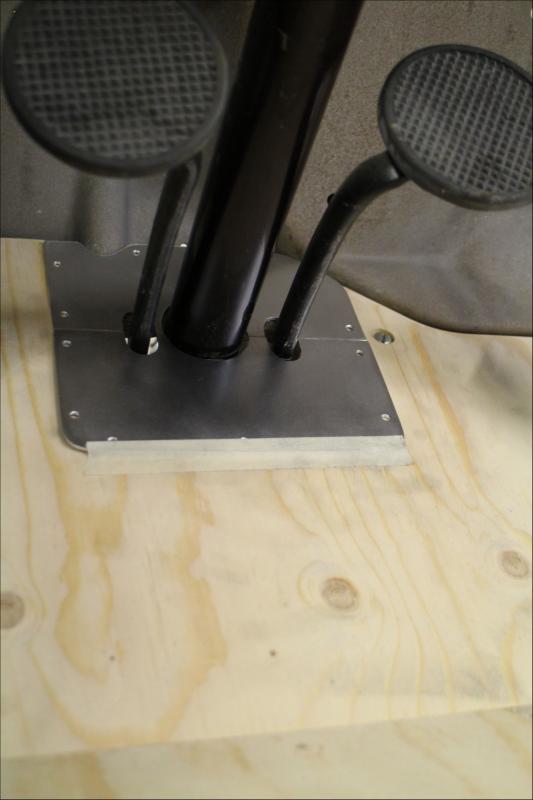 small parts for seat frames
Seat frames welded together.
Floor panels ready and bolted on with sheetmetal screws
Standard Motoroil Company Co "first aid pack" from year 1932.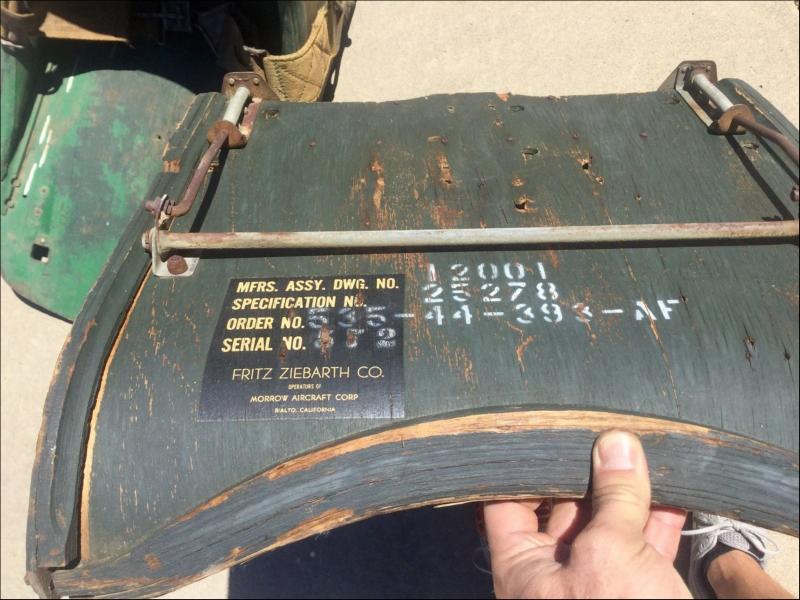 Seats are made in Fritz Ziebarth Co. Rialto CA. They made few wooden seats to Bomber aeroplanes during IIWW.
They saved aluminum. These seats are Super Rare. I bought those from Reno NV.1
Pioneer Parachute company Co (Manchester IL) has made this Brake Parachute Jan-1952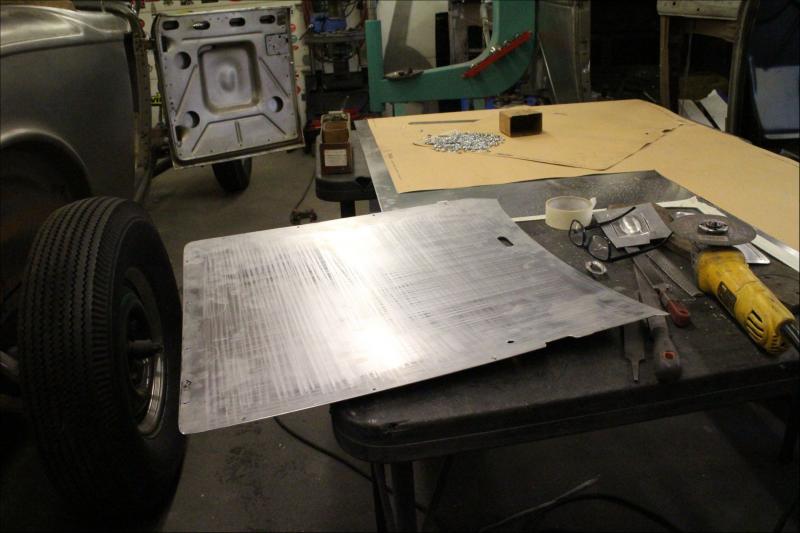 Doors are round both ways horizontal and vertical.
hammering.....
Escutheons are own desing. Aircraft / race car style. Little more finishing and it´s ready.
Patch panels need to made round too.
Aircraft style MAP -pocket.
Half fond before start to make rear panel. Corner is tappered.
2meters long aluminum.
Not easy to do it alone, but one Sunday morning I start work with this big panel and evening it was ready.
Too big is easy to fit.
Result after 10hours. Still need to use beadroller machine. You see those black marker lines.
Parachute bracket.
Pioneer Parachute Co , Manchester Connecticut has made this Brake Parachute.
Manufacturing date: Jan-1952
Battery box tig welded.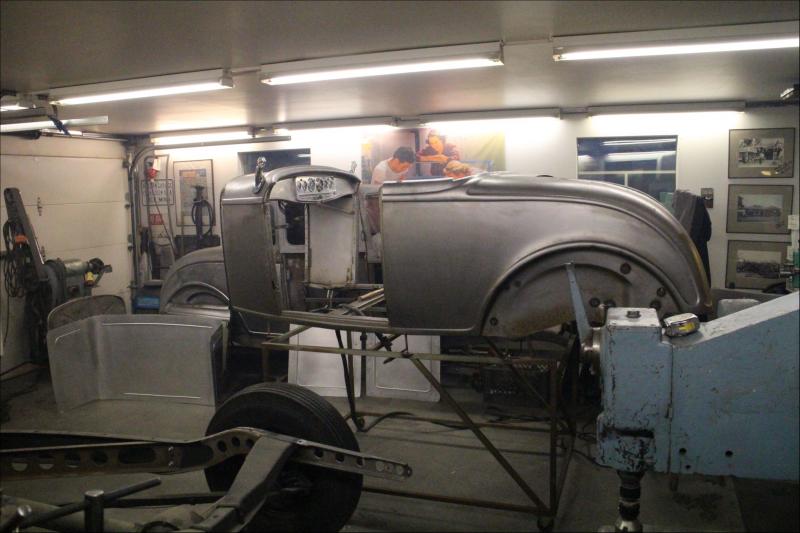 Rear crossmember notched 2.5"
And TIG weldedtogether. Same time welded and finished extra boxing plates.
Brake cylinder (1940) and extra Bolt on - frame supports are find their places.
Exhaust tube welding
Passanger side.
Every winter I order many many times small parst like SS woodscrews, SS sheet metal screws, SS prings, SS washers,
Wiring connectors, round head bolts.....
Found from CA. 60´s SUN gauges 40pc.
Driver side. Mufflers are "Free flow" 10" long.
Handbrake systems are made.
Fuel line and brake lines under construction.
12mm cloth spark plug wirings.
While need to update my another supercharger flathead. 284cid Italmeccanica engine was in dyno.
Painting room is nearly ready.....
Propaine heating + 2 x 2000w light gives very much heat. This is hot rodding.
Supervisor Oskar is not anymore wondering my "tricks" .
Industrial Expoxy primer.
Homemade velocity stacks.
Small parts final colour is also from RAL data sheet. "castiron" + 40% matting base.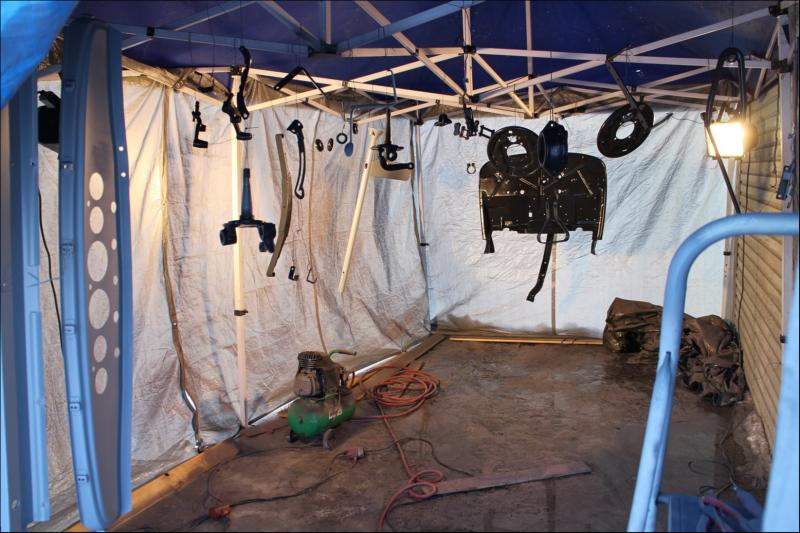 Body painted inside and downside.
Doors, tank... ready.
UNC and UNF bolts and nuts are piece of cake him. We are just install rear spring and oskar is looking for bushes
and nuts for shackle mounting.
Gabriel Stötdämpare (Gabriel shocks) -
Oskar has arrange all small parts once again I just need bolt on, not need use time for looking missing stuff.
12V voltage regulator waiting for wirings.
I opened rearend and changed one differntial bearing + Ring and pinion from 4.44:1 to 3.25:1.
Front framesupport is Model A.
1932 Forged Heavy Axle is now a days wanted part. Looks good and its twice as heavy as normal axle.
Perchbolts and Wishbone are also original.
First time we push car outside and took some pics. All parts are finally bolted on.
Headlights, grill and front lic.plate support has nice patin. I want to leave as those are. Same idea is inside
(seats, steering wheel, shifter knob..)
Fuel lines, Brake lines are ready.
twice week need to clean garage. Its like "small war" after working 2 days....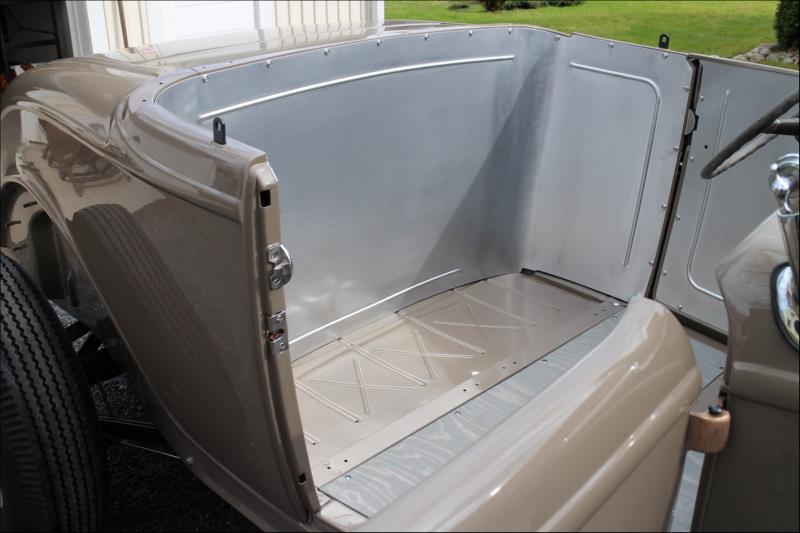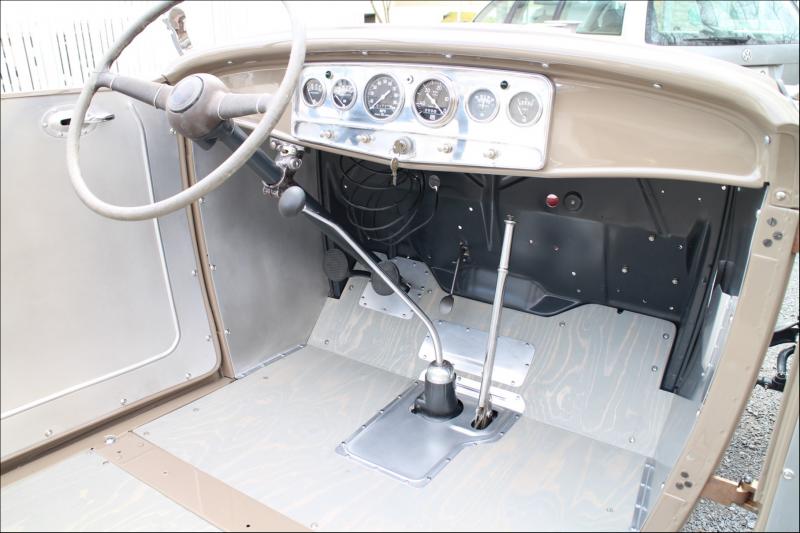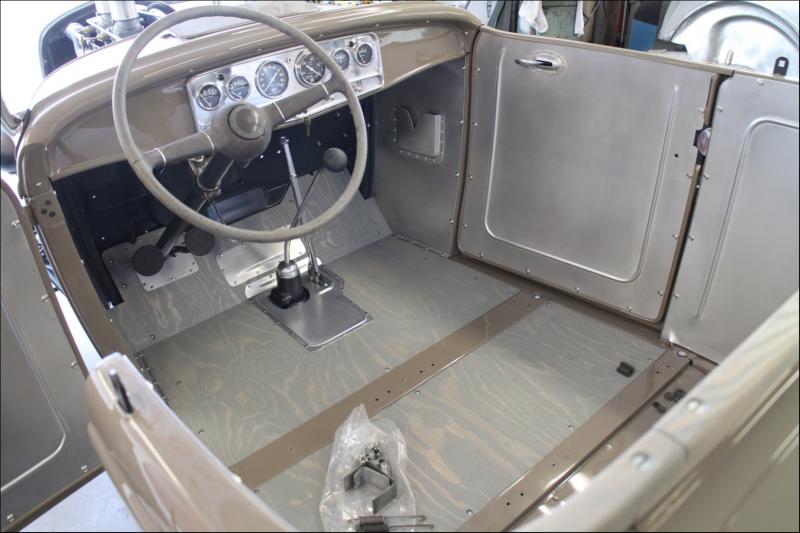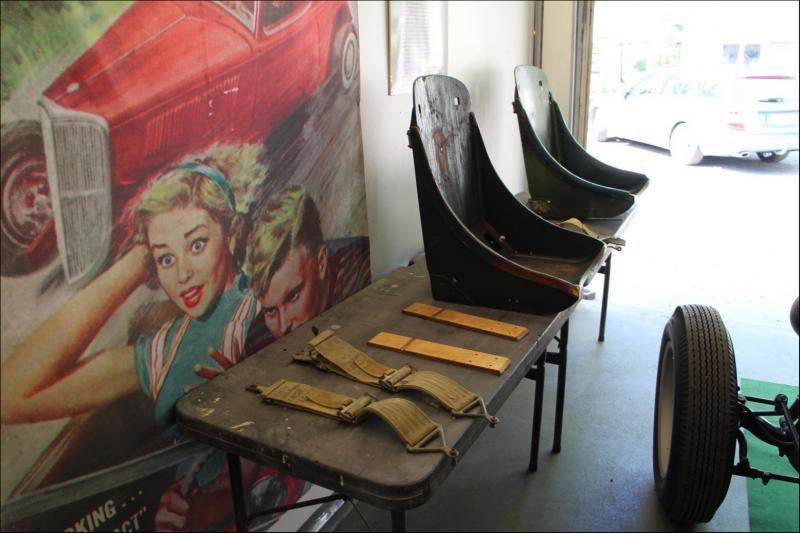 Corners are fixed and all parts "reglue".
I made extra suppoert under seats. Want to be sure that those are not broken. So expensive investment to buy seats.
Ou shit there is good sit on and ride.
Keep it simple like DDR ....
3 x Deuce.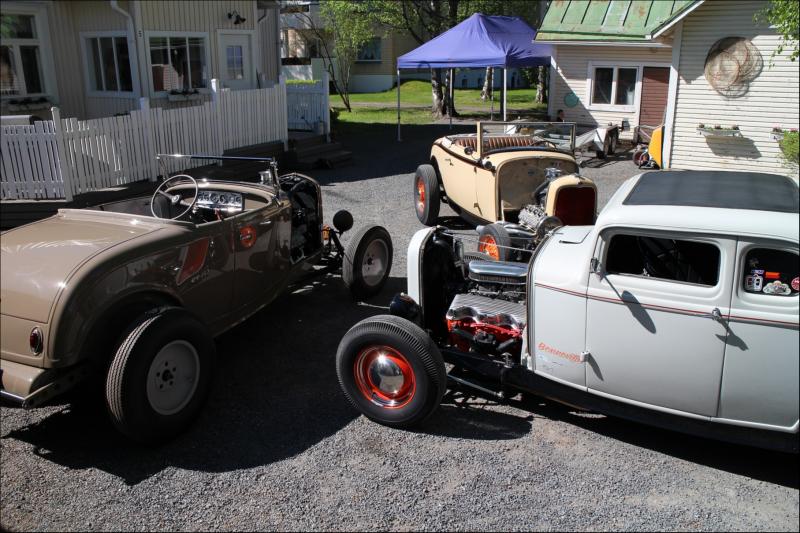 Twin spark plugengine is 21bolt !!! Have You seen another?
1st summer 3 months = 8000km.
Big trophy in Power Big Meet, Wheels Nats, WHRA summer meet, Forssan Pick Nick. And of course, articles in foreign hot rod magazines feel good.
Ou Fuck its nice to drive long trip and listen Rock´n´roll using bluetoot.
You only need good Hot rod, strong flatead with fantastic sound and good artist playing real rock!
2019
Summer 2019 I have had so much more to do with cars than normally. I have drive only 4000km this roadster. I started season from Oulu city 40th anniversary American Car show (1st prize), then I have more drive long daily trips. 400km to 600km /day. I like more to drive alone all over country side and see places/people. In July I was first time in BIG WHEELS car meet in Pieksämäki. That is best ever car meeting in Finland where I have been with in. They choose TOP 5 (total 1600cars , 18000visitor!!!) and my roadster was one of them. My Oskar sons real 1958 Ferrari GP car (pedal car) won TOP 3 throphy too.
ACC (american car club) Jakobstad arrange yearly summer meet in Pietarsaari. I was there, of course. It was little too hot day (29-30dec celcius) for whiteman, but after meeting we drive with my friend from Pietarsaari , Tapio Honkanen, to their famous swiming beach. Cool place and cool is Tapios stroker charger too. Not seen many times this kind of beach where Bedrock and sand are mixed, not only sand as usully. People can waste their time on bedrock too.... Go and see that place, 7km south from Pietarsaari.
15.9.2019
I have drive over 6000km roadster this summer or maybe more. Car is perfect condition. One time I have made some basic maintenance nothing else. Very very strong engine, push this chickenbox like crazy....
After 1-2 week from this date, I wll drive roadster to my another garage side by side with my 1932 cabriolet. Yesterday I drive rodster when I was buy some stuff from Motonet and Biltema -companies. Yes, its still for sale, 68 000euro cash money and You own very good roadster. Powerfull, good to drive, fast and many many special and rare stuff. You can read all info from this presentation...
Roadster SOLD to good home, Sweden (of course).
13th (friday) of Dec 2019. Last three pics of my Roadster.
New Owner is in Middle Sweden. Thanks Man and enjoy !!!
Aulis