Year has been changed, Happy New Year everybody all over The Ball !!!
I know that many here in Finland are hiden their new projects or ready cars ,what they have bought. I have never understansd that "top secret" style, but everydoby has their own style to live..... I have nothing to hide, so here pics my new investment. This 1968 Nova I found from LA Craigslist and bought just after 2018 Christmas.
I was looking for months Street car. As they say "back to the Basic". I start my American car hobby midle of 80´s with muscle car and loved drag racing more and more after raced 1st time in Hanko Street race (see pics in 1967 camaro). I have hot rods, I love to built hot rods, sheetmetaljobs, built engines (just now I built two flathead engine to my customers), but I have think long time that I need something else too. Im not interested in original cars, historical vehicles, but Hi-perf hot rods or muscle cars are took my Heart long time ago 70´s, when I read Hot Rod magazine, Swedis Start&Speed, Colorod, Power magazines.....
I was nearly buy earlier last autumn 1966 Impala with 600cid or 1972 Nova with Turbo SBC engine. Thanks sellers, they never answered my email or Mikko´s phonecalls... 72 Nova owner answered, but he know nothing about his car, so maybe it was good for me to leave that case out.
1968 Nova
406cid SB engine, TH400, Currie 9" with caltracks. Runs and drives good. All steel exept hood. Need to fix paint and something with technical, but nothing big job. There is ET Drag slicks under car, I bought also Street Radials if some day they drive here in Finland 1/4mile street radial races. Car built 2012 and there is article that car in Car Craft 5/2013. Mostly I bought this car for fun. I want to drive on street and sometimes can test or race on track.
Nothing very special in this car engine, but good basic Hiperf stuff (New dart block, Pro1 230heads, crane cam+stuff, msd, Mahle, H-beam Scat, TeamG, Dominator, Dougs, Nos progressive controller, .... You know all those). I like to stay in good basic hiperf parts. I have possible to develop engine in the future, if necessary or must. 620hp + 2 x NOS, if used it. I like that 3speed TH400 tranny and 9" rear end. Those are enough strong and trusty. Mostly I like that car outlook, and everything what include technical, electric and how they have done cromo pro touring roll cage, subframeconnectors...etc.
Update 23.2.2019:
Nova will arrive to Finland middle of March, maybe ready to pick up home one week after that. First I need to change pass.side rear fender quarter, test and tune engine, tranny and rear axle. Need to install wiper mechanism and motor. Next is paintjob. I need to fix hood, rear quarter etc. This is not showcar, but easy to fix all those and spray new mat lacking over car. I have bought one pair more same weld wheels for Radial slicks. Next after paintjob is to register car and get lic.plates.
I have not decided where and when I race, but maybe some NorthBlacklist races, maybe in Tierp FIA race (Sweden) and Kauhava FIA race (40km from my place). Let´s see how car works. No stress, just enjoy .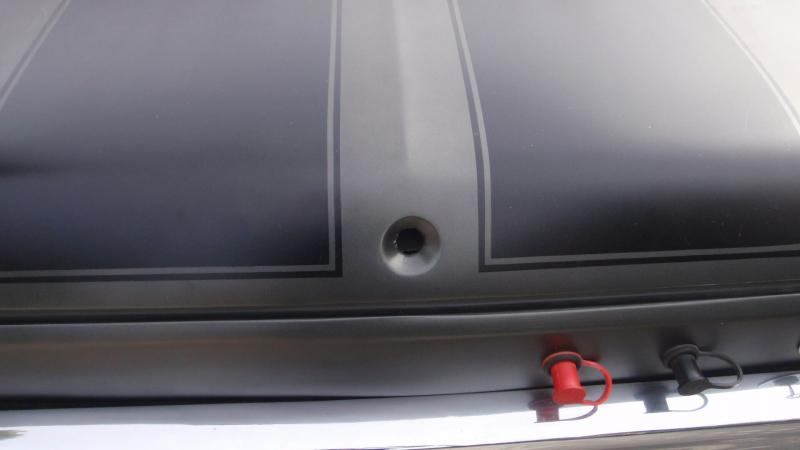 FINLAND
Seacontainer arrived to Finland 19.3.2019. 22.3.2019 container unloaded. After paid customs fees + VAT (moms, sales tax) NOVA was ready for trip to Seinajoki. 23.3. Saturday I and my son washed car, engine and drove car in to my garage. Today I started to look over car. Looks good.
I looked over big quantity of receipt, which come with car. It´s huge sum of money to built this kind of street car. I think, I do not have time to built car and I got this car "halfprice" if compare what are buildingcosts (parts, labour....). FIrst thing is to change new rear quarter. There has been smaller accident in CA. After that I need to change Drag Radial tires rear, look over wirings, install wipers, ....
I fired up few times engine. It sounds very good. Earlier I got information from USA that compression ratio is somewhere around 11:1. Now I looked over all papers. I found all info concern Engine, tranny, rear axle, 12point Cromo tubecage..... Pistons are Mahle Pro serie domed. 14,5:1 (3.75bore, 4.155stroke = 407cid) when using 64cc heads. New Dart M serie Cylinder block has left little over 9" deck height, but anyway, Im worried about that high compression ratio. I was think that I can drive that car more on street, but now I need to forget that and order racing fuel.....
Here some pics took 26.3. - 27.3. I have changed RH rear quarter part. I also made new part to innerfender, because they were cut inner fender in USA. I found there very much vaporlock -tape, knive, Army personal numberplates, notebook, money... Yes, they have used putty too,...but that is not any news ,if we think about car which has built in US.
Tomorrow I continue. Need to made 1cm more space to RH side. Rear axle is not middle of car. Need to work all day with that problem.... but I will solve it.
Juha & his workmate are just open seacontainers signets.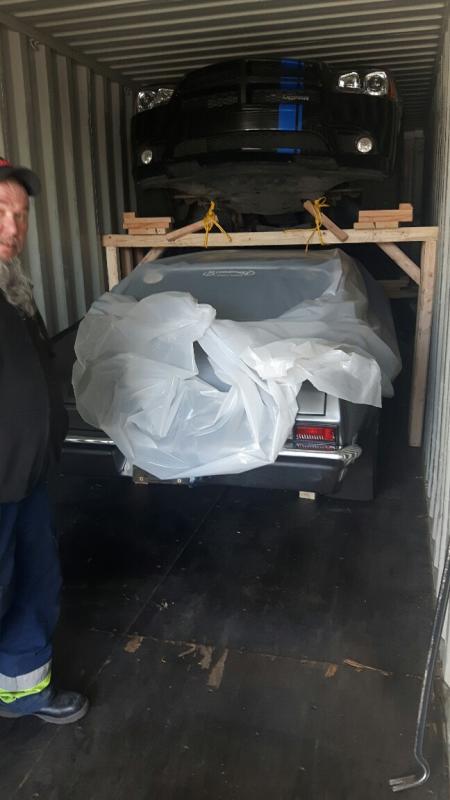 I see my new girlfriend first time. Mexicans were nail 5x5" wood blocks between container floor and rear axle like I asked them to do. M/T racing slicks are not keep air inside very well (no inner tubes) and now we have saved one pair racing tires.
I cut this sheet metal part, round it using englishwheel and welded to between innerfender and new rebuilding part of rear quarter.
Fits perfectly and now it´s welded on.
This quarter is loosing putty after I have "swipe" it straight. Not bad. Some places maybe 2-3mm, not more.
welded. Now there is 3-5mm free space between inner fender and tire. Maybe that´s enough. 1st time M/T 275/60-15 drag radials under car.
1st part new BAHCO tools arrived. I got reasonable price for all inc and metric tools I choose from new bahco cataloque. Still waiting for cabin, some wrenches,... Saturday 30.3. Oskar check all stuff + packing list.
New Bahco carstands and 1472K -toolbox arrived. Nice and very heavy stuff all !!!
California "dealer" lic.plate.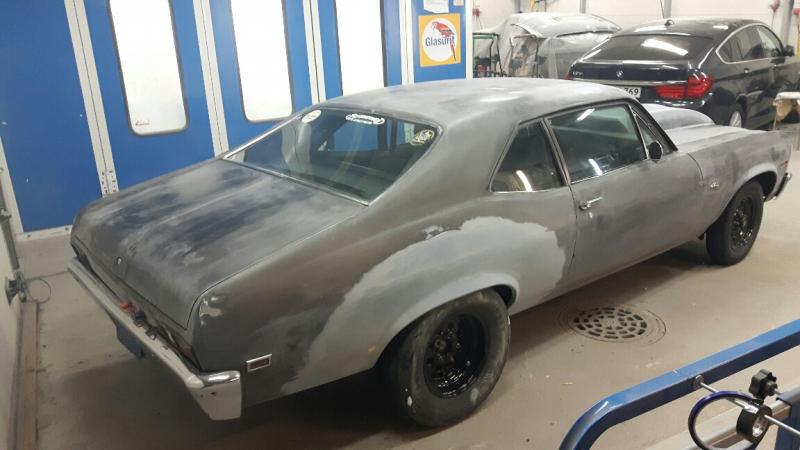 Brotherhood Street Racers and LAPD (Los Angeles Police Department) motorsport club stickers from USA.
3weeks ago I was in "moose"-accident. Insurance company try to buy my MB. Finally we have done deal with them. My friend Pasi can made car ready. Why change car, if this car is good technical very good condition and low km droven. If I sell car to Insurance company and buy same age MB, propably I get worse car ....
I have fixed car all over. Not show quality basics, but I can say that car will have better outlook than before it came in to my garage few weeks ago. Car will have same colour.
Today I tow Nova to my friends car painting company. I Just get car ready for paintjob. Tomorrow 1st need to paint new metallic gray and after that two round Glasurit mat-lack.
Today 11.4.2019 early morning Nova got new metallic gray basis (water) and 2litre "fullmat" lack.
Maybe need to open valvecovers 1st time, test overflow, test valvepressures etc etc. After that Im ready for summer. Yes,
next i will register car, but before that need to install wipers and washers.
Wednesday I was drive Nova to car Inspection. Now Im waiting for how much Finnish Government needs "Cartax".... Old car, so maybe its 50-200euro total. Yesterday, Thursday 25th of April, I load car and stuff on to my trailer. Today, Friday, we drive down to Tampere Hot Rod Show, when my Oskar son is come from School.
Weekend we were in Tampere Hot Rod Show. No success for Aulis And Oskar. Maybe judge has seen too many ROush RC500 pick up + US closed trailer + Street doorslammer Nova. Or maybe fatman´s fingers has made his magic....
Monday 29.4. - Tuesday 30.4. I have installed new CRS kevlar tranny SFI cover. I knew before installation that there is not enough space between floor and TH400 tranny.... So, I need to drop engine 2cm down and tranny too. I made new engine brackets, and "destroy" Energy suspension tranny bracket, chopped it too. Now all parts installed back and car is ready for race. Some small things need to do and check, but this was last big job 20hours.
3.5.2019 I made driveshaft loop and bolted on under car. Same time I changed new Seat belts. Camlock Simpons were like "a brand new" SFI date was gone. New G-force are not so good looking, but have "fresh" SFI sticker.
May 2019 updates:
- 2nd weekend of May there was ACC Oulu 40years anniversary american car show (ACC = American Cars Club). I had there Pick up + trailer + nova. I had there also my latest hot rod, 1932 Roaster. That car was winner car in class HOT RODS.
One week ago we were test and tune in Kalajoki beach race track. We were not lucky with weather. Rainy, windy..... I was drive carefully 3 test race. We were happy about that posibility, because now know that car works technically and tires are not touch rear innerfenders. There is only 1-2mm clearance between tire and steel....
5.6.2019 I start trip to Sweden. There is in TIERP Drag Race arena ofical European Championship competition. All fast classes are race European champion -tittle. THey have total 6 partial races, this is number 2. (Santa Pod UK, Tierp SE, Kauhava FI, Hockenheim DE, Tiepr SE, Santa Pod UK). I have sign up to SST. Hope car is work fine and there is enough power for 10sec ET´s. Car total weight is 1462kg w/o driver. Racingweight is maybe 50kg less, after I drop headers off, not fill so much racing fuel in tank and remove NOS bottle from trunk. This is steelcar with 12point cromo cage, steel bumpers, full interior... and want to keep it like it is now.
30.5., Friday, I picked up Lic.Plates. Now car is registerd to Finland. One month ago They made inspection. After that I have been waiting for 4-5weeks how much I need to pay car tax to government. Huge 35euro is paid, and lic.plates are got.
TIERP EUROPEAN CHAMPIONSHIP DRAG RACE
Tierp Arena 5.6.2019 20.30. +28dec Celcius outside!
Race ready. 6.6.2019 7.30 we drive car to Inspection and after that 1st qualification round.
Thursday we have drive 6 qualification round. Our 1st start was our best (11.05sec). Positive things are good reaction times (0.005, -0.02....) but of course we hope that car is run faster to our 10.90 index. It was very very hot weather and maybe it was too much for our "heavy" (1550kg with driver) car and small block engine. Evening we changed new VP ms109 race fuel in to the tank and increased some decrees ing. advance. Driver has had "good touch" and car has been run good, but maybe not enough fast. Let´s see how its going tomorrow, Friday when we have 3 qualification round.
These next fotos are took Miia Saarinen (Pori). Thanks, TOP Shoots!!!
This picture is from "Tierp iDag" -website. Nice shoot!
North Blacklist street race, Finland:
I just send message to North Blacklist webmaster and asked him to drop my name out from racers list. Im not facebook user, but just read how famous finnish prostock crew chief and pro engine builder Petteri Vatanen was tell there everybody all my Nova problems, so I give that spot nr 10 to him. He is moneyman and he can built or buy street race car and go to challenge other street racers next competitions. Also note that some "hard" quys were like his comments, so its better that i step away and give them posibility to race and enjoy. I can race or be out, that¨s so fucking easy. Go petteri go!!!, racetrack is Yours.
August - 2019


I have been on vacation 7weeks and have break from drag racing. I have enjoy summer and enjoy my hot rods on the road. Same time I have made new electrics to MSD systems (ignition) and Nitrous cheater systems (2 x cheater). American wirings in NOS system didn´t work, so I decided to remove all wiring and made new ones.
Same time I update fuel pump and have got very good answers and advice to my daily questions from Hellman Racing (Thanks Sari & Hannu Hellman). Yesterday Sari bring me two bottle more "fun" to Tierp European Championship race, where I go to race in SST - sportsman class. Mika Valle has been good advisor too and he send me one fuel regulator, while I get summit racing shipment where I have new regulator, diaphgrams, NOS jets.....
Yesterday We were in Kauhava Raceway test and tune. Two starts with good result. I didnt use yet NOS, because I had so many new things to test. New HANS Hyprid Pro rage, electrics, water pump, rear axle and shock adjusting.... Next step is to open bottle and increase engine HP that way. 0-500hp is range where we can play, but still start from 150hp up.
Wednesday morning we start travel to Sweden. TIERP Summit Racing EM drag race. 348team with in!!! BE THERE !
First I made A3 size MSD/NOS wiring diagram.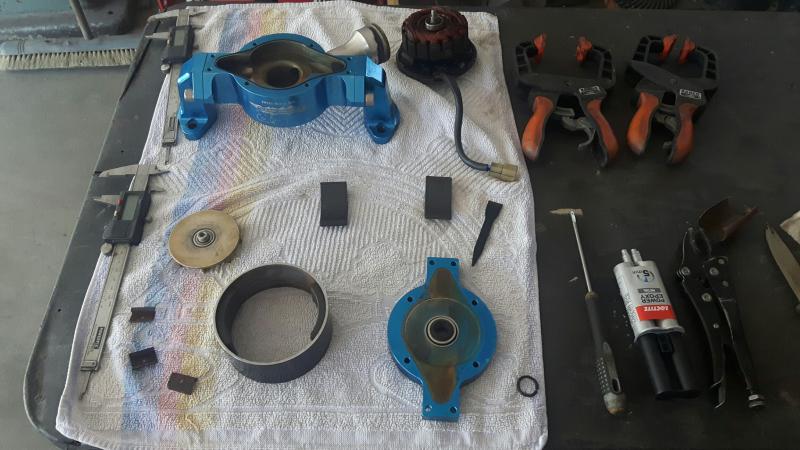 Waterpump were leak. New springloaded "waterpumpseal" arrived from CSR. Magnet (4pc) holdings spring were rost.
I removed springs and glue all magnet on their places.
New Sparco FIA fire Suppression system is installed. 3jets engine (firewall), one jet driver, one jet under dash.
I changed all MSD equipment installation so that those are "turn down" with hinge. Earlier those were bolted on inside of glovebox.
Now it´s easier to adjust 6AL-2 or 3step retard box when all come out from under dash.
Foto by Mika Valle (17.8.2019). Best pic ever this car !!! Thanks.

TIERP SUMMIT RACING INTERNATIONAL -drag racing 22.8. - 25.8.2019
Wednesday 21.8. we drive down to Naantali city (300km South), ferry to Sweden and 150km from Kapelskär harbour to Tierp Arena. That trip took 13hours and we were ready to race. Thursday morning we started to race.
My " Pro quality " RV-cartrailer-sleeping room-kitchen-livingroom -combo.
My Tierp Race wasn´t start best way. maybe one meter after startline currie 9" rear axle were blow out teeth.
towing left my car in my spot and I piece rear axle. I called to my friend, Stig´s axle and parts, who is rebuilt and built rearaxles. He is expert and he is make all 9times European Champion, Jimmy Ålund, pro stock car rearaxles. Stig told me that "Aulis , You need to drive down to Ringarum and I fix Your rear axle". 350km south and back + 3hours rebuilding. Now I have better quality US GEAR ring and pinion there. We changed 4.11:1 Ring & Pinion to 3.90:1 Ring & Pinion. I was think that maybe in future I use more Nitrous or I change engine to supercharged version. That´s why I choosed this longer ring & pinion.
Stig told me that those Currie "china" ring and pinions are OK when use street only. In racing use, those are junk.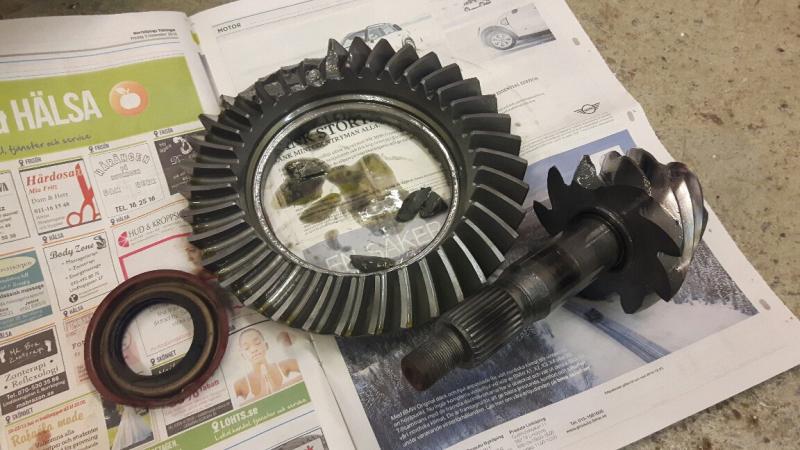 Stig working with my rear axle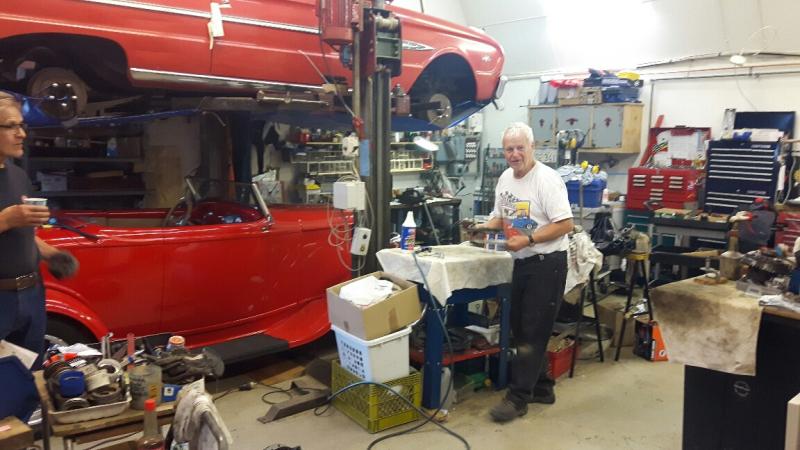 We were back in Tierp 21.00 in the evening. I started to put parts together and same time it was start to rain heavily.
After 2.5hours working I stop, unwear wet clothes and sleep 5hours. 5 o´clock morning I continued working with rear axle. 7.00 i started Nova. All were ready for my 1st qualification start. They had 4 qualification round on Thursday while I fixed my car. Friday were little rainy and two Pro round took nearly all day. Finally Friday evening we had 5th qualification round and I got posibility come in to elimination list/sheet. New 3.90:1 ring and pinion was good choise. Earlier my car run 1.50-1.50sec 60feet time. Now it run 1.43sec which is my new record. 330feet (201m) ET was better than earlier. Now 330feet 6.44sec , earlier 7.0sec. Little Nitrous 3rd gear and my ET was 10.35sec.
Saturday we had only one Elimination round. I was winner with my 4hundred better reaction time. We both breakout, but his breakout was bigger. This start I had full 4700RPM start line RPM. Now 60feet was great 1.38sec and wheelstand were approx. 1.20meters high !!! This new Ring & Pinion changed many things. Now with "longer" R&P engine is longer time on best torque curve area and that´s why car lifts front higher and longer. I change gear when wheelstand is on.
Sunday I was not so lucky on track. I loose one hundred of second in reaction times and I keep my car half meter front when we cross finishline. I breakout little more than he due to our reaction times.
I was first disappointed after rear axle problems, but all those 3 nice starts were going so good that I have forgot problems. Maybe this rearaxle "update" was best thing I have had during this year race starts !
You can see here my Sunday start here in NITROZPLAY:
https://www.twitch.tv/videos/472043462##
3h 56min = my start
3h 57min 30sec = slow motion
foto: Mika Valle
Foto: Mika Valle (25.8.2019)
Lelle from NITROZ.SE send me this screenshot from their Sunday Web-TV. COOL !!!
28.8. - 29.8. (Wed-Thu) I have made some normal maintenance. New Kendall parafine 20W50 oil to engine. New NOS line from trunk to engine (next winter I tranfer NOS bottle to cabin) etc. Also made leakdown test all cylinders. 4-5% from cyl 1 to cyl 8 is good result. Seatpressure etc were all what must be. Saturday 30.8. we race in Kauhava Raceway Blacklist race. I´m increase Nitrous step by step. I have two cheater set under dominator. I can go from 150hp to 250hp jets / cheater set. I hope, we have fun there and good real street race competition.
FHRA 2019 FINALS - Blacklist street cars shootout.
2019 racing season is now ready. Not big "loses".... , but still Im hungry to get all small "thngs" right order. I didnt goal 9.5sec 1/4mile, which is possible, think I. Kauhava Raceway is only 20miles /36km from my house, so yesterday (saturday 31.8.) I was there in Blacklist street race shootout. Two start , not so much but maybe I learn many things ...
1st start: 1.42 60foot, 6,4sek 1/8mile. 10.1/207kmh 1/4mile. I used only 150hp cheater from startline and from 1000ft to final line 180hp cheater. All was OK after race. I do not have any lambda, so need to trust hot to feeling, hearing and what see visually (spark plugs....). Huge wheelstand !!! See MIKSU´s pics after this text .
2nd start: 1.34 60foot, 6.2sek 1/8mile. 10.5/193kmh 1/4mile. Not good sound engine when push 2nd NOS on. There is many possiblity what is going wrong.... Too low voltage in battery, 2nd cheater set NOS solenoid is broken (= engine get too much fuel),.... Spark Plugs look little too "dark coffee bean".... Oilpan is leak after front end was falling down, so I have also some TIG welding jobs in the future.....
Nice Race season 2019. Thanks everybody who have helped me during season 2019!!!
Special thanks: Hannu & Sari Hellman, Mika Valle, Stig (stigaxleandparts.se), Antti Kivinummi speedshop
Thanks: Ari Kiuttu, Raimo Alaluhtala, Miia Saarinen, Oskar Hämeenkorpi, Seppo Nissinen, Timo Suojanen, Teemu Alho, Jimmy Ålund, Mika "blacklist" Tikkanen, Automaalaamo Pasi Lampi, Mikko - Finn-us.com, New and old friends in SuperStreet and Blacklist.
Fotos by MIKSU
5.9.2019
I ordered some stuff from Tarvikemotti Oy, which is located in my old hometown, Kalajoki. Some AN-12 fittings, AN-10 inline fuel filter, AN 3 fittings, AN 3 teflon inliner tube 5meters, 3litre Alum. engine breather tank..... This morning was dry and sunny, so I opened garage doors and welded oilpan corners. Now keeps oil inside. Same time I changed oil. I use Kendall GT-1 Parafine basic oil (green). I changed new Holley regulator but..... not get it work, so I think that bypass regulator need hi-pressure fuel pump.... I took old Holley regulator, changed new diaphgram + spring and it works good, enough good for me, besause I have another fuel cell (1/2gal) front and another fuel pump for Nitrous. Rear pump is brand new Holley Black (140gal) which is enough for me. I installed AN 3 bypass line and now fuel pump sound is nice and keeps 7psi pressure very stabil. Tomorrow need to bolt on new 3litre engine breather tank and cut AN 12 hoses + install new ends there. Tomorrow need to make holes to headers and weld Lampda threadnuts ready. I have looked from USA different Dual lambda systems. One interesting model is innovate LM-2 dual.
Yesterday I changed battery. My ex battery was XS racing battery. I note that it costs in Summit Racing 219usd, but that battery didnt keep voltage level high. I left battery day before yesterday to AKKU-ANIA (battery company in Seinajoki, near of me). They charged battery over night and then we tested it. Henry Ania , owner of the company, sold me very reasonable price new EXIDE bluetop battery. He told me that its better than Optima Yellow and I belive them and their 50y experience. Exide is installed. I had voltage problem in Kauhava last weekend, and same problem has followed me all summer. everyday 1st start all have worked better, but rest starts has been not so good. I have listen engine sound before finishline etc and sound has changed + MSD has not give good sparks..... Saturday when I has car headlights on + 2 x fuel pump + waterpump + 2 x fan + 2+2 NOS+FUEL solenoids engine was nearly die before 1/8mile when I pushed on 2nd cheater set.
14.9.2019
I have been too hurry with dayjob (business trip,...etc), so Nova updates have not ready yet. Yesterday 14th of Sep. I was work few hours with car. Earlier I was finished new breather tannk installation. Also cut and installed AN-12 hoses to it. Yesterday I finished bypass line, which is now going from after regulator to AN-10 line before fuel filter (between tank and filter). Bypass line is so called "brakeline" -hose. AN-3 with teflon inliner. that is enough to get some fuel "bleed" and oppose possible gavel (I do not know if that is right word..... but everybody know what i mean).
Purge valve was leak when I was test car in Kauhava raceway before Tierp Summit International drag race. I removed purge valve and bleed NOS hose with wrench. Now I installed rebuilt purge valve back. I made stainless steel bracket for two extra switch. Bracket is now installed to shifter bracket side. There I install Purge valve pushswitch and bottle heater switch. Same time I need to weld new bracket for Nitrous bottle. I want to left old brackets to the trunk. Need to arrange bottles new places inside. Something like that You can see in pic. Dual Lambda threads has been welded to both headers. I need to order Lambda set from USA and install it later, maybe before next season.
Another AN-3 hose is going to Fuel gauge and another is bypass .
Fire extinguisher nozzles
Red bottle will be installed somewhere on floor and Nitrous bottle takes reds old place. Now I can do all myself in starline (heat), after burnout (open bottle and purge) after race (close bottle).
Real street ar has all seats even You cant use all of them...
Purge valve switch and bottle heater switch are now installed driverside of shifter.
17.9.2019
Increased red signal light for bottle heater. Blue button switch is NOS purge valve.
Red bottle installed on floo and NOS bottle between seats. Yesterday I welded stronger bracket for NOS bottle.
Today, 20.9., I welded Lambda threads both headers. Now car is ready for race. During winter I need to buy new Dual Lambda system, 4pc new Nitrous bottles...
30.9.2019
Finally car is ready for next season. Just warmed up engine and drive back in to my garage. Made leakdown test all cylinders and looks OK to me. 5-8% leakdown. If You have extra money in Your pocket, You can also buy this car. 32K (euro) and You can race or drive on street next year, 2020. I just ordered Nitrous bottles (4pc) with high-flow valve, On carb tool chest, Nitrous/Fuel flare jets, Innovate LM2 Dual -lambda. Those all are include deal. If You want to race for example in Street week (sweden), You need to change radial slicks to another radial slicks type where those grooves are continue all over tire.
Car is ready and I drove it inside of my closed US trailer. Not enough space for it in my two garage. Need to continue my "big project" , 1932 5w coupe, to get it foward during this winter.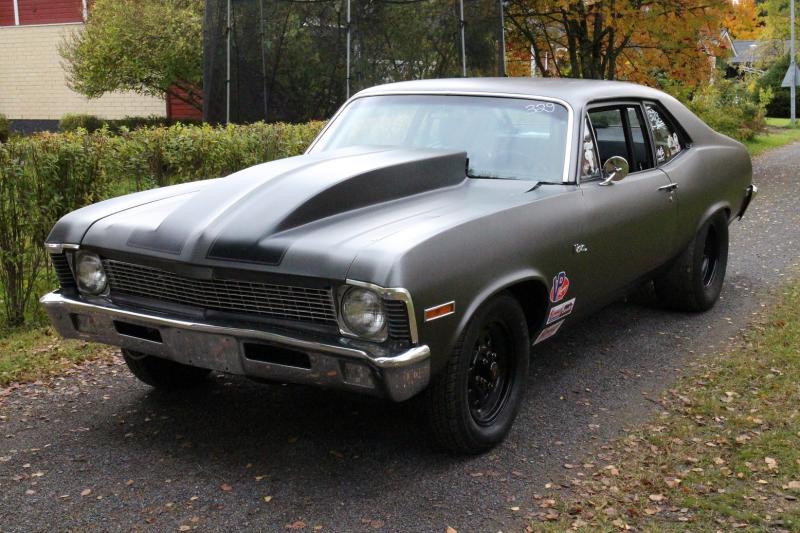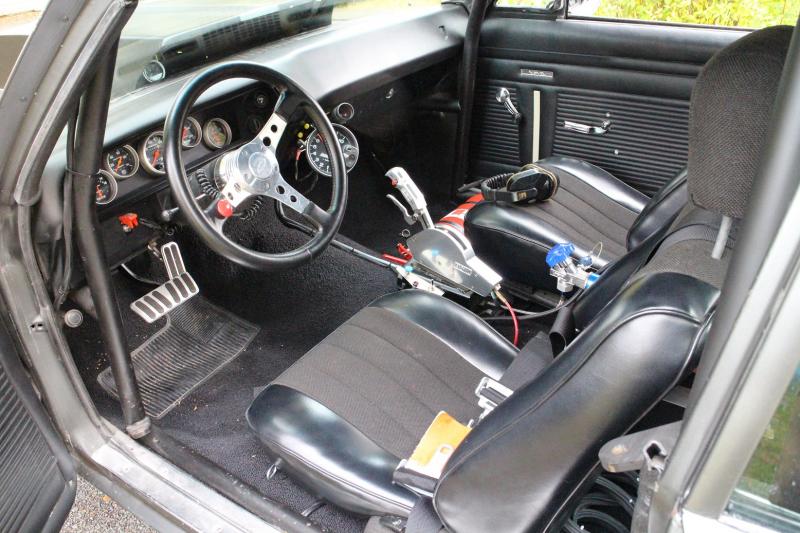 5.10.2019 Saturday. Oskar were help me all day in garage. Very interested in all technical and calculating. Im not push him, but ask sometimes if he can come to help me with tranny, electrics....
2/ 2020. During winter I have only ordered from US some update stuff to my Nova Street Racer.
Innovate LM-2 Dual Lambda, 4 x Hi-flow Nitrous bottle, 50pc Nitrous/Fuel jets, Alum. carb tray, tirepressure gauge, MSD retard module selector.....
I made also 2 x 2 fuel jug holder and 4 Nitrous bottle holder. 2mm Stailess steel.
On April I take Nova in to my garage and start install Lambda.
4.4.2020
Finally Summit Racing has send my last order. SuperStock wheeliebars, window net + installation kit, headers collector extensioners... Maybe start to install new stuff on April or....maybe on May.
3rd of June 2020
middle of May I parked Nova in to my garage. I installed x-style exhaust etc. Car has been registered and now incpected. Next time 5/2022. I have started to install new stuff. This week I get ready window net brackets and install new window net on its place. Next need to install new Lambda, wheelie bars, exhaust extensioners etc etc
And of course i have cruise daily on street.
6.6.2020
Finally I installed window net. I bought windownet + installation kit from Summit racing. I modified both and result can be seen in photos. Easy remove when drive on street or when sit down to the drv seat.
Just made basic oilchange maintenance. I use Kendall 20W50 green racing (parafine) oil.
Both nitrous cheater sets are installed. Maybe we have some races this summer, so I can use those nitrous too. Last summer I increased 200hp set, now possible to use more after I have installed Innovate LM2 dual lambda.
13.6.2020
During last week I installed Innovate LM-2 dual lambda. Before winter I was weld thread bungs to both headers. From Finland I found extra analog cable (3811), so I get RPM connected too. Now I have calibrated all, drive on street and tested. all other works fine, but not recognize any SD car. I have one old 8gb cars + many 32gb cards + adaptors. I send email to Autometer/Innovate, but no answer.
This is one thing what I do not understand: Too many companies are answer fast, they are very kindly if You ask technical questions, price, deliverytime, but .....when You reclamate, they are quiet. I wrote them all what I have done and still LM2 says "card?" "no card detected"...... shit
17.6.2020
I have solved problem with recording AFR & RPM info. Innovate motorsport / Autometer has not contact me, so i say them "fuck the duck, Assholes!!! I read many times instructions and found there small text "SD card max. 4GB.
I and my son drive many shop here in Seinajoki. They told us "we do not have had last 5-8years only 4GB SD cards.....". I was lucky, I found from one of my old NOKIA phone one 2GB card and one 1GB card. Think, New product, bought few months ago -> 10-20y old technology! 4GB SD card is more Yoke !!
Now LM2 works fine. Today I record one 53sec set. We are waiting for that we can go to the track and start to tune up engine with that info what we get from Lambdas.
Updated 14ht of October 2020

No races this year. We will remember this year 2020 like "covid" -year. We had here in Finland 3 competition Finnish Championship serie. I decided that I do not race that serie, because there is not good class for me. I was test and tune twice in Kauhava raceway.
Not so many starts, but learn to use new LM2 dual lambda and realized some problems I have had with nitrous oxide.
I use 2 x cheater set. 1st 150-180hp set from startline, second set is connected on later somewhere in 330feet....(200hp).
60feet still good 1.32sec - 1.35sec. 330feet = 4.20sec, 660feet (1/8mile) 6.2sec.... ET 1/8mile better than last year (from 169kmh to 177kmh). 1/4 mile now 9.9sec (212kmh) is not good. Engine didnt take easily high RPM when used both cheater set,... I was wonder what is problem. Too much fuel even I was try to lean it.... Nitrous hose was too small. I was used AN4 hose (6feet) and it was OK when used one set (10.1sec with 1 x cheater). Today 14th of October arrived new shipment from Summit racing. Shipment included new AN6 hose, fittings and adapters. Next summer my goal is to get low 9sec ET and top speed +225kmh.


I have bought cromed super stock wheeliebars, but I do not have time to install those. Next summer I still drive without wheeliebars.
Not big investments, I have enought Racefuel, Kendall green racing oil and all 5 nitrous oxide bottles are full of gas. I keep 275 Radial tires, not big changes rearaxle and front end suspension. Im happy how I have found good set up. Need to remember that this is Real street car.
Original style leaf springs, Original frame (front and rear), full interior, all steel (hood is glassfiber), cromed bumpers,... Car is registered and inspected. I like it like it is. If want more "modified street racer" , need to buy it and sell this.
Im interested in Top Sportsman/Top Doorslammer -race car. If somebody is buy this car , Im ready to invest more expensive racecar.
So, if You are interested in, CAR IS FOR SALE GOOD PRICE!

One week I worked with hood. I made mistake and drive over that hood in Burn Out party -street race. Not big cost, but take time to fix own stupid mistake.



New glassfiber
There is good to make basic service inside of trailer. Leakdown (5-6%) testing, valveseatpressure (220lbs) and clearance checking.
Very low profile custom made Crane nitrous cam saves springs and valvetrain components.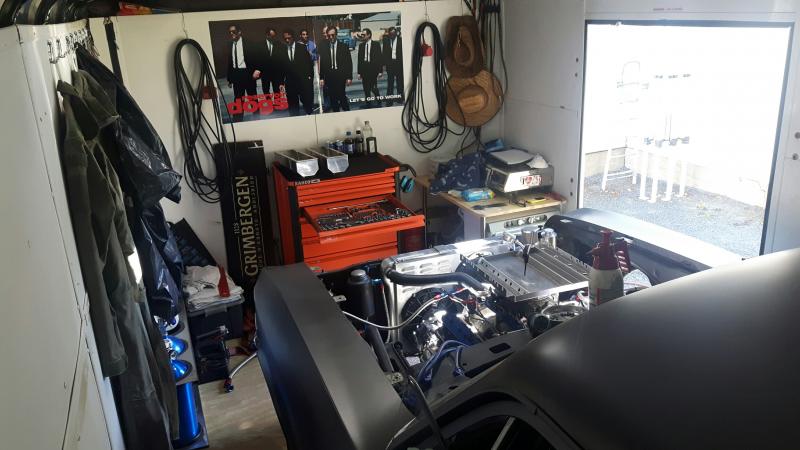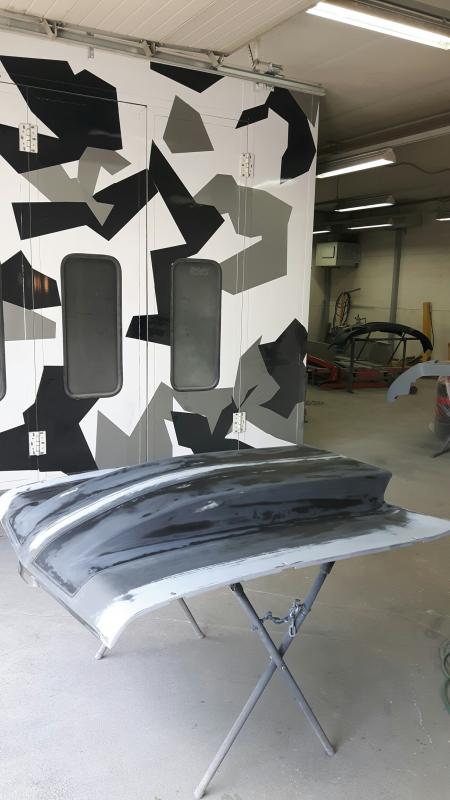 These two pictures by Mika Valle. Thanks Mika !
Kettil Rautio is professional photographer. He send me those nice shoots! Thanks Kettil.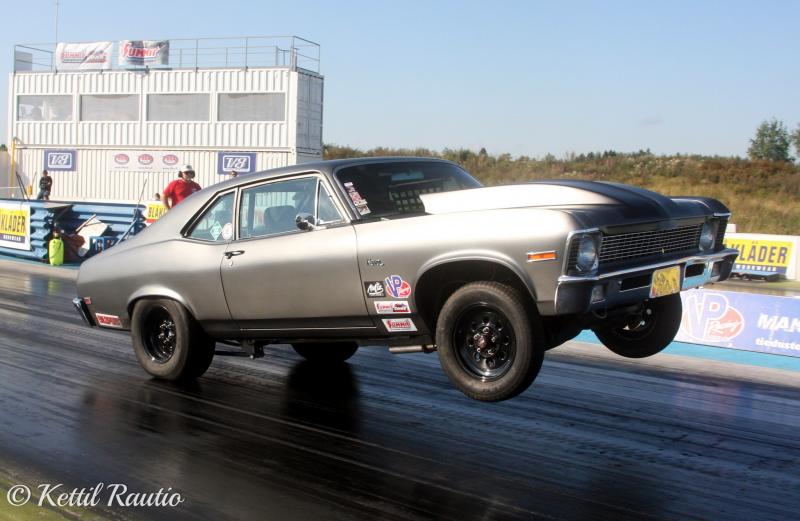 AULIS
Antti Kivinummi "RO-998".
These two pics are from 80s. Same car and same builder/owner. Famous engine and transmissionspecialist Antti Kivinummi starts his drag racing career this car. Acadian (Nova which has made in Canada) in blue: photo took early 80´s in Räyskälä on in Hanko.
Acadian white: photo from 1987 when Moropark Dragway was open in Finland. Antti trust SBC engine. After this car Antti has been race Pontiac firebird, 1948 Anglia, Dragster..... Now a days he mostly built Street and Race engines and transmissions in his own speedshop. I remember to see him first time in Hanko street race. Two number too small Mickey Mouse -t-shirt and Günter -moustache and he drove fast.
Also my idol car in compact real street race car 80s was Pata EKman´s red 1970 nova. Fast and same time daily use like this car too. Real "sleeper".
Pata Ekman "NX-640"
AULIS