This Dragmaster (short 1st generation Front Engine Dragster) has been built in Los Angeles end of 50´s. Mark Hopkins and Poncho Beal race 50´s on drylakes. They still have flathead engine record, max 210cid. They destoke one 239cid engine to 209cid size. That class were for 4cylinder flathead engines. Other competitors were made protest, but they got that 500.00usd protest fee after engine was opened. Poncho Beal and Mark Hopkins lakester/streamline record posted in Hot Rod Magazine January 1961.

Trailer is same they used with 100" wheelbase drylake streamliner. Now They built dragmaster, which has 120" wheelbase. You can see front tires are come "over" trailer ramps.

I want to restore this car like it was. I do not paint car and I want to restore Jr. Fueler nitro engines (with carbs) and finish that super big +330cid superchargered engine where they have many new innovations. For example 3-4" high alum. maingirdle which has made Howard Johnsson (cam, rods, lifter manufacturer). Howard were their friend and made that 1st ever (maybe never made another) flathead maingirdle, alum. conn.rods, pistons... There is with dragster and trailer for example 5 engine, magnetos, intakes, +20 carb (6pc changed for methanol or nitro) pistons, rods, valves, tools, racing cams, cragar supercharger etc etc.



New cragar supercharger, howard johnsson main girdle...
Down: 306cid nitroengine
306cid nitro engine need to rebuilt. Full of sement, exhausts are short and come out from end of block. Center exhaust is also splitted. it comes out from down and up. You know that there is very much more flow in exhaust side of engine if we talk about nitromethane exh.
Few 59a style block. One complete 50-53 merc engine too (not in pic). 209cid dry lakes record engine right.
cranks
crane radius cam lifters
Titanium and SS valves. +400 and 425 full race radius cams
magnetos
+330cid engine bore is huge. over 10mm bigger thatn original flathead. Valveseats and quides are moved. Head bolts will locate different place than original engine. That´s why they were arranged from Offenhauser one pair Fueler heads (no water pockets) without head bolt holes. Those must made and also gaskets must handmade .....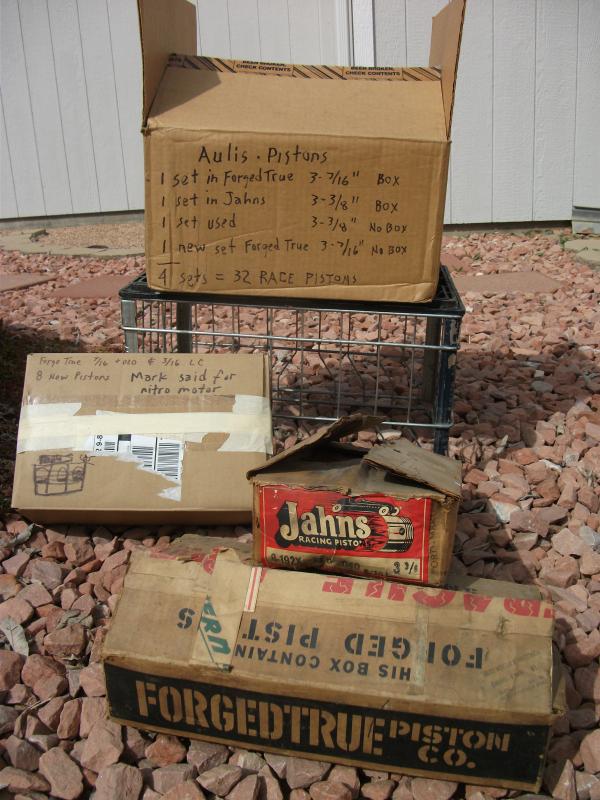 4-5sets racing pistons, rings, rods...
Aulis