This 1932 Roadster was my 2nd 1932 Ford. Project I bought from Middle-Norway.
I picked up car from Norway begining of summer. After summer I started to built car. 1000hours all winter and car was ready.
1939 Ford deluxe Dash, steering, seat, engine, tranny, other stuff is 1932 Ford. Rear axle I made mixing 40s ford center section, 1932 ford tubes. I cut tube ends off and changed those from side to side. That is old "hot rod trick" how to get rear spring mountings 3" lower than original 1932 ford. Front axle I used original 1932 Ford heavy version. Front brakes are original 39-41 lincoln, rear 1940 ford.
Supercharger is Italmeccanica 2500 (small), ratio was 2 x crank RPM. Gives only 0,2bar boost, but that is better than vacuum. Front and rear tires I ordered from England. Old style racing tires, not radial, but works like radial tires. Hood straps are Finnish army stuff from 30´s. Cut, and make those fit to my use. Rear lights are Crimes 30´s - 40´s aircraft position/landing lights. Very rare. I changed those to 12V and fitted to my homemade rollpan. Rollpan is bolted on with 8 bolts. Easy to paint and bolt on - bolt off.
I sold car to Italy 2014. I liked this early 40s style hot rod and drive aprox. 13 000km in two summer.
Note MC style fenders. I made those week before Italian buyer arrived to pick up car. THey need fenders in Germany and Italy.
These pics are too outside old hospital of Seinajoki city. Now a days its used in folk high school, music academy...
My Oskar son is training there electric guitar.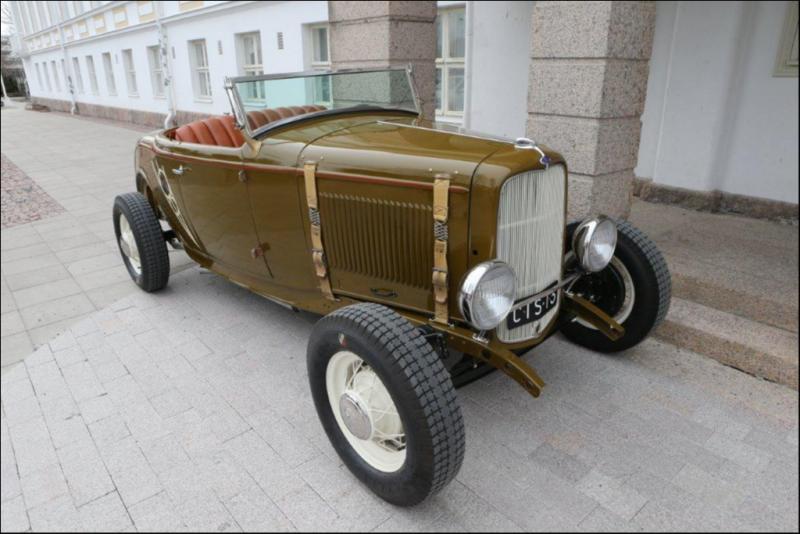 Genuine Italian Leather. Interior made by Miss Paula from Vasa city.
Under car: Original wishbones, rear crossmember....Racing style exhaust. Mufflers are from 40´s NOS stuff. Nice sound.
From left to right: 30´s standar motor oil company first aid kit, II WW fighter pilot´s extra oxygen tank changed for fuel tank and 50´s tractor tool box.
early 40s saltlake style, no windshield.
Seat is from 1939 ford Deluxe. I modified it to fit smaller 1932 ford. Chopped, dropped, sectioned...
Body is soda blasted in Lapland Finland by Lapin Soodapuhallus Oy. Mika owner of the company is Kustom builder himself.
All the way from Lapland to home (500km) it was rain. No rost, soda is make protection cover over body. Before paintjob need to wash body and sand it over.
Old Floor and frame suprails need to cut out and fix.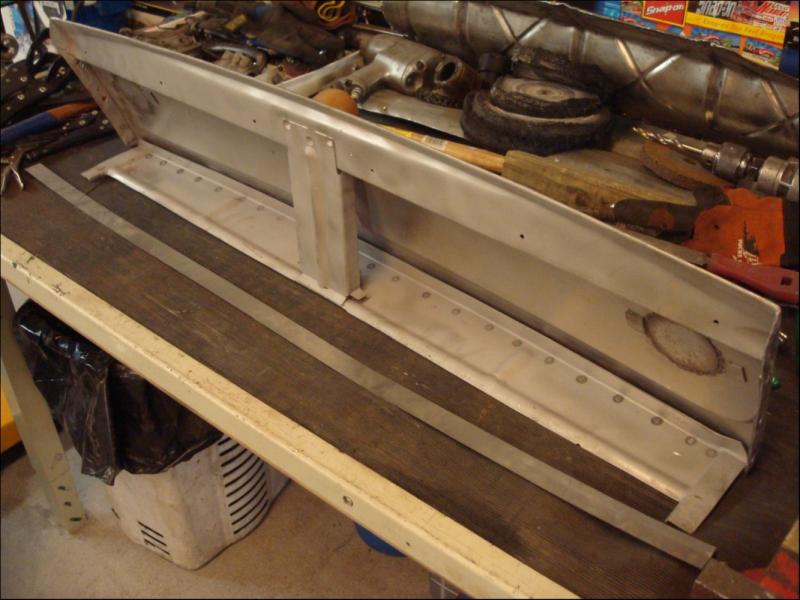 Panel between trunk lid and frame need to remove, install some new sheet metal pieces etc.
I welded trunk lid together with body until have welded frame suprails and floor back.
New pieces, shrinking ...
Frame is good table to work with hammer and welding machine.
Ready for welding back inside of body.
Some fixing , some new homemade sheet metals.
Body welded 1month and now ready for floor.
Now looks better than when get car from Norway.
Trunk need to shrink inside to find right shape (r). Hines need to re install after make new support to frame.
This is starting point when start to make rollpan. Copy of that bending which is above of this rollpan in bodypanel.
Rollpan ends I made from 3 pieces. Lines are for measuring ruler to get right shape.
Left side is ready and making Right side.
Here rollpan is bolted on it´s place. just drilled holes for cups I make by lathe (pressure turning).
Taillights are superrare Crimes Aircraft light from 40s .
Rollpan ready welded together. Just bolt on after paintjob.
Engine is 1939 Ford Deluxe 24bolt (81A). Normal rebuilding and here first time I have lifted Italmeccanica 2500 supercharger on it after made intake and blower snout..
Oxygen tank has get brackets up and down. Still need to outlets for fuel line, racing fuel gauge and motorcycle (norton) gas cap tube.
3/16" plywood
Corners I made sheetmetal. If not using rubber on upper englishwheel roll, result is little more "banana" and fits perfect because
body is also vertically same.
epoxy primer and primer.
Sanding sanding and sanding. I use mostly MIRKA Oy sanding paper. Its worlds 2nd biggest sanding paper manufacturer after 3M.
I sell them bearings, they are located only 60km north from Seinajoki, my place.
I can use my friends painting companys painting room. Colour is from Harley Davidson 1928-32 colour sheet.
Frame is 50cm shorter than originally. Rails are cut straight after shocks.
Anorher colour is from RAL colour sheet. Cream white.
Small parts are painted too. Now can start to put car together.
Electrics: I used new original style 1939 ford cloth wiring sets. Just cut too long wires, because 1932 ford is shorter and smaller car than 1939 ford. Connectors are also original Ford stuff.
Bodypanels and rollpan are bolted on with new bolts.
Dash is 1939 deluxe. I left original patin, I like that style. Dash paintjob is graining.
6V starter solenoid and 6V generator regulator installed.
1939 Lincoln brakes. need to use 3/8" spacers between brakes and 1935 wheels.
1939 fors steeringbox.
1st time interior complete installed with old 40s Aircraft AAA belts .
Hood belts are basicly IIWW stuff from Finnish army. I have cut and sew those shorter + increased springs. Mounting brackets I made 1/4" SS shaft. All possible bolts in this car are rounded head brass bolts. I still have those for 1-2projects.
40s center section, late 30s tappered parts (red) and 1932 tubes. Ends are cut and turned from side to side.
It drops body and frame 3".
Pekka Mannermaa made very special and vintage style pinstripes and logos.
Once again I give him "free posibility to choose what he want to do", and result is TOP!
My car was in Tampere Hot Rod and Rock show. They promise that I can use big 6m x 2,2m banderol, but when I arrived there, no posibility to use it. So, ....I put that 400euro banderol under my car (I ordered that banderol because I was make deal with FHRA Tampere Ry leader that I can use it on wall behind my car). OK, they didnt give me any throphy. Shit car, now they know that my cars are chicken shit.
Auliz -hot rod shop own products S-curve hoses. Sold over 1000pc 18countries. Not so much to Finland (Surprise)....mostly
USA, Canada, Sweden, Germany, New Zealand, Norway, Austria, France.....
Soft...
Pekka Mannermaa has made two colour red straips + ford racing logos. V8 + ace of spades.
How high can You go?
All are old stuff even carbs. Own production blower snout, y-sling and changed old alum. intake manifold for supercharger use.
Overflowtank is old racecar accumalator. Ignition is Harman Collins race magneto (recoiled in Finland) with fixed advance..
Waiting for Judging in Power Big Meet in Sweden. Nice pic !
AULIS