2014 I sold another roadster to Italy (OliveGreen) and another (MossGrey) to Sweden. I bought same time two cars from CA.
1940 Panel delivery project and I found interesting old hot rod for sale from Hemmings Motor News website. Car was located in Norco CA, that´s good for me because many of my friends are living that area.
Cabriolet has mostly original paint from year 1932. Cellulosa, easy to increase and polish if want to make it nice. Paintjob is not good, but I leave it like it is. Car was built like hot rod very long time ago, I concentrate on keep car good condition and make it better....
Engine is 1936 21bolt flathead. I changed better cam and valvesprings. Valvesprings were coilblind,...I do not understand what he , who has put engine together, was thinking. Same time I changed new pistonrings because engine liked too much oil and smoke little. End cap was rather big and not very much ring pressure. Owner before me has made big big job long time ago. He has made own moulds and cast 3pc 21bolt flathead twin spark plug heads. I have never before and later seen any other twin plug heads for 21bolt flathead. Maybe I have now all that kind of heads in hole World?! 24bolt flathead twin plug heads easy to find old or new.
I tell later more about engine between pictures.
I changed panels under interior. Those were not good anymore and I cut new ones. Old ones were original. Same time when I fixed interior, I bolt off Pete&Jakes drop axle and fourty brakes. I was bought from Sweden very rare OKIE ADAMS 50"/4" drop axle from 40´s. Okie made those approx 200pc. I have sold one to Finland, I found it in CA when I lived there. This one I bought from Mr 32 , Jan-Olof Ödahl, South-Sweden. He has very much rare hot rod stuff and fantastic Deuces hot rods. I bolted on axle and same time I changed front brakes to early Lincoln bendix brakes.
Project pictures added later...
You can see how happy man can be, if he drives Deuce !!!
There is very much rare hot rod parts in this car. All pedals are cromed, Steenring box is 40s chrysler, gaugepanel and gauges are very rare; 32 Studebaker roadster with curved lense SW gauges !...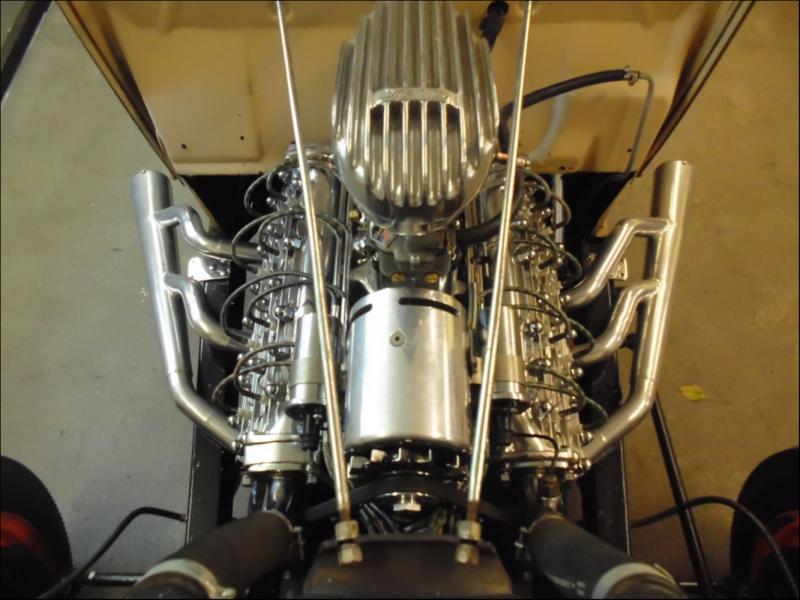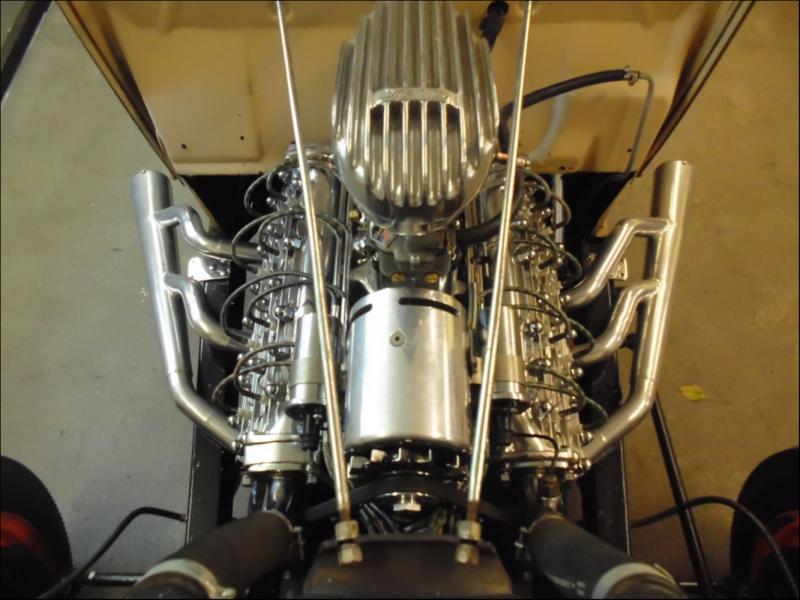 EWH -twin plug heads + Nash Twin 8 distributor is nice set. 2 coil, 2 spark plug per cylinder.
Intake is old Thickstun Hi and carbs 2 x 94 Ford. Headers are ceramic coated and inclure "mufflers".
Elvis is King!
Cabriolet is good "testbech" for new engine. I changed engine 3/2017 and now I have drive that supercharger engine two summer. Engine is very strong (284cid stroke, big bore) and italmeccanica 4000supercharger gives 0,5bar boost.
These two pics American car show Oulu 2017. Pics: Pasi Kekarainen.
4.10.2019
30.10.2019
Finally I have posibility to continue my projects. This winter Im gonna make all 1932 5w coupe project sheet metaljobs ready, built one quick change rear axle and one Flathead engine to Helsinki (Big Bang -flathead).
Yesterday I finished cleaning garage. Maybe 50hours washing, cleaning,..... not 100% yet, but I looks good and Im ready to continue working there. 5th of October there was fire in my garage. I was lucky, fire was die itself and garage + cars were not destroyed.
Very much Smut, black shit,.... There was burn working table top, tools,...(wood, rubber, plastic...). Today I get all ready and I can continue working with projects (car, engines, rear end...)
Yesterday i washed garage top and walls. Rods were parked outside. - 4 Celsicus outside. I started up both rods 3-4times during time. Try to keep engines warm, because I have there Kendall 20W50 oil both engines. Roadster is in my another garage 150meter from my house.

6/2020
Cabriolet has been checked over, engine has get oil change and new Champion spark plugs. car has been inspected, next time 2022. Just tuned up carbs. Runs very fast and car is good to drive on street. I increased lttle more orange straiping.
Last week I increased Orange straiping both side of black area. Looks better.
7 /2020
Aulis