Yes, this hot rod looks like A-Ford, but it is 1932 ford (tittle) with A-ford Body. I bought this car, like project - part of parts, from North-Hollywood. I was living in Culver city CA 2years. I built this car in Pomona, where I had garage. Same field with Performance Engine (Mikio), 1/2mile from Socal Speed shop. I also lived there in First East Street, Pomona. Too long way to drive everyday down to Culver city. You know that LA are trafic....
I built car 1-2months in Pomona and ship it to Finland. When I arrived to Finland (summer time is good to spend in Finland) car was just arrived and I built it ready in 4-5weeks in my 20sqm garage.
First Rat Rod in Finland with rather nice old school hot rod parts. I didnt know how to built hot rod, but Kari from Tampere, Ashley who sold all new parts for me (Orange CA) helped to tell me what I need ....
1932 Frame, old Sprint car frame. Boxed and shorted long time ago. 1931 body, 331cid early hemi, Muncie 20,
open driveshaft, 1939 rear axle, 40s ford brakes, buick drums, F100 steering box, sprint car steering wheel, old ford fourty
wheels, Formula 1 front tires, old gauges, MSD boxes,....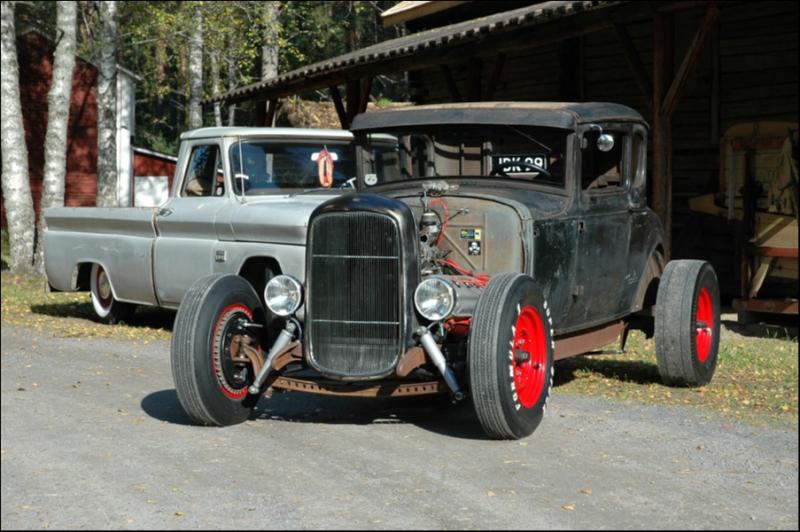 Pick up was my dailycar in LA. 1966 long bed C-10 with 283cid+pg and air ride suspension.
Seinajoki city hall behing my rod. Alvar Aalto, famous finnish Architect has design many buildings in Seinajoki.
Left side of city hall Church and other church buildings, behind city hall library.... Architect students all over world are visit
very much here and photo those buildings. 1/4mile from my A-model house (1928).
https://alvaraalto.fi/en/
Finnish summer is bright. In this picture I just arrived to my friends place in North. It 03.00 o´clock morning.
Looks good to me. Body and subframe.
just bolt on or weld on....
Rat has made home on intake.
body,frame etc in my garage in Pomona.
'
Whild I made business and while weld car together.
Rear crossmember was straight one (sprint car). I cut it and replaced it homemade version.
Body on frame.
Install drop axle + hairpins.
There come with engine this old 354cid performance intake. Fits to 331cid, but need to make own upper water lines to radiator.
Install Socal ladderbarkit.
Wheels I found from CW Moss. Ready painted original fourty stuff.
After 2weeks its rolling.
Need to weld shock mountins.
Packing all parts with car. Note floor which I made using US pine.
New top wood kit.
While I send cars to Finland. This pick up I drove down from SF area. 2 engine and very much stuff loaded on pick up.
Every Friday I send airshipment to Finland. 300-500kg.
Rear spring axle brackets welded on.
Hammer and WD40 - all You need.
I just weld engine on frame. I filled engine Diesel fuel. It was not turn, so I think that diesel fuel helps if I leave engine like that all 5-6weeks seacontainer trip. And it helps!
Ready and loaded.
Here car has arrived to my small garage in Seinajoki. Its April 2005.
First I lift engine out and cut those brackets which was keep engine on its place.
I opened heads and oilpan. Just check two bearings, cylinders if there is any ridge. Nothing serious, so put all together.
When built rat rod, not big budget, so I used old headgaskets......
''''
Cal custom 50s scoops.
SFI engine stand.
Looks good, powerfull !!!
I made own style K-member.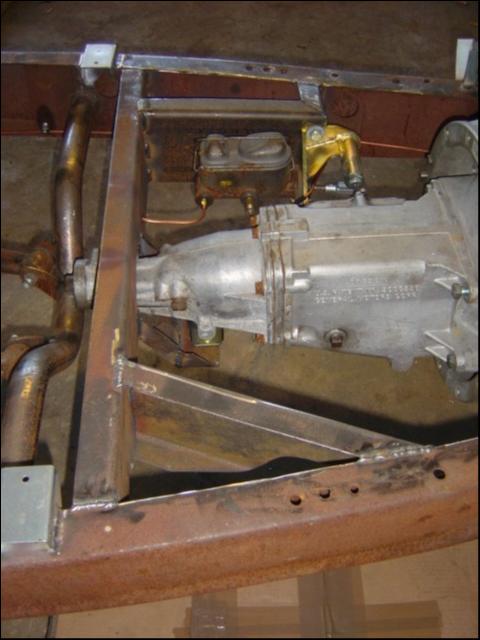 Driver side I made like this. Easier to make pedals and install brake cylinder.
Old racing frame. Cut and boxed.
Easy to take body off with this engine lifter.
Rat rod style seat. Maybe 50s chevy seat. Free. Just need to work one day.
Need to use cardboard when test sit, or balls are going between springs....
Engine ready. Note old Mallory Hi-perf coil !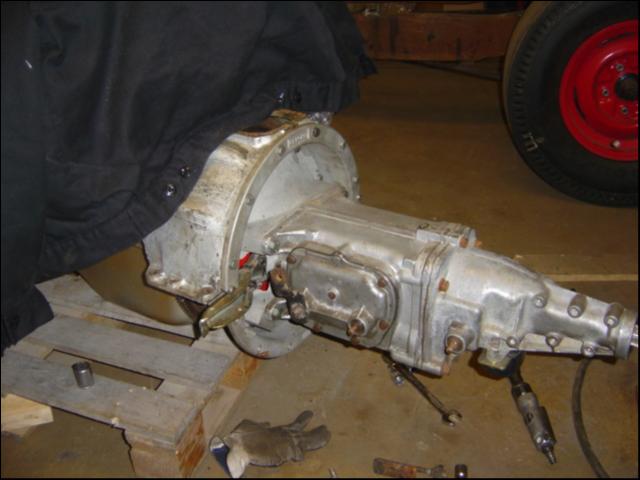 I made clutch arm and other parts. Note old 40s Cragar early hemi >< GM tranny -adapter.
Homemade shifter rods, bracket and shifter arm.
3rd time engine going on frame.
Fuel lines and hoses.
Supframe welded.
chevy taillights
Floors were made by wood, firewall steel.
Old A-ford radiator . rebuilt in Finland. Only original tanks left after rebuilding.
First time fired engine and drive 50meters out from my garage.
Niemelä is adjust Idle screws.
First trip 1/4mile to gasstation . Coffee break.
In vehicle inspection.
Sorry, looks like showcar....shiny!
All real racecars has trunk lid without hinges....
These pics too on the way to South-Finland "Pistons Rumble" -hot rod meeting. This Rod was rather big Surprise there.
Only few people in Finland know this project before that.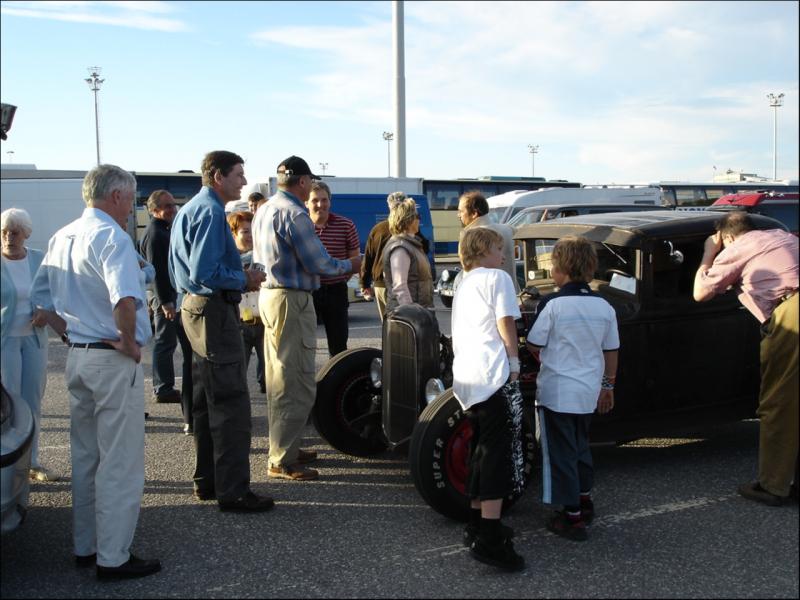 On the way to Sweden. Cars are waiting for ferry. All those old cars are from Middle-Europe. They have some kind of
cannonball race going on. I drove my hot rod there and I can tell You that 99% of them didnt know what is hot rod.
Not need pick up if load all parts in hot rod and drive down to Sweden hot rod meet/nostalgia drag race.
Sometimes it rains, but thanks God not snow....
2nd Winter I opened engine. New piston rings, valvejobs, new valve springs, bearings....
I polished intake (40hours) and make new upper water tubes/hoses. 1st summer those were rubber hoses, now made SS tubes.
New Firestone tires. Those speedway nostalgia cheater slicks were 100% junk.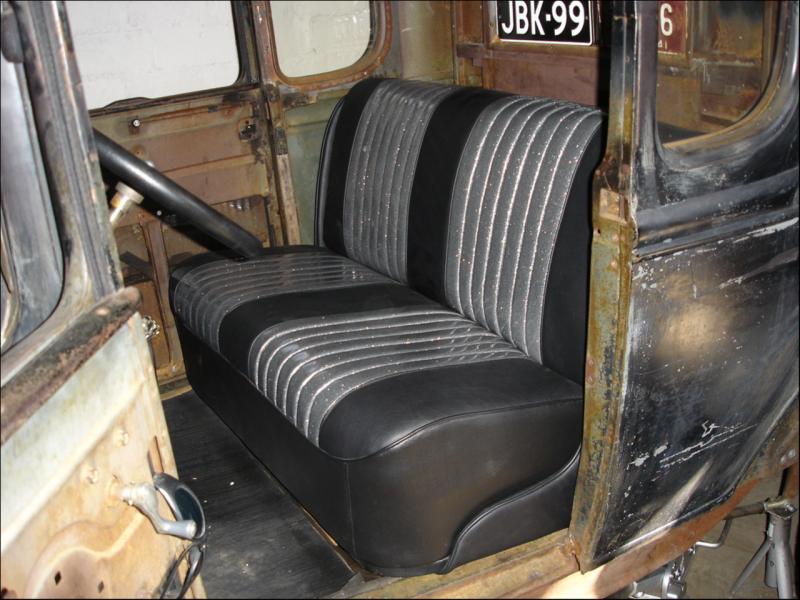 Bling Bling seat.
Racing gas pedal, Old MSD Rev controls, Old Sun transmitter and Tachometer. All works.
My ex. mechanic, Antti Tanhuala (watchmaker, he can make all elecrics, circuit boards,...) fixed SUN transmitter and make it works.
There is 3 points, batteries....inside and all were bad condition.
Test drive in Alastaro Finland. European Championship Drag Racing competition is over and I took some test race.13,20sec 170kmh. 331cid hemi+four on the floor+1939 rear axle with 3.78:1 r&b.
I sold car after enjoy it two summer (2005, 2006). This car was "hot" here in Finland, I got rather big money, if think how much I used money and time to built it. I got enoug money to buy 2006 September new project from Knocksville, Tennesee.
Gene McKinney (old hot rodder, genes hot rod shop) sold me next "junk", my dream hot rod 5w deuce -project. That is only hot rod I have keep, not sold even have got good offers.... 11years, 120 000km . That car story I will increase here later.
Aulis